Check out our stock research platform - Benzinga Pro!
Adding to our list of tools, Benzinga Pro has recently released our beta version of Scanner. Scanner takes what you love about our Movers tool, and improves upon it with more filters and real-time data. Since the tool is in beta, we are working behind the scenes to make it better and better (hint: float, relative volume, and short interest coming soon).
Check out this blog post to learn how to set up your Scanner tool.
What is the Scanner Tool?
The Scanner tool is Benzinga Pro's newest tool. Currently, in beta mode, this tool helps you scan for stocks in real-time according to the filters you set. This is a powerful tool to help you find stocks that could be potential opportunities. Using an extensive list of filters, you can scan for stocks that fit your unique strategy, or choose from presets created by Benzinga.
You can also change the refresh rate (10 seconds, 30 seconds, 1 minute or never) if you don't want real-time results.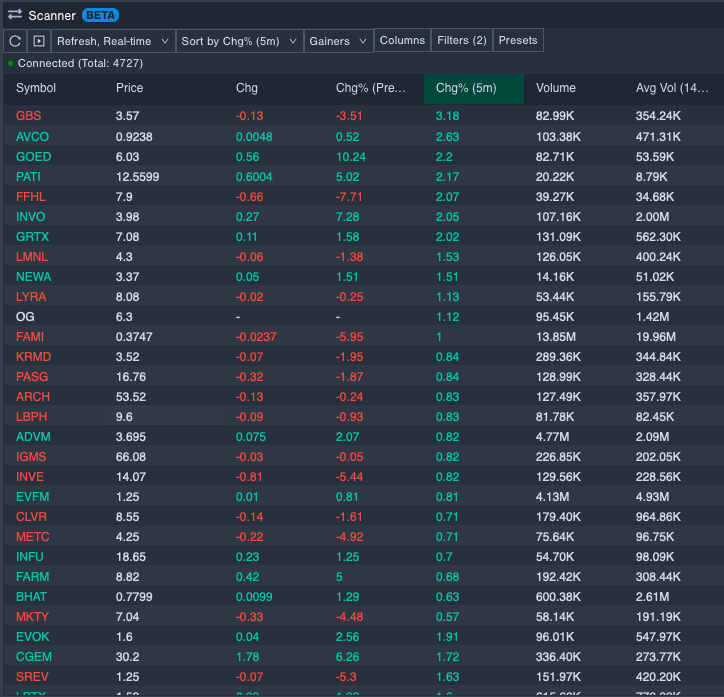 How to Use the Scanner Tool
Not sure where to start? Here's how to use the Scanner tool in Benzinga Pro.
1. Choose Your Filters and Columns.
First, set up your filters. You can choose from our variety of filters available, or from presets based on winning strategies. Presets include:
Overall Gainers
5 Minute Movers
Mid-Cap Movers from Open
Real-Time After Hours Gainers
Large-Cap Gainers, Many Columns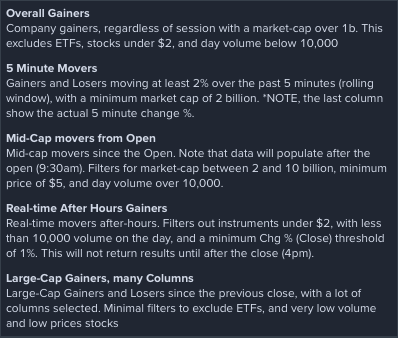 Available Filters Include:
Type (Stocks and/or ETFs)
Sub-Type (Common, ADR, ETF)
Exchange (NYSE, NASDAQ, ARCA)
Sectors
Price
Market Cap
Volume
Average Volume (14-Day)
Previous Close
Close
Change % (Previous Close)
Change % (1, 5, 15, 30, and/or 60 minute)
Volume (1 minute)
Change Percent (Open and/or Close)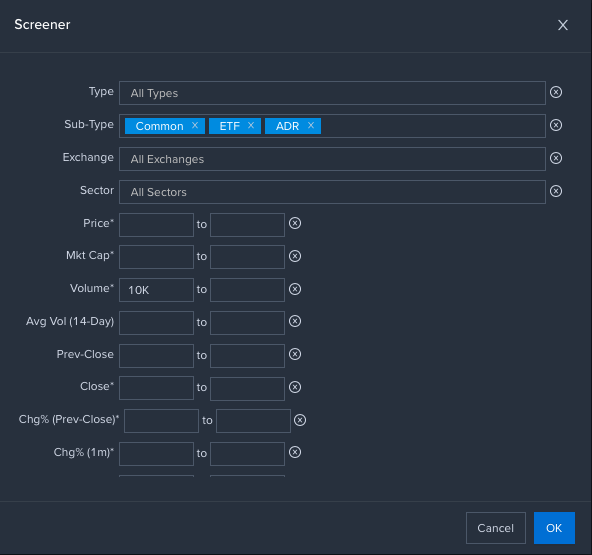 2. Setup Your Columns
You can change the columns you see in Scanner. This way, you only see the data you're interested in. This includes all available filters, plus day high, day low, and symbol.
You'll also want to select your refresh rate (or have results in real-time), how you'd like the Scanner results sorted, and if you want to see gainers, losers, or both. You can sort the Scanner results by:
Change % (Previous Close)
Change % (Open)
Change % (Close)
Change % (1 Minute)
Change % (5 Minute)
Change % (15 Minute)
Change % (30 Minute)
Change % (60 Minute)
3. Find Opportunities
Now that you have your Scanner set up, it's time to find opportunities in the market. The Scanner does not produce results as recommendations, but as stocks that meet your filter criteria. From these stocks, you can go one by one and see if anything catches your interest to research further.
Clicking on a ticker will open a Details tool widget, which will allow you to quickly find news, price data, charts, and more about the ticker. If you find something interesting, like breaking news or a chart formation, that may be a stock you want to look into further and potentially make a trade if it fits your strategy.