Recent data collected from Glassnode shows an increase in daily Ethereum Validator nodes joining Ethereum's Proof of Stake testnet. But why does this matter, and how does this affect Ethereum's future value?
If you aren't familiar with Ethereum 2.0, you should know a few things about this radical upgrade to Ethereum's network. The main change in the ETH2 upgrade is its consensus model, essentially how transactions are verified on the blockchain. Ethereum, like Bitcoin, currently uses Proof of Work consensus, which isn't ideal.
Proof of Work vs. Proof of Stake
Proof of Work uses computer power, which is not only bad for the environment, but it greatly limits the amount of transactions per second (TPS) on the blockchain. Ethereum can only process about 15 TPS right now, but Proof of Stake will allow for over 1,000 TPS on Ethereum's blockchain.
Proof of Stake uses a financial incentive model to verify transactions on the blockchain. Investors who want to run a node must stake 32 ETH (about $64,000 at the time of writing) on Ethereum's network. For doing so, nodes are compensated with around 7% annual interest, paid in Ether. Here's the thing: investors won't be able to withdraw their Ethereum until ETH2 goes live, which will likely be in 2022.
More Investors are Staking ETH Than Ever Before
Despite the recent downturn in the cryptocurrency markets, more investors are staking Ethereum than ever before. The graph below shows the number of new nodes each day since the ETH2 testnet went live last November in blue, which corresponds with the left Y-axis. The line graph charts the price of Ether, and it corresponds to the right Y-axis.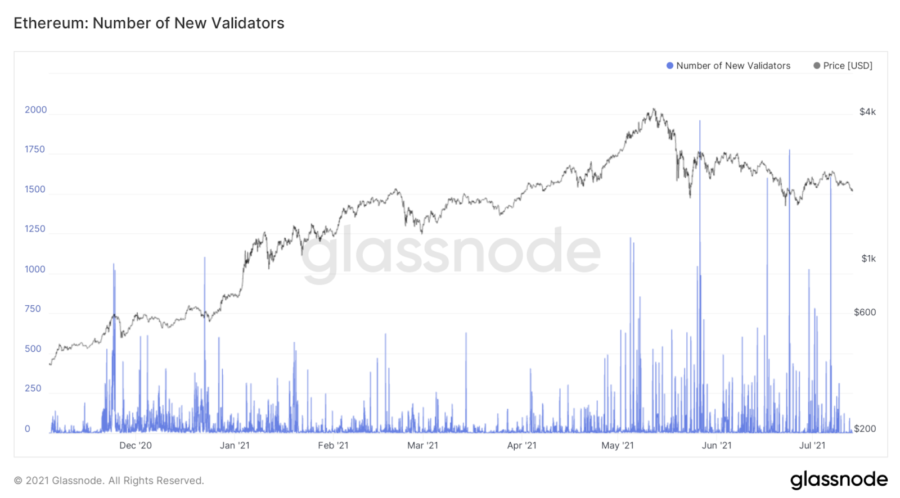 As shown by data collected by Glassnode, during the 1st 6 months of Ethereum's testnet being live, there were only 3 days where the number of new Ethereum validators was above 1,000. It costs 32,000 ETH to deploy 1,000 nodes on Ethereum's network, reducing the supply of Ether on the market by about $32 million each day 1,000 new nodes join the network.
However, recent data shows an increase in the number of validators joining Ethereum's network. In the past 3 months, there were 9 days where over 1,000 new nodes joined the ETH2 testnet.
What Does This Mean For Ethereum?
Currently, 5% of Ethereum's supply is staked on ETH2, meaning 5% of Ethereum's supply is illiquid for the next year. This is a large number, especially considering that cryptocurrency exchanges hold just 10% of Ethereum's supply for liquidity.
Staking Ethereum also limits supply over the long run. Since validator nodes are paid interest in Ether, it's accurate to assume that these investors will reinvest a percentage of their profits into ETH staking, further limiting the active supply of Ethereum.
Ethereum staking is just 1 example of how Ethereum's supply is more limited than what meets the eye. There are several other programs that stake Ethereum for different purposes, and it's estimated that over 10% of Ethereum's supply is locked into these decentralized applications.

What's more, Ethereum Improvement Proposal 1559 (EIP1559) is slated to launch on August 4th, which implements a deflationary burn mechanism each time a user interacts with Ethereum's blockchain. Once this happens, it's likely that Ethereum's supply will continuously decrease with time.
Related content: ETHEREUM TO BECOME THE SMARTEST BLOCKCHAIN
The Crypto Rocketship: Weekly Newsletter
Exclusive Crypto Airdrops
Altcoin of the Week
Insider Interviews
News & Show Highlights
Completely FREE