According to Glassnode Analytics, Bitcoin's long term holders (LTHs) currently control 75% of the circulating supply and are continually accumulating.
Bitcoin's long term holders, identified by specific wallet behaviors, have frequently hoarded the supply in the past. During some of these times of high LTH control, bull squeezes have ignited significant runs, suggesting this may be a key catalyst for upward movement.
High LTH supply control also demonstrates continued conviction amongst these experienced individuals.
According to Glassnode's "The Week on-chain" report, "The bullish squeeze that started past bull markets has historically been triggered by LTHs holding 65% (2x 2013), 75% (2017), and 80% (2020) of the circulating supply."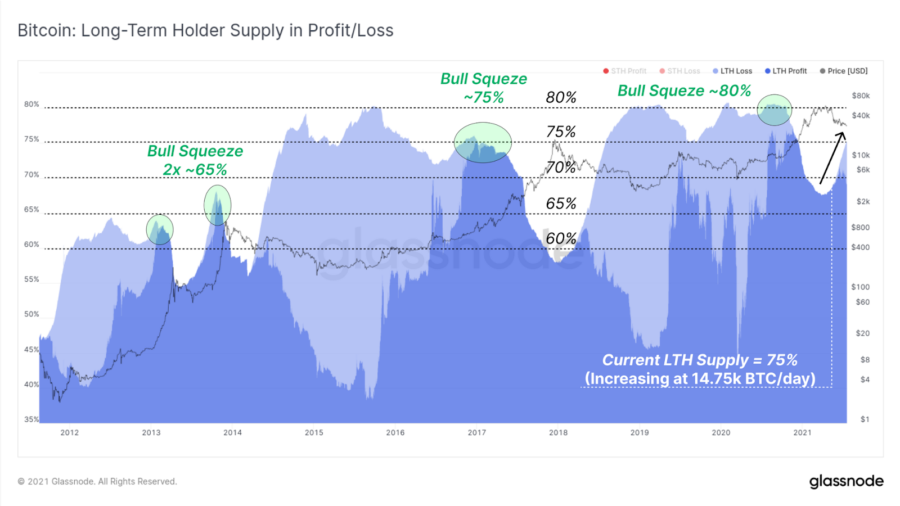 Even at the current level of 75%, analytics suggest that these strong handed investors are still accumulating at a rate of 14.75k BTC/day – taking advantage of the recent drop in price and newcomers panic selling.
Historically, each bull squeeze required a slightly larger portion of the circulating supply under LTH control before prices could really fly.
A short-term continuation to the downside could present the key accumulation opportunity needed for these players to execute a future squeeze.
The supply of BTC readily available one exchanges is also a key metric to follow. Currently, over 36,000 Bitcoin are being drained from exchanges per month.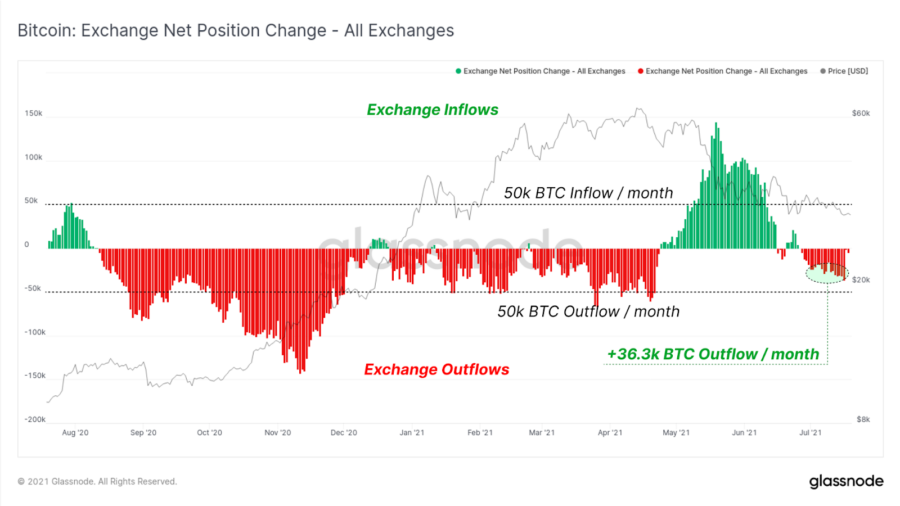 As the amount of BTC available on exchanges also continues to plummet, so does Bitcoin's sell-side supply. Retail investors may soon find themselves panic buying amidst a sudden change in market sentiment.
Generally speaking, investors transfer cryptocurrency to cold storage if they plan to keep their investments over the mid to long-term. A large influx in BTC on exchanges may signal that investors are transferring their crypto back to exchanges for liquidity.
While things may be looking grim at the moment, the on-chain data suggests that many key metrics are aligning for a potential bullish squeeze before the end of 2021.
The Crypto Rocketship: Weekly Newsletter
Exclusive Crypto Airdrops
Altcoin of the Week
Insider Interviews
News & Show Highlights
Completely FREE