When it comes to choosing the best Medicare supplement plan, it's crucial to find a reliable and financially stable insurance company that offers comprehensive coverage, exceptional customer service, and competitive pricing. With so many options available in the market, it can be overwhelming to make the right choice. In this article, we will discuss the top Medicare supplement insurance companies that provide the best plans, ensuring you can make an informed decision and secure the coverage that meets your healthcare needs.
Quick Look: Best Medicare Supplement Insurance
Best Medicare Supplemental Insurance Companies
Unlike the worst Medicare supplement companies, which can leave customers with huge bills, these best Medicare supplement insurance plans will help you cover unexpected medical emergencies, prescriptions and regular medical care. Here's a summary of the best companies offering supplemental insurance for Medicare:
1. Best for Basic Coverage: Aetna
securely through Aetna Medicare Supplement's website

Easy-to-understand coverage
Aetna tops the list because its plans cover more than many competitors, with 100% coverage for most Medicare Plan A and B costs and even up to 80% coverage for travel emergencies. Some of Aetna's plans also cover skilled nursing expenses. And most plans cover emergency medical services on international travel.
Pros
Cons
Easy-to-understand coverage
Affordable premiums
Preventative care planner
Easy access to tools and resources
Wide network access
Optional dental and vision coverage
An extensive network of providers
Excellent customer service
Need a referral for certain procedures and specialists
Not all premium-free plans are available everywhere
2. Best for Personalized Service: CoverRight
securely through CoverRight Medsupp General's website

People 64+ who want the best Medicare Advantage or Medicare Supplement Plan

Only available to consumers in the following US states: Alabama, Arizona, California, Colorado, Connecticut, Florida, Georgia, Illinois, Indiana, Iowa, Kansas, Kentucky, Louisiana, Maine, Maryland, Michigan, Mississippi, Missouri, Nevada, New Jersey, New Mexico, New York, North Carolina, Ohio, Oregon, Pennsylvania, South Carolina, Tennessee, Texas, Utah, Virginia, Washington (State), West Virginia.
CoverRight leverages technology and license agents to make comparing and selecting the right Medicare Advantage or Medicare Supplement plan easier. CoverRight partners with top-rated national insurance providers and offers one-on-one assistance to find the best plan for you
Pros
Con
Free quotesEasy application process
Help in finding an insurance plan that covers your doctors and medications
Personalized service with your own dedicated agent
Excellent customer service
Not available everywhere
3. Best for Preventative Healthcare: Cigna
securely through Cigna Medicare Supplement's website
Cigna is a global insurance leader and offers six types of Medigap plans, with options to add benefits. Cigna's network includes over 1.5 million healthcare providers, clinics and facilities. It also has more than 180 million customers worldwide. Cigna is known for competitive rates and dependable service. You can easily get free online quotes for Medigap plans.
Pros
Cons
Excellent quality of preventative services and chronic condition management
High customer satisfaction ratings
Offers Part D (prescription drug) coverage
Discounts for health and wellness programs
Get a premium discount of up to 20% plus an additional 5% if you apply online
Not all types of Medigap plans are available
Residents of Massachusetts and New York can't use Cigna
4. Best for Dental and Vision Benefits: Humana
Humana is one of the largest insurance providers in the U.S. and offers Medigap in 49 states, Washington, D.C., and Puerto Rico. Humana has unique perks, like SilverSneakers and meal delivery, that go beyond traditional medical care. In addition, it offers cost-sharing options for dental and vision.
Pros
Cons
Offers Part D (prescription drug) coverage specifically
Dental and vision benefit options
Get a 6% discount when you enroll in a plan online
Option to include emergency medical care while traveling in some plans
Customer service could be better
Plans aren't available for Virginia residents
Best for Fast Payments: Mutual of Omaha
securely through Mutual of Omaha Medicare Supplement's website

Quick application process
Mutual of Omaha has been in the insurance business for over 100 years. It offers six Medigap plans to residents of 49 states. Its website is intuitive and easy to use. It is one of the highest-rated Medigap insurance providers in the nation. In addition to offering unique supplemental plans, Mutual of Omaha pays 98% of Medicare claims within 12 hours, making it a reliable provider.
Pros
Cons
Offers Part D (prescription drug) coverage specifically
Dental benefits available
Emergency medical coverage for international travel Insurance can't be canceled as long as you pay premiums
Not all types of Medigap plans are offered
Residents of Massachusetts can't apply
Understanding Medicare Supplement Plans
Before delving into the top insurance companies, let's take a moment to understand what Medicare supplement plans are and how they work. Medicare supplement plans, also known as Medigap plans, are designed to fill the gaps in Original Medicare coverage. These plans are offered by private insurance companies, providing additional benefits such as coverage for deductibles, copayments, and coinsurance.
Key Factors to Consider
When searching for the best Medicare supplement plan, it's important to keep several key factors in mind. By considering these factors, you can ensure that you find a plan that fits your specific healthcare needs and budget. Here are the main factors to consider:
Coverage Options: Different insurance companies offer various Medigap plans. There are 10 standardized plans in most states labeled with letters from A to N. Each insurance company may provide some or all of these plans so it's essential to understand the benefits included and choose one that aligns with your requirements.
In terms of popularity, Plans G and N made up over 77% of the lives issued between 2020 and 2021 based on a recent study by Telos Actuarial.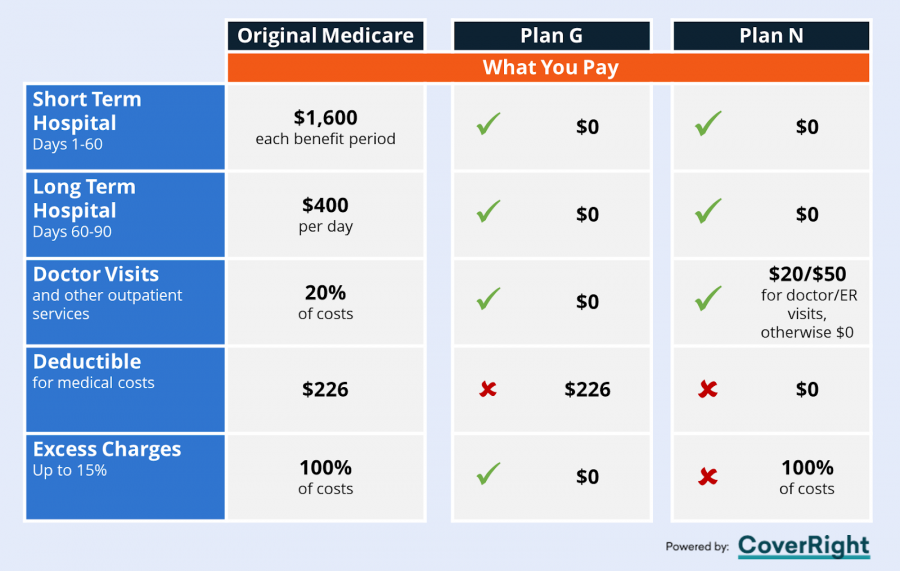 Price: While coverage is crucial, it's equally important to find a plan that fits your budget. Insurance companies have different pricing structures that may vary depend on factors such as your age, gender, location and health status, so compare premiums and determine if the benefits offered justify the cost.
Financial Stability and Reputation: Opting for a reputable insurance company with a strong financial standing is essential. Research the company's reputation, customer reviews, and financial ratings to ensure you're choosing a reliable provider.
How to Choose the Best Medicare Supplement Plan
Now that you have an overview of some of the top Medicare supplement insurance companies, it's time to narrow down your options and choose the best plan. Here's a step-by-step guide to help you in the decision-making process:
Assess Your Healthcare Needs: Determine the coverage you require based on your current healthcare needs and any potential future needs.
Compare Plans: Request quotes and compare the coverage, benefits, and costs of different Medicare supplement plans offered by various insurance companies.
Research Customer Reviews: Read customer reviews and ratings of the insurance companies to gauge their reputation for customer satisfaction and claims processing.
Check Financial Ratings: Verify the financial stability of insurance companies by checking their ratings from reputable agencies.
Conclusion
Choosing the best Medicare supplement plan is a critical decision that can significantly impact your healthcare coverage and financial well-being. By considering factors such as coverage options, price, and the reputation of insurance companies, you can find a plan that meets your specific needs. Don't hesitate to compare quotes, read reviews, and seek professional advice to ensure you make the right choice and secure the best Medicare supplement plan for your future.
Frequently Asked Questions
Which Medicare plan is best?
Which Medicare plan is best depends on your needs, age, medical history and where you live. All of the Medigap plans here offer exceptional value and coverage.
What is the average cost of Medicare supplemental insurance?
The average cost of Medicare supplemental insurance is $139 per month in 2023. Rates can vary widely based on coverage, age, medical conditions and supplemental additions. Supplemental costs ran from $50 to more than $400 monthly.