What Are the Earnings Numbers Telling Us About Long-Term Trends?
The first quarter earning season is just starting, but we can already draw interesting conclusions based on the earnings beats and misses. Especially, the earnings of consumer electronics retailers seem to be confirming the trend that has been persistent the past couple of years.
This morning Radioshack (NYSE: RSH) posted a $0.06 loss per share versus the expectations of $0.05 profit. The stock has been hit hard and is currently down nearly 7%. Radioshack also posted lower than expected revenues of $1.01 billion, which is lower than its sales of $1.06 billion in Q1 2011.
Less than a month ago another large brick and mortar retailer, Best Buy (NYSE: BBY), posted significantly lower than expected Q4 revenues, which also showed a year-over-year decline in sales. As a result, Best Buy announced that it will close 50 stores.
On the other hand, an online retailer eBay (NASDAQ: EBAY) posted stellar Q1 earnings beating the topline and bottomline expectations. The company's sales of $3.3 billion also indicate a year-over-year sales growth.
Of course one could argue that this is just coincidental, but the last two years' stock performances leave no doubts on what the trend is..
Stock chart: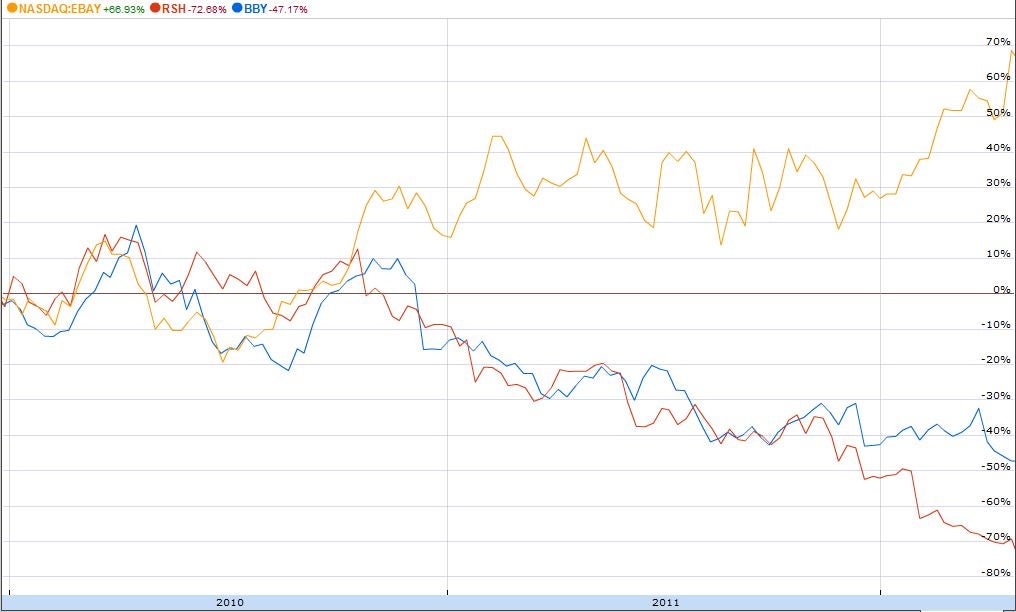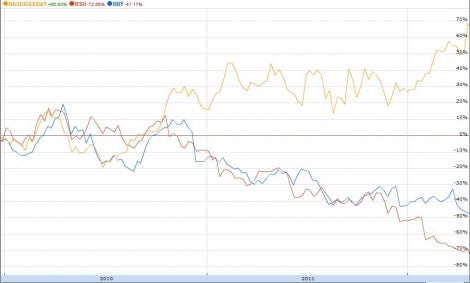 Tags: Chart
Posted in: Long Ideas, Short Ideas, Technicals, Movers, Trading Ideas
Around the Web, We're Loving...
Related Articles (EBAY + BBY)
Partner Network