optionMONSTER's Jon Najarian on the Jobs Report, Amazon's Rumored Phone and Earnings Season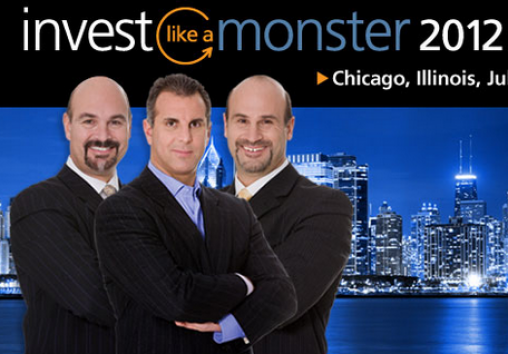 On Friday, Benzinga spoke to optionMONSTER's Jon Najarian about June's Non-Farm Payroll report, the rumor's of Amazon's (NASDAQ: AMZN) upcoming smartphone, and the start of earnings season which kicks off on Monday with Alcoa (NYSE: AA).
What do you make of the jobs report?
Jon Najarian: I think Friday's job report was pretty much an unfortunate surprise to the downside again. Even though ADP, the private sector, shows that we are seeing a little bit of a pick up in that sector and that's where the jobs are being created. The rest of the economy has stagnated. I wish I could tell you the job situation was going to turn quickly. With uncertainty in Health care, which doesn't kick in until 2014, they don't know what the costs will be, and many of us hoped that would have been addressed with the Supreme Court decision a week ago. Instead by approving it, it was pushed out until 2014 so anyone can challenge it because you can't challenge a tax until it is imposed. Without being political, this is one of the uncertainties that are keeping people on the sidelines.
What do think about the report that Amazon is going to make a phone?
Jon Najarian: There are people who will buy anything that is made by Apple (NASDAQ: AAPL), and then there is everyone else who hasn't moved to an Apple product, and have shunned the Nokia (NYSE: NOK) and the Research in Motion (NASDAQ: RIMM) platforms and have moved to the (NASDAQ: GOOG) Android platforms. [Amazon (NASDAQ: AMZN)] has already somewhat embraced the Android operating system. I could come up with a couple situations in which Amazon could subsidize their version of the iPhone, for example through its Amazon prime service. The companies who have an ecosystem to feed off of, like Apple does with the iTunes app store and the Mac store, have an advantage. Amazon certainly fits into this category with its online store.
What does the phone mean for investors?
Jon Najarian: The phone itself will be a way of giving people a phone that they hope will make them buy the company's products. They won't make it a loss leader, but I can see that this will be the first phone other than the iPhone that could get some subsidies from the carriers if there is some sort of appease to those carriers. That is how I would attack it. The IPhone is $600, and it is subsidized $300 from the carriers. People ask how they can keep on doing that? As long as the customers keep on buying $80 to $100 data plans, they can keep on selling them at that price.
Are you expecting a weak earnings season?
Jon Najarian: I think that most of the earnings may be weak. Some of the outlooks, even though some of the firms may temper the outlooks, what happened last week with the move towards a European Banking Union, even though it is not a done deal, is a very positive move and it could help stocks in the third and fourth quarter. This quarter I think is a write off, which doesn't mean that the stocks haven't reflected the misses. We have just had Caterpillar (NYSE: CAT) say that softening in China is affecting them, and we have heard Nike (NYSE: NKE) and McDonald's (NYSE: MCD) say it. Those stocks have been adjusted pretty significantly. Look at McDonalds and Nike, both were over $100 and made pretty substantial corrections. I think you come out with a report that's in-line with the flat expectations for the second quarter. Any changes for the positive from what is happening in Europe will cause the stocks to move up. That is one of the reasons I would remain bullish on the markets but not necessarily on employment because I don't think there's that certainty that will bring these employers coming back and making hires, they will continue to keep enough employment so they can keep their company the way it is.
Can you tell us about the conference you're holding at the end of the month?
Jon Najarian: Its called The Invest Like a Monster Conference. It's July 26 and July 27 in Chicago. The registration cost is $199. Two days worth of great investment advice from Jeff Macke (Yahoo Finance), Guy Adami, Pete Najarian, OptionsANIMAL, and Dan Fitzpatrick, who is the chart guy for Jim Cramer. It's a diverse group of instructors talking about how they trade and giving you some great tips on how to manage your money more effectively. Go to Investlikeamonster.com for more information.
Posted in: Jon Najarian, optionMONSTER
Advertisement
Around the Web, We're Loving...
Partner Network