SLIDESHOW: Watch Oil Stocks as Huge Companies Report Earnings (COP, XOM, ENB, APA, CHK)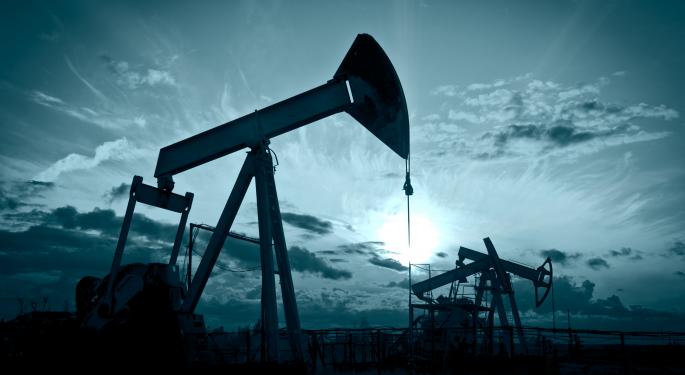 Thrusday is a big day for the oil industry as five giant players reported earnings this morning.
Trading will be especially hot with natural gas inventories coming out at 10:30am EDT. As if this isn't enough to move the industry, oil prices are soaring Thursday morning with WTI up more than two percent and Brent up 0.82 percent.
Posted-In: Natural Gas Oil slideshowEarnings News Guidance Commodities Markets Best of Benzinga
Close Next 1/6 Previous
ConocoPhilips

ConocoPhillips (NYSE: COP) released the results of their second quarter Thursday morning.

EPS came in at $1.41 versus $1.29 estimated. This represents year over year growth of 15.6 percent.

Greatest growth came from the Asian Pacific and Middle Eastern division with quarterly production of 324 million barrels a day, up 54 million barrels from the same quarter last year.

Looking forward the rest of the year, ConocoPhillips expects to produce 1,515 to 1,530 million barrels of oil a day, this is elevated from the previous estimation. 2013 earnings are expected to come in at 16.65 billion

At the time of publication, shares were up more than one percent to $66.00.

Exxon Mobil

Exxon Mobil (NYSE: XOM) announced the results of their second quarter today.

EPS came in at $1.55 versus the analyst consensus of $1.90.

This is a huge miss for the world's biggest company with the comparable year over year earnings figure down 19 percent. The company blames weak margins and volumes for its drop in profitability. Year over year oil production was down 1.9 percent.

One of the biggest announcements of the report was capital and exploration expenditures at $10.2 billion. This is a ten percent increase from last year. The company also announced that it repurchased four billion shares.

At the time of publication, shares of Exxon Mobil were trading down 2.03 percent at $91.85.

Enbridge

Enbridge (NYSE: ENB) missed analyst estimates with their earnings this morning.

EPS landed at $0.38 versus the expected $0.39. The company reaffirmed its guidance for the year of $1.74 to $1.90.

Several investments were made during the quarter, including $1.2 billion in Enbridge Energy Partners and $300 million for a 50 percent interest in a wind project.

Despite the EPS miss, shares were trading higher at the time of publication, up 0.25 percent to $44.56.

Apache

Apache (NYSE: APA) showed a slight bottom line miss, but shares are trading higher on other announcements made.

EPS for the quarter was $2.01 while analysts were looking for $2.02.

Along with the results of their second quarter, the company published two additional press releases. First, the company reported seven oil and gas discoveries in Egypt. Second, a well Apache has interest in has increased its production past 17,600 barrels of oil a day.

At the time of publication, shares were up 1.37 percent to $81.35.

Chesapeake

Chesapeake (NYSE: CHK) showed a huge beat this morning.

EPS landed at $0.51 versus the $0.41 consensus for a 24.39 percent beat. This is up from $0.06 for the same quarter last year.

Other highlights include daily oil production up 44 percent and 77 percent EBITDA increase.

The company raised its full year production guidance by one million barrels a day to 38 to 40 million barrels a day. This puts the one year growth over 20 percent.

At the time of publication, shares of Chesapeake were up 7.08 percent to $24.95.

More From Benzinga