Earnings Preview: Wal-Mart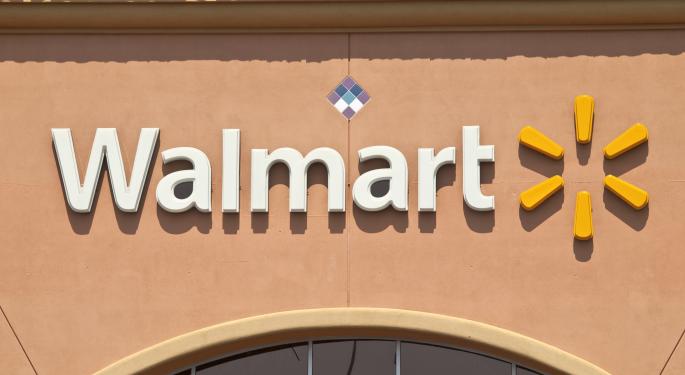 Wal-Mart (NYSE: WMT), the world's largest retailer, is expected to release its quarterly earnings results on Thursday morning prior to the opening bell.
Last week, the stock was under pressure after leaked internal emails showed that Wal-Mart executives were concerned about sales trends at the company.
"In case you haven't seen a sales report these days, February MTD sales are a total disaster," Jerry Murray, Wal-Mart's vice president of finance and logistics, said in a February 12 e-mail to other executives, referring to month-to-date sales. "The worst start to a month I have seen in my ~7 years with the company."
According to minutes of a February 1 officers meeting, the company had anticipated a strong start to the month due to the Super Bowl, milder weather, and paycheck cycles. Instead, it would seem that a rise in the payroll tax may be causing a slowdown in consumer spending.
The disappointing sales trajectory at the company was not just limited to the beginning of February emails show.
Another email obtained by Bloomberg from Cameron Geiger, senior vice president of Wal-Mart U.S. Replenishment, underscores the company's disappointing January results.
"Have you ever had one of those weeks where your best- prepared plans weren't good enough to accomplish everything you set out to do?" Geiger asked in a Feb. 1 e-mail to executives. "Well, we just had one of those weeks here at Walmart U.S. Where are all the customers? And where's their money?"
Over the last 5 trading days, in the wake of the emails, WMT is down a little less than three percent. Year-to-date, the stock is up around 2 percent, underperforming the broader market.
Counter-intuitively, the emails may actually be a bullish catalyst heading into the company's earnings report. If nothing else, they have re-calibrated market expectations and many investors may be looking for a poor quarter from the company.
If Wal-Mart can deliver any kind of upside surprise, the stock may pop in the wake of the results.
Heading into the report, Wall Street analysts have consensus earnings per share estimates of $1.57 for the company, which compares to EPS of $1.44 in the year ago period. The high estimate on the Street is $1.59 with a low estimate of $1.52.
Sales are expected to be up around 4.60 percent year over year to $128.85 billion. The high revenue estimate is $130.19 billion with a low estimate of $127.52 billion.
Traders may be tempted to short this stock into the print, but it is important to remember that expectations have been adjusted downwardly in the wake of management's leaked emails. In any event, results from the retailer should offer insight into the state of the U.S. consumer, particularly at the low end.
Posted-In: Cameron Geiger Jerry MurrayEarnings News Management Intraday Update Movers Best of Benzinga