Benzinga's Weekend M&A Chatter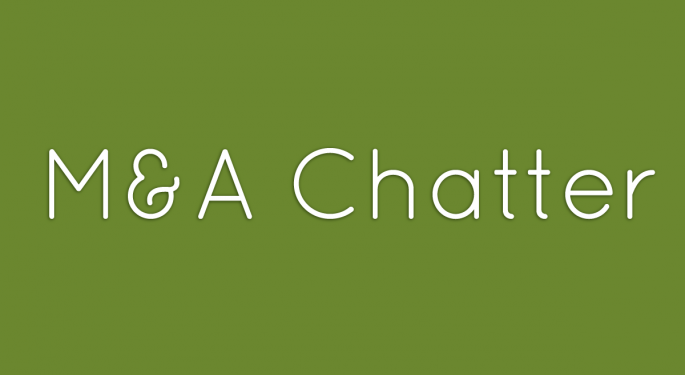 The following are the M&A deals, rumors and chatter circulating on Wall Street for Friday May 9 through Sunday May 11, 2014:
Akorn to Acquire VersaPharm for $440M
The Deal:
Akorn (NASDAQ: AKRX) announced Friday that it has entered into a definitive agreement to acquire VPI Holdings, the parent company of privately-held developer and marketer of multi-source prescription pharmaceuticals, VersaPharm, for $440 million in cash.
The deal is expected to close in Q3 2014.
Akorn closed Friday at $25.820, a gain of 4.5%.
Allergan Reportedly Unsuccessful in Seeking Rival Bids
The Rumor:
Allergan (NYSE: AGN) has been seeking bids from companies, including Sanofi (NYSE: SNY) and Johnson & Johnson (NYSE: JNJ), according to a report from Bloomberg. Allergan has reportedly been seeking rival bids to the one from Valeant Pharmaceuticals, in conjunction with Bill Ackman's Pershing Square, consisting of $48.30 in cash, plus $0.83 Valeant shares.
A spokesperson for Allergan declined comment on this latest report, according to Reuters.
Allergan closed Friday at $161.30, a loss of more than 1%.
UK PM Cameron Sees Progress on Guarantees from Pfizer in AztraZeneca Bid
The Talks:
British Prime Minister David Cameron said Sunday, that progress has been made in securing guarantees from Pfizer (NYSE: PFE), regarding its bid to take over UK drugmaker AstraZeneca (NYSE: AZN). The discussions have centered around protecting jobs and scientific research in Britain, while keeping the door open for companies wishing to invest in the country, according to Reuters. Cameron and Deputy PM Clegg said they want more from Pfizer in the way of binding commitments.
Much of the opposition regarding a potential merger of the two pharma companies, has come from the Labour party.
Reuters reported on May 8, that Pfizer could offer £53 ($89.90) per share for AstraZeneca, following rejections of offers of £50 ($84.47) and £46.61 ($76.62) per share.
AstraZeneca closed Friday at $77.24, a loss of 2%, while Pfizer lost $0.14, to close at $29.03.
Qualcomm Reportedly to Acquire Mobile Device Chip Maker Wilocity for $300M
The Rumor:
Qualcomm (NASDAQ: QCOM) is reportedly in talks to acquire Israeli mobile device chip maker Wilocity for $300M, according to Haaretz. Qualcomm, Cisco (NASDAQ: CSCO) and Marvell Technology (NASDAQ: MRVL) are among the investors in Wilocity.
Neither Qualcomm nor Wilocity have confirmed the report.
Qualcomm closed Friday at $79.50, unchanged.
Shareholder TIG Advisors Opposes Zale Merger with Signet Jewelers
The Shareholder Response:
Zale (NYSE: ZLC) shareholder TIG Advisors, owner of approximately 9.5% of the outstanding shares of common stock, announced Friday it intends to vote against Zale's proposed merger with Signet Jewelers (NYSE: SIG) at the upcoming special meeting of stockholders scheduled for Thursday, May 29, 2014. TIG says Signet's offer of $21 per share is grossly unfair to current shareholders, who are not being paid a fair value for the margin expansion opportunity they already own, much less a premium. Signet offered $21.00 in cash for Zale on February 19, 2014. Zale closed Friday at $21.85, a gain of 3%