Burger King Delivers Innovative Menus While Lowering Costs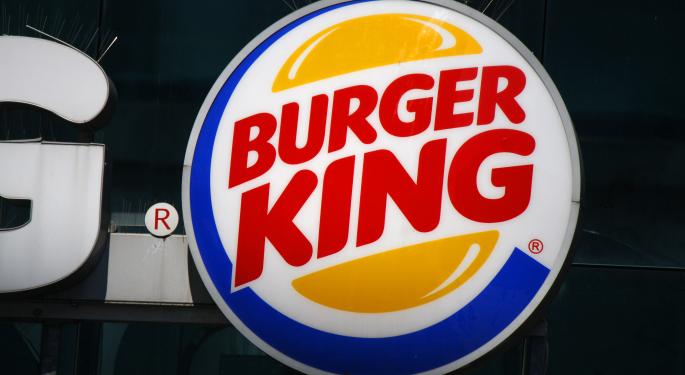 Shares of Burger King (NYSE: BKW) has recently been outperforming McDonald's (NYSE: MCD).
Shares jumped after its quarterly profits shoot up from $6.6 million from the same period last year to $68.2 million. This is mostly due to Burger King's recent cuts in costs and rising in sales, especially in foreign markets.
Since its purchase in 2010 by private equity firm 3G Capital, Burger King has lowered operating costs by moving to a less capital-intensive model in which over 500 of their locations were turned into franchises.
While the refranchising of BK caused revenue to drop this quarter from $455.7 million to $275.1 million, the restaurant expenses also fell to $22.9 million from $216.3 million.
Due to the movement to sell their outlets to reduce overhead costs, nearly 100 percent of Burger King locations are now owned by franchises compared to McDonald's 80 percent.
In addition to the refranchising of Burger King, its recent innovations in the kitchen, including the low-calorie 'Satisfries' and the 'French-fry burger' have gained praise from analysts.
Related: Burger King Attempting an Image Makeover With Free 'Satisfries'
Slabaugh, analyst from Stephens Inc., however, states that Burger King's stock is currently overvalued at 13.5 times EBITDA in comparison to McDonald's stock, which is 10 times its EBITDA.
He adds that McDonald's "is in a better position to grow earnings as they are just the bigger and more dominant player in the industry with a louder marketing voice in such a difficult consumer environment."
Daniel Schwartz, CEO of Burger King, counters that the Burger King's new business model will rapidly expand the existing customer base:
"We grew comparable sales across all three international regions and opened 133 net new restaurants globally. In the U.S. and Canada, we launched Satifries, a first of its kind better-for-you French fry, which demonstrates our commitment to leading innovation in the fast food industry," Schwartz said. "We believe that new products like this, combined with our focus on improving operations will enhance the guest experience and drive increased restaurant profitability."
Posted-In: 3G Capital Burger King McDonald'sNews Retail Sales Best of Benzinga