Benzinga Weekly Preview: FOMC Meeting Closely Watched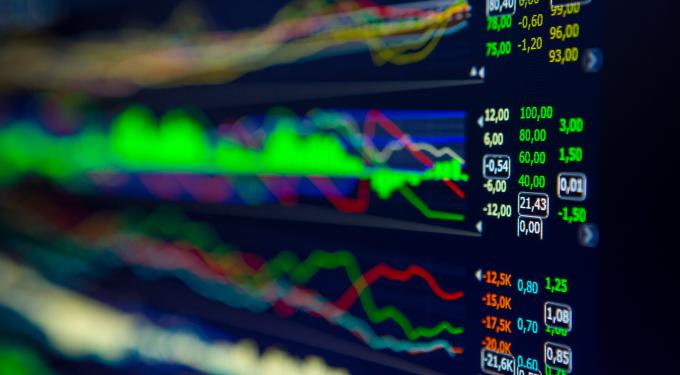 It will be a busy week for economic releases in the US, with the FOMC meeting stealing the spotlight. People will be looking for forward guidance that will help shed some light on the bank's tapering timeline.
With so much having happened since the central bank's last meeting, investors will be interested to know how the bank has changed its forecast and whether it plans to continue with its easy money policies.
Key Earnings Reports
Next week investors will be waiting for several key earnings reports including Apple Inc. (NASDAQ: AAPL), Facebook, Inc. (NASDAQ: FB), Nokia Corporation (NYSE: NOK), MetLife, Inc. (NYSE: MET), and Mastercard Incorporated (NYSE: MA).
Apple Inc.
Apple is expected to report third quarter EPS of $7.88 on revenue of $36.76 billion, compared to last year's EPS of $8.67 on revenue of $35.97 billion.
The analyst team at Goldman Sachs has a Buy rating on Apple with a price target of $560.00 on October 23. After viewing the company's new product line and previewing its new free software Goldman Sachs decided to maintain its Buy rating and keep the 12-month price target fixed.
"Largely due to the large form-factor iPad upgrade and the company's higher price points for the Retina iPad mini, our overall iPad ASPs increase and units decrease more modestly. As a result of these changes, for FY2014, we are now looking for revenues and EPS of $185.19 billion and $44.35, versus $182.7 billion and $44.11 previously (CY2014 EPS moves to $46.68 from $46.51). Overall, we believe Apple's recent iPhone refresh is trending better than expected (with a greater mix shift towards the 5s as well), and we believe the new iPads can reinvigorate Apple's tablet revenue and profit momentum in coming quarters. We reiterate our Buy rating and 12-month target price of $560."
Also on the 23, Morgan Stanley has an Overweight rating on Apple with a $540.00 price target and said that the company's new and improved iPads coupled with the iPhone's new broader prices will likely help stabilize revenue growth.
"At over 50% of revenue and 65% of gross profit dollars, the iPhone remains the key upside driver after a successful 5s/iOS7 launch. Newly announced iPad Air, iPad Mini w/ Retina, MacBook, and Mac Pro help stabilize the remainder of the business, particularly after we de-risked estimates last month."
Facebook, Inc.
Facebook is expected to report third quarter EPS of $0.18 on revenue of $1.89 billion, compared to last year's EPS of $0.12 on revenue of $1.26 billion.
The analyst team at Wedbush has an Outperform rating on Facebook and increased its 12 month price target to $58.00. Facebook's recently updated algorithm for advertisements will likely help the company improve target advertising on the site and help attract advertisers.
"Facebook entered Q3 with positive ad momentum. Over 1mm advertisers appeared on the site in Q2, doubling the prior year, with the number of marketers using Customer Audiences more than doubling q-o-q. News Feed ads had a median return of almost double that of non-News Feed ads, and we expect recent algorithm tweaks to increase relevancy. Facebook recently announced objective based ad buying and reporting, improved Custom Audiences through retargeting, and availability to all advertisers regardless of size. Instagram announced ads will begin to show up in US feeds. These initiatives should prolong ad strength."
Topeka Capital Markets has a Buy rating on Facebook with a price target of $60.00 on October 25. The company cited Instragram's announcement that it plans to launch and advertising program at the end of October as reason for its optimistic rating.
"Instagram announced that it plans to launch a sample ad next week. The ad will be labeled "Sponsored" at the top right of the graphic or video and users will be able to like, comment, and hide less interesting ads and provide feedback. Maintain Buy."
Merck & Company, Inc.
Merck & Company is expected to report third quarter EPS of $0.88 on revenue of $11.19 billion, compared to last year's EPS of $0.95 on revenue of $11.49 billion.
The analyst team at Bank of America has a Buy rating on Merck & Co. with a $53.00 price objective on October 21.  Bank of America noted that the company would likely face several headwinds, however said Merck will likely manage them effectively.
"We have previewed the prospects for 3Q (September) results for MRK. Our 3Q13 EPS estimate of $0.87 is in line with consensus. Looking further ahead, MRK's top line continues to face a number of headwinds for the remainder of 2013 including lost revenues through patent expiries (e.g. Singulair), FX headwinds (we estimate -3% hit), delayed launches (Bridion, suvorexant) and competitive pressures on key franchises (e.g. DPP4 market growth continues to slow). We would highlight that we are still bullish on MRK and view these short term pressures as manageable and not in conflict with our Buy thesis at current levels"
Nokia Corporation
Nokia is expected to report third quarter EPS of $0.00 on revenue of $7.83 billion, compared to last year's loss of $0.09 per share on revenue of $9.05 billion.
Societe Generale has a Buy rating on Nokia with a €6.20 price target on October 18. The firm took into account the upcoming sale of Nokia's handset division to Microsoft while calculating forecasts.
"Nokia will announce its Q3 2013 results on 29 October. After the announcement of the proposed sale of Nokia's handset division to Microsoft in September, the importance of Nokia's handset division to investors is substantially lower. We have assumed the sale goes ahead as planned in Q1 2014 and have removed the business from our future forecasts (detailed numbers are shown later). We will therefore be focusing on the three remaining businesses. However, in terms of disclosure, we understand that Nokia will not be changing its presentation. We are therefore looking for turnover of €6.1bn."
Mastercard Incorporated
Mastercard is expected to report EPS of $6.92 on revenue of $2.13 billion, compared to last year's EPS of $6.17 on revenue of $1.92 billion.
Oppenheimer maintained its Outperform rating on Mastercard and raised its price target to $750.00, however noted that the firm's analysts preferred Visa.
"Ahead of 3Q:CY13 earnings we affirm our Outperform ratings for Visa and MasterCard as intra-quarter volumes and broad spending/volume indicators remain healthy. Additionally, the intermediate-term outlooks for both remain encouraging. Shareperformance remains strong, notwithstanding periodic volatility from regulatory and/or litigation concerns (most recently a district court ruling against the Federal Reserve's interpretation of Durbin legislation). We expect another strong quarter for each, and for shares to directionally appreciate with earnings growth over the intermediate term. We continue to prefer V to MA over the intermediate term but wouldn't preclude its relative discount persisting until Durbin 2.0 (appellate process is under way) is clarified. We raise our PT for V to $225 and for MA to $750."
Morgan Stanly has an Overweight rating on Mastercard with a price target of $800.00, citing the company's potential growth in emerging markets.
"Fundamental growth potential remains strong and we believe the company can continue to generate 20%+ EPS growth over the next several years. Growth potential in underpenetrated emerging markets could be aided by increased adoptions of mobile/smartphones. Regulatory risks in Europe appears manageable, though will take a while to play out. Cash generation capability allows for continued share-buybacks."
Economic Releases
Investors will be looking to the UK for more clues about whether or not the UK is heading towards a housing bubble. Mortgage approvals will be closely watched as the data will likely prove that the region's inflating house prices are not cause for concern.
In Europe, unemployment figures are likely to remain fixed at 12 percent. The region's improving economic growth will likely take time to filter down to companies and make a dent in the unemployment rate.
Daily Schedule
Monday
Earnings Releases Expected: Herbalife LTD. (NYSE: HLF), Apple Inc. (NASDAQ: AAPL), Biogen Idec Inc. (NASDAQ: BIIB), Merck & Company, Inc. (NYSE: MRK)
Economic Releases Expected: South Koran current account, US pending home sales, US industrial production, Italian business confidence.
Tuesday
Earnings Expected From: Waste Management, Inc. (NYSE: WM), Johnson Controls, Inc. (NYSE: JCI), Electronic Arts Inc. (NASDAQ: EA), LinkedIn Corporation (NYSE: LNKD), Nokia Corporation (NYSE: NOK)
Economic Releases Expected:  US consumer confidence, US PPI, Canadian PPI, British mortgage approvals and consumer credit, French consumer confidence
Wednesday
Earnings Expected From: Marriott International (NYSE: MAR), MetLife, Inc. (NYSE: MET), Facebook, Inc. (NASDAQ: FB), Garmin Ltd (NASDAQ: GRMN), Ryland Group, Inc. (NYSE: RYL)
Economic Releases Expected: British consumer confidence, New Zealand Interest rate decision, US FOMC meeting announcement, German CPI, US GPD, US core CPI, US nonfarm employment change
Thursday
Earnings Expected From: Barrick Gold Corporation (NYSE: ABX), Newmont Mining Corporation (NYSE: NEM), Mastercard Incorporated (NYSE: MA), Mylan, Inc (NASDAQ: MYL), Time Warner Cable Inc. (NYSE: TWC)
Economic Releases Expected: Chinese manufacturing PMI, South Korean trade balance, US Personal income, Italian PPI, eurozone unemployment rate, French consumer spending, Spanish current account
Friday
Earnings Expected From: Chevron Corporation (NYSE: CVX), OM Group, Inc. (NYSE: OMG), Public Storage (NYSE: PSA)
Economic Releases Expected:  US ISM manufacturing index, Canadian manufacturing PMI, British manufacturing PMI, Norwegian unemployment rate
Posted-In: News Eurozone Commodities Previews Global Economics Federal Reserve After-Hours Center Best of Benzinga