iPhone 5S Selling at Twice the Rate of the 5C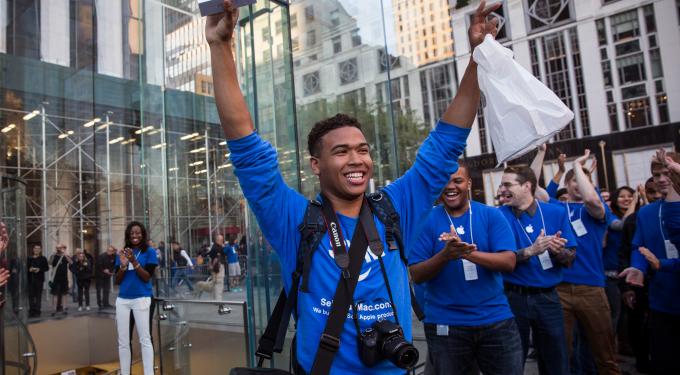 In the dizzying stream of data surrounding the iPhone 5S and iPhone 5C, a new round of numbers were released Monday showing that the 5S is outselling the 5C.
AllThingsD reported that the Apple (NASDAQ: AAPL) iPhone 5S is outselling the 5C by a two-to-one margin, according to report by Consumer Intelligence Research Partners (CIRP).
CIRP conducted a survey of consumers who purchased an iPhone during the last days of September following Apple's launch of two new phones. The survey found that 64 percent of the purchased phones were the iPhone 5S, 27 percent were the 5C, and the iPhone 4S accounted for the remaining 9 percent.
This is welcome news for Tim Cook. Amidst the calls for Apple to aggressively cater to the mid-tier customer, Cook remained committed to the idea that the high-end market wasn't yet saturated. "I don't subscribe to the common view that the higher end, if you will, of the smartphone market is at its peak," Cook said. "I don't believe that."
Although Cook has thrown all of his support behind the high-end customer, the rumor mill still believes that Apple is taking steps to embrace the value customer. Yesterday, Benzinga reported that analyst, Ming-Chi Kuo of KGI Securities published a note that said Apple might introduce a lower-priced iMac to boost slumping PC sales worldwide.
Related: Low-Cost iMac and a Scary Chart Top Apple's Weekend News
Critics dismissed the report citing Cook's above comments that Apple is committed to the high-end market with all of its products.
This reported two-to-one margin may mean vindication for Tim Cook for now, but he's far from proving his theory correct. Analysts see the first month of an Apple launch as the time where enthusiasts are the primary buyers.
These are the people that read all of the rumor websites, pitch tents and wait overnight for the grand opening. These customers want the newest phone regardless of the cost—in this case the 5S. Those that put off their purchase a few weeks patiently wait for supply to catch up with demand pushing sales back a few weeks. This makes for a strong first month.
As the hype wears off, the not-so-techy crowd becomes the primary buyer. These are the people who might have old phones that need replaced, need to provide a phone to their children, or don't feel the need to pay top-dollar for a phone full of features they'll never use. For this customer, the 5C might be the phone for them.
The 5S may be outselling the 5C now but the numbers may look a lot different in six months. For now, Tim Cook can say, "I told you so."
Disclosure: At the time of this writing, Tim Parker was long Apple.
Posted-In: Apple iPhone KGI Securities Ming-Chi KuoNews Retail Sales Tech Best of Benzinga