SLIDESHOW: 8 Stocks to Benefit From a Repatriation Deal In Congress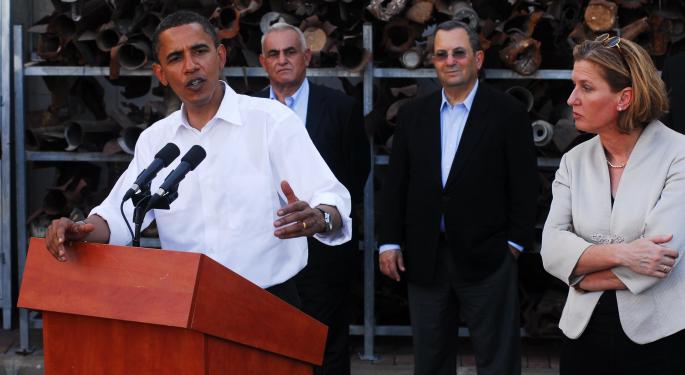 Later on Tuesday, President Barack Obama is set to give a speech in Chattanooga, Tennessee where he will outline a "Grand Bargain" plan to hopefully bring together democrats and republicans in a deficit fighting piece of legislation.
As part of this plan, the President is reported to propose cutting the corporate tax rate to 28 percent (from 35 percent) and cutting the rate for domestic manufacturing companies to 25 percent, according to Reuters. The move is aimed at creating jobs domestically and bringing back money from overseas tax havens.
Also as part of the deal, Obama is rumored to propose a one-time deal to allow companies to bring back oversea cash piles cheaply, avoiding repatriation taxes. Eight stocks look set to benefit from this deal.
Posted-In: Cash Repatriation Deficit ReductionNews Politics Previews Events Trading Ideas General Best of Benzinga
Close Next 1/9 Previous

1. General Electric

General Electric (NYSE: GE) should benefit from a tax deal.

At the end of 2012, GE had $108 billion held offshore and lower taxes would allow them to bring this money back more cheaply and reinvest it domestically.

GE shares rose 0.45 percent Tuesday.

Photo courtesy of wikimedia.org.

Close Next 2/9 Previous

2. Pfizer

Pfizer (NYSE: PFE) should also benefit from the news with its $73 billion in offshore cash.

Pfizer shares rose 0.88 percent Tuesday.

Photo courtesy of blogspot.com.

Close Next 3/9 Previous

3. Apple

Apple (NASDAQ: AAPL) should also benefit from a deal.

Apple had 82.6 billion in off shore cash as of the end of 2012 and grew its cash pile the most in 2012 of any company by 28.3 billion.

Apple shares rose 1.22 percent Tuesday.

Photo courtesy of wordpress.com.

Close Next 4/9 Previous

4. Microsoft

Microsoft (NASDAQ: MSFT) should also benefit from a deal.

The company had $60.8 billion in cash held offshore as of the end of last year.

Shares rose 0.66 percent Tuesday.

Photo courtesy of Microsoft.com.

Close Next 5/9 Previous

5. Merck

Merck (NYSE: MRK) should also benefit as the company had $53.4 billion in cash as of the end of last year.

Shares fell 0.27 percent.

Photo courtesy of salon.com.

Close Next 6/9 Previous

6. Johnson & Johnson

Johnson & Johnson (NYSE: JNJ) had $49 billion in cash offshore as of the end of the year and saw its offshore cash holdings rise $7.4 billion last year.

Shares rose 0.53 percent Tuesday.

Photo courtesy of blogspot.com.

Close Next 7/9 Previous

7. IBM

IBM (NYSE: IBM) had $44.4 billion in offshore cash as of the end of 2012 an saw its cash pile increase $6.5 billion from 2011.

Shares rose 0.37 percent Tuesday.

Photo courtesy of gadgetdda.com.

Close Next 8/9 Previous

8. Cisco

Cisco (NASDAQ: CSCO) rounds out the list of eight stocks with its $41.3 billion in offshore cash.

Further, Cisco added $4.6 billion to its offshore cash pile in the last year.

Shares rose 2.5 percent Tuesday.

Photo courtesy of newsroom.cisco.com.

Close Next 9/9 Previous

Related Articles