San Francisco 49ers Sign Naming Rights Agreement for New Stadium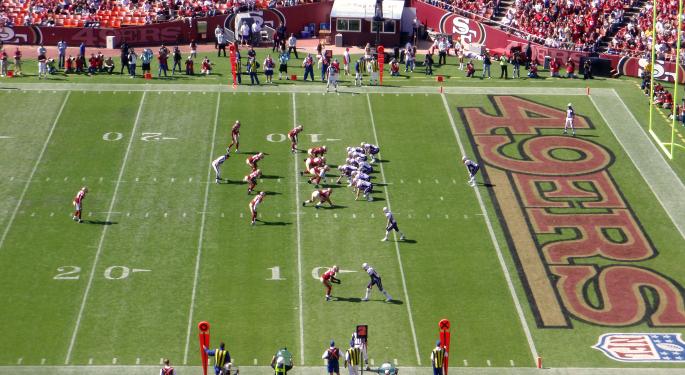 According to the Associated Press, on Wednesday, the future home of the San Francisco 49ers received its name: Levi's Stadium.
49ers CEO Jed York and Levi's CEO Chip Bergh announced the $220 million, 20 year naming rights deal for the new $1.2 billion stadium that will be located 45 miles south of Santa Clara.
Why Levi's? According to York, "Levi's jeans were designed for the 49ers during the gold rush. It was a good fit for them then and it's a good fit today."
The upcoming season will be the 49ers last season at Candlestick Park. Rumors are circulating that in honor of the new stadium, the 49ers will wear denim overalls jointly designed by Levi's and Nike (NYSE: NKE) during its inaugural year in the new stadium. (OK, we made that up.)
But as outlandish as $220 million sounds, it's far from the most expensive.  
Reliant Park isn't just a stadium. It includes Reliant Arena, Reliant Stadium, Reliant Astrodome, and Reliant Center. The 32 year deal cost the company $300 million but assures that when you go to a Houston sporting event, you're going to see, "reliant" plastered on everything.
MetLife (NYSE: MET) Stadium is home to the New York Jets and the New York Giants. The $400 million, 20 year deal has proven to be lucrative for MetLife. The Giants were Super Bowl champions in 2008 and have continued to be a high profile team. The Jets have found the same success but due to what we'll call "some high-profile decisions," the team finds itself in the news frequently. (Two words: Tim Tebow)
Finally, there's Citi Field, home to the New York Mets. Another $400 million, 20-year deal, Citigroup (NYSE: C) was so excited to have the rights, it penned the deal three years before the stadium was completed.
Sadly, the advertising exposure that MetLife has gained from the deal isn't the case with Citigroup.
Currently, the only team worse than the Mets in the National League East is the Miami Marlins—the poster-team for dysfunction. The Mets' unfortunate season thus far, as well as in recent past seasons, has not garnered the type of media attention that Citigroup would hope for.
Why don't all professional teams have a naming deal? Sometimes the stadium is so legendary (Lambeau Field) that the name is the brand. Other times, the stadium may be located in an area where corporations don't find value in the rights.
For now, the 49ers will be all about jeans but that's not the worst. If you're ever in Ireland, check out Hunky Dorys Park or Arnold Schwarzenegger Stadium in Austria.
Disclosure: At the time of this writing, Tim Parker had no position in the companies mentioned and wonders why MetLife didn't want its name on the Met's stadium instead. Get it?
Posted-In: Chip Bergh Jed York MetLife Nike San Francisco 49ersNews Events General Best of Benzinga