The Top 10 Fortune 500 Companies for 2013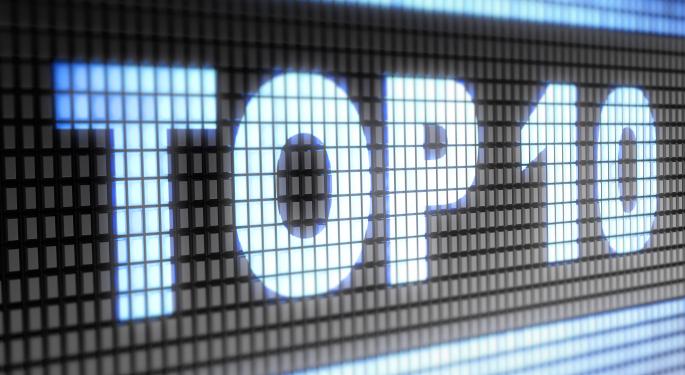 This year's list of Fortune 500 companies was released yesterday to much fanfare.
Among the highlights was Wal-Mart (NYSE: WMT) regaining the top spot and Apple (NASDAQ: AAPL) making the top ten for the first time.
Benzinga has you covered with a list of the top ten, including each company's 2012 rank, revenues and profits.
Posted-In: Apple Berkshire Hathaway Inc. Chevron ExxonMobilNews Economics Media General Best of Benzinga
Close Next 1/10 Previous

1. Wal-Mart Stores

2012 rank: #2

Revenues: $469.2 billion

Profits: $16.999 billion

Close Next 2/10 Previous

2. Exxon Mobil

2012 rank: #1

Revenues: $449.9 billion

Profits: $44.880 billion

Close Next 3/10 Previous

3. Chevron

2012 rank: #3

Revenues: $233.9 billion

Profits: $26.179 billion

Close Next 4/10 Previous

4. Phillips 66

2012 rank: #4

Revenues: $169.6 billion

Profits: $4.124 billion

Close Next 5/10 Previous

5. Berkshire Hathaway

2012 rank: #7

Revenues: $162.5 billion

Profits: $14.824 billion

Close Next 6/10 Previous

6. Apple

2012 rank: #17

Revenues: $156.5 billion

Profits: $41.733 billion

Close Next 7/10 Previous

7. General Motors

2012 rank: #5

Revenues: $152.3 billion

Profits: $6.188 billion

Close Next 8/10 Previous

8. General Electric

2012 rank: #6

Revenues: $146.9 billion

Profits: $13.641 billion

Close Next 9/10 Previous

9. Valero Energy

2012 rank: #12

Revenues: $138.3 billion

Profits: $2.083 billion

Close Next 10/10 Previous

10. Ford Motors

2012 rank: #9

Revenues: $134.3 billion

Profits: $5.665 billion