Oil Marches Higher

The following article is from one of our external contributors. It does not represent the opinion of Benzinga and has not been edited.
Hard to Short Crude
Guest Post by: Geoffrey A. Smith
 So, how many people are tired of seeing the price of crude around $100 a barrel?  I, for one, am tired of it, especially since I have two driving teenagers.  And every time it looks like it is going to finally fall, it bounces right back up again.  It seems as though it wants to go up, and therefore it is a hard market to short.
Crude is hitting its head on $100 a barrel as of today.  The interesting thing is that the last time it was up at $100 per barrel is when the ES futures were trading around 1300, as opposed to the current price of 1190.  From the August lows, the ES has bounced about 17% and crude about 30%.  This means that if the economy is going to improve, traders think the demand for crude will increase very quickly and they want to be ahead of the ball.
Below is a weekly chart of crude futures with a 3 week, 21 week, and 65 week simple moving average.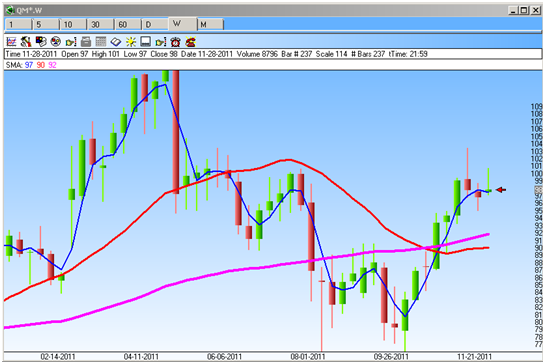 Notice the 3 week average has broken above the longer term averages back around $92 per barrel.  This uptrend will be confirmed once the 21 week average moves above the 65 week average for the long term.  As long as crude stays above $92, look for long positions. 
One bullish strategy involving futures options would be to look at a bull put spread.  An example of this would be to sell the 92 and buy the 89 January (CLF12) put spread that expires on 12/15/11.  It will bring in around $500 credit with a max loss potential and margin of $2500 (total spread less credit).  For those bearish on Crude, several strategies to consider would be shorting Crude Oil, Bear Call Credit Spreads or a Put Debit Spread. Crude Oil ETF's to consider are: XLE, USO, OIH along with several Oil Service stocks.
Cheers, The TradingPub www.TradingPub.com "Trade, Talk, Learn - Cheers to Success" Disclaimer: Article intended for traders and not English majors. Disregard any misplaced commas.
Tags: Crude Oil
Posted in: Commodities, Markets
Around the Web, We're Loving...
Partner Network