Benzinga Market Primer, Monday July 16
U.S. equity futures fell early Monday following weakness in foreign markets. Chinese shares slumped to the lowest levels since March of 2009 following the weakening growth and trade data. The weakness in growth markets combined with the strength is U.S. stocks on Friday appears to have led futures to correct slightly this morning. S&P 500 futures fell 3.5 points and NASDAQ futures fell 5.5 points.
In other news:
The European Central Bank reversed its stance on senior private bondholders, stating that owners of senior Spanish bank debt should take losses in any bailout. This is contrary to the Irish bailout, where bank bondholders were made whole.
China's Premier Wen Jiabao said that the recovery lacked momentum, increasing hopes of further easing policies.
The IMF is set to announce downwardly revised global growth forecasts Monday afternoon, as previously stated on Friday.
The German Constitutional Court announced that a ruling on the constitutionality of the ESM will be made on September 12.
S&P 500 futures -3.5, NASDAQ futures -5.5.
EUR/USD 1.2190.
Gold -8.3 to $1,583.70.
Spanish 10-year yield up 7.4 basis points to 6.737 percent.
Italian 10-year yield up 2.2 basis points to 6.08 percent.
Overnight, weakness in China was isolated with other Asian markets rallying. The Shanghai Composite Index fell 1.7 percent to its lowest level since March of 2009, however the Japanese Nikkei and the Australian ASX Index both rallied. Stocks were weak in Europe, however, as fears over the Spanish bank bailout resumed. Spain's Ibex Index was the weakest of major indices, falling 0.71 percent in early Madrid trading.
Commodities were mixed early Monday, with agricultural commodities rallying on the forecast of further heat and drought in the U.S. Corn futures rallied nearly 4 percent and soybean futures were higher by more than 2.3 percent. Energy futures were mixed, as WTI Oil fell 0.47 percent to $86.69 per barrel. Brent Crude was marginally higher to $102.43 per barrel. Metal futures were weak, as copper prices fell on Chinese growth fears. As the below chart shows, copper prices and inventories in China are rather correlated, and Chinese inventories are at recent highs, indicating that prices may have downside. Copper prices fell 0.83 percent to $347.50 and silver futures fell over 1 percent.
In economics, retail sales data for June are set to be released at 8:30 am est. Economists are predicting a 0.2 percent rise in retail sales after two straight months of contractions. Also due out at 8:30 am est is the Empire State Manufacturing Index, which is expected to rise to 4.5 from 2.29. Data on business inventories is due out at 10:00 am est. In European economics, France is set to auction 3-, 6-, and 12-month bills at 9:00 am est, after yields on short-term bills went negative at the previous auction.
Good luck and good trading.
Stock chart: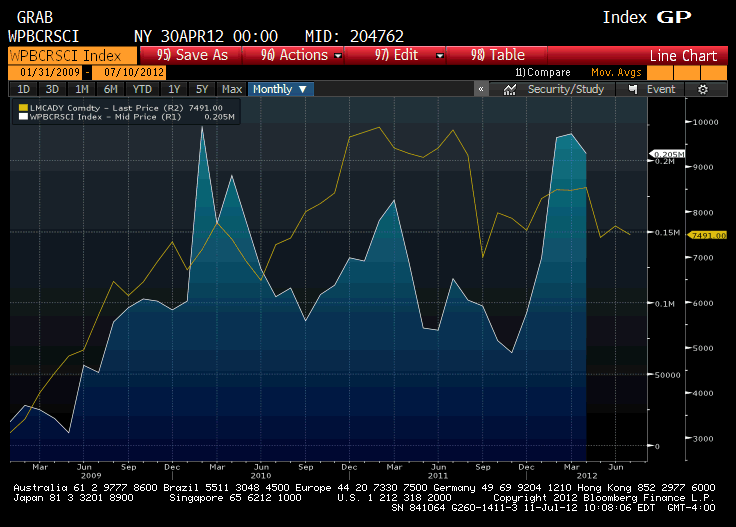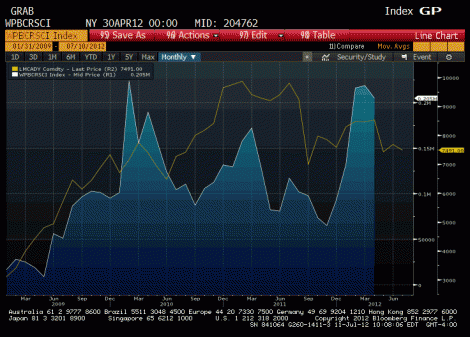 Posted-In: China Premier Wen Jiabao European Central Bank Shanghai Composite IndexBonds News Futures Commodities Previews Forex Global Econ #s Economics Hot Pre-Market Outlook Markets Trading Ideas Best of Benzinga
Partner Network
Around the Web, We're Loving...
Related Articles (SPY + BROAD)
Partner Network