Bonds on a Roll

Bonds are a safe investment.  If you have listened to the financial news you have probably heard the term "flight to safety:"  When equity markets (stocks) are not performing well and are moving down, the general move is to move money out of stocks and put the money in bonds.  Bonds are also interest rate sensitive.  As rates move higher, bond prices move lower, because if you own a bond that is yielding 4% and rates move to 5%, who would want your bond?  The bond price would move lower because the demand for the 4% bond decreases since people can buy them at 5%.  This works the opposite if interest rates move lower; bond prices will move higher.
Over the past several years, the Federal Reserve has lower rates, which in turn has driven bond process higher.  Coupled with that is the decline of the overall markets because of the uncertainty of what is happening in Europe.  The chart below is a weekly chart of the 30 yr. US Treasury bond futures with a 3, 21, and 65 week simple moving average.  Notice how they shot up at the start of the European problems in 2011, went sideways, and then have shot up recently due to deeper problems in Greece. As long as bond futures stay above 143.00, bond will remain bullish, continuing to make new highs.  If bonds close below 135.00, the bull run is over, and selling could step in pushing bonds back down to the 125-121 area.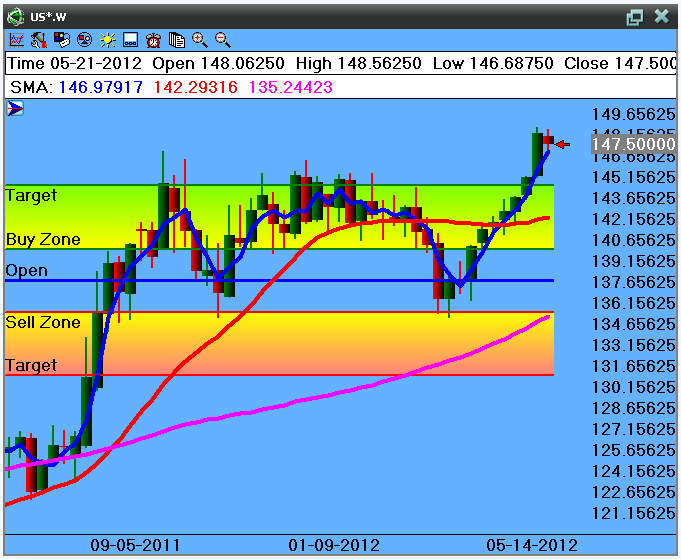 The following article is from one of our external contributors. It does not represent the opinion of Benzinga and has not been edited.
Posted-In: Bonds Futures Markets Trading Ideas
Around the Web, We're Loving...
Partner Network