These 11 Companies Are Paying Less and Keeping Americans Poor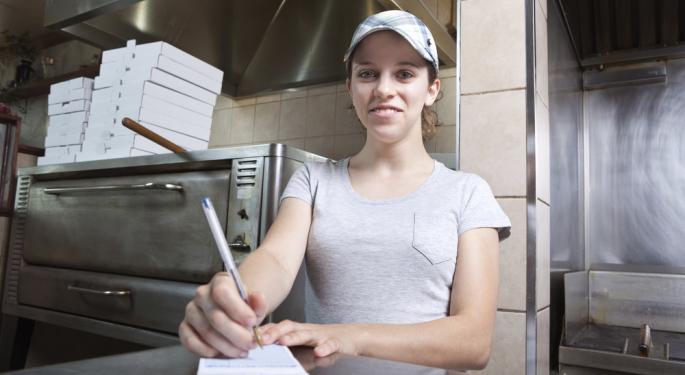 The National Employment Law Office has uncovered a disturbing statistic. Since the job market hit a bottom in February 2010, lower-wage jobs have grown nearly three times faster than jobs that pay more.
While the recession has seen companies like McDonald's (NYSE: MCD) thrive -- a 130 percent surge in profits is nothing to scoff at -- the real wages of low-income Americans have declined.
This is a direct affront to the traditional American orthodoxy that over time, hard work will result in greater wages and upward mobility.
With the help of crowdsourced information from Payscale, Benzinga chose companies known for their low pay at random and documented the wages places like Wal-Mart (NYSE: WMT) , Lowe's (NYSE: LOW) and The Gap (NYSE: GPS) pay their workers.
The findings were not pretty.
The U.S. Government classifies those working full-time and making under $10.60 an hour to be poor.
In more than one case, we found companies like Yum Brands (NYSE: YUM) subsidiary Kentucky Fried Chicken whose median hourly wages for workers with more than 10 years of experience failed to crack $10 an hour.
Hourly wage ranges were chosen based off Payscale's crowdsourced reports of wages from the most common jobs at each employer.
Posted-In: American Eagle best buy Chipotle Mexican Grill CVS Caremark Corporation KFCNews Entrepreneurship General Best of Benzinga
Close Next 1/11 Previous

1. McDonald's Restaurants Ltd.

Number of employees worldwide: 1.8 million

Hourly wage range (U.S.): $7.11-$12.19

Employer pay: -4% below market

Median Hourly Pay by Experience
Less than 1 year: $7.73
1-4 years: $8.00
5-9 years: $8.86
10-19 years: $9.69

Close Next 2/11 Previous

2. Kentucky Fried Chicken (KFC)

Number of employees worldwide: 190,000

Hourly wage range: $7.63 -$11.23

Employer pay: -6% below market

Median Hourly Pay by Experience
Less than 1 year: $7.78
1-4 years: $8.01
5-9 years: $9.19
10-19 years: $9.31

Close Next 3/11 Previous

3. The Kroger Company

Number of U.S. employees: 339,000

Hourly wage range: $7.22 -$15.65

Employer pay: -2% below market

Median Hourly Pay by Experience
Less than 1 year: $7.89
1-4 years: $8.48
5-9 years: $11.30
10-19 years: $13.76

Close Next 4/11 Previous

4. Chipotle Mexican Grill

Number of employees worldwide: 37,310

Hourly wage range: $7.08 - $18.50

Employer pay: +4% above market

Median Hourly Pay by Experience
Less than 1 year: $8.47
1-4 years: $9.84
5-9 years: $9.70
10-19 years: $11.48

Close Next 5/11 Previous

5. Walmart Stores, Inc.

Number of U.S. employees: 1,400,000

Hourly wage range: $7.28 -$14.05

Employer pay: -2% below market

Median Hourly Pay by Experience
Less than 1 year: $8.40
1-4 years: $9.14
5-9 years: $10.65
10-19 years: $12.26

Close Next 6/11 Previous

6. Best Buy Co.

Number of employees worldwide: 167,000

Hourly wage range: $8.08 - $17.13

Employer pay: +6% above market

Median Hourly Pay by Experience
Less than 1 year: $8.76
1-4 years: $9.72
5-9 years: $12.37
10-19 years: $14.52

Close Next 7/11 Previous

7. Sears Holdings Corporation

Number of U.S. employees: 280,000

Hourly wage range (excluded commission pay): $7.89 - $18.38

Employer pay: -1% below market

Median Hourly Pay by Experience (excludes commission pay)
Less than 1 year: $8.78
1-4 years: $9.76
5-9 years: $12.39
10-19 years: $14.11

Close Next 8/11 Previous

8. The Gap Inc.

Number of employees worldwide: 134,000

Hourly wage range (U.S.): $7.63 - $19.81

Employer pay: +7% above market

Median Hourly Pay by Experience
Less than 1 year: $8.97
1-4 years: $9.44
5-9 years: $13.04
10-19 years: $14.98

Close Next 9/11 Previous

9. American Eagle Outfitters

Number of employees worldwide: 39,600

Hourly wage range: $7.14 - $25.86

Employer pay: +3% above market

Median Hourly Pay by Experience
Less than 1 year: $9.06
1-4 years: $8.97
5-9 years: $13.13
10-19 years: $16.76

Close Next 10/11 Previous

10. CVS Pharmacy

Number of U.S. employees: 163,000

Hourly wage range: $8.16 - $17.41

Employer pay: +3% above market

Median Hourly Pay by Experience
Less than 1 year: $9.31
1-4 years: $10.19
5-9 years: $12.79
10-19 years: $15.26

Close Next 11/11 Previous

11. Lowe's Home Improvement Inc.

Number of employees worldwide: 161,000

Hourly wage range: $7.48 - $18.92

Employer pay: -3% below market

Median Hourly Pay by Experience
Less than 1 year: $9.36
1-4 years: $11.20
5-9 years: $13.32
10-19 years: $13.70