Digging Into Manhattan's Housing Boom...And Bust Potential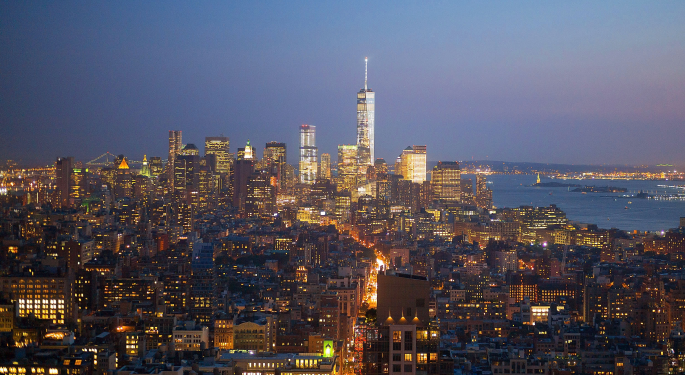 Earlier this April, therealdeal.com published an article focused on the historical patterns for Manhattan residential real estate in order to put the recent uptick in prices into perspective.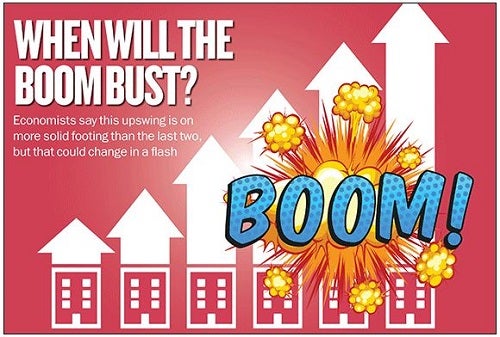 Source: therealdeal.com
The basic premise of writer E.B. Solomont's article was that "[t]he word 'boom' may conjure up images of skyrocketing prices and massive amounts of construction — at least when discussed in real estate circles. But the truth is that not all market booms (or busts for that matter) are created equal."
Related Link: Citi Research: Student Housing Trends & Top REIT Pick
How Does This "Boom" Compare?
Solomont points out that despite Manhattan residential prices having increased for 27 consecutive months, recent price gains "actually pale in comparison on a percentage basis to the increases seen in prior booms."
Jonathan Miller, president of real estate appraisal firm Miller Samuel told Solomont that during the boom of the 1990s NYC prices rose ~84 percent; and then another 116 percent through the mid-2000s prior to the bust.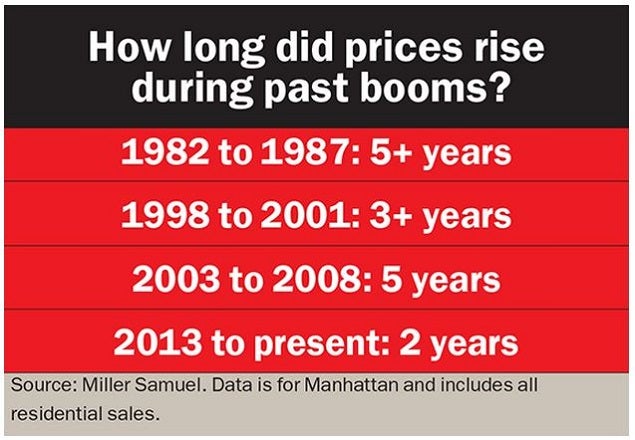 Source: therealdeal.com
This time when prices have only increased by ~19 percent since they began a significant upward trend in Q1 2013, "In the context of prior booms, it feels like we're still in the early stages," according to Miller.
Limited Supply/No Easy Mortgage Credit
The character of the current housing cycle in Manhattan is in some respects a result of the market having not fully recovered from the effects of easy credit which fueled the speculative bubble which began in 2004.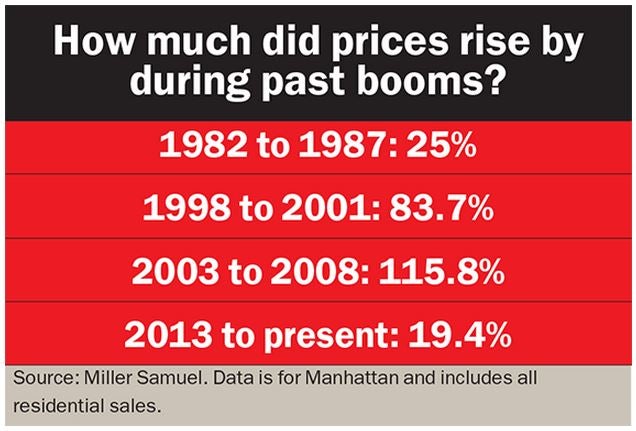 Source: therealdeal.com
New supply is limited by many existing homeowners with little equity and therefore no incentive to put more supply on the market; tighter construction lending has also limited new supply.
"The average new development price last year was $2.5 million, according to Corcoran Sunshine Marketing Group, more than 30 percent higher than the average price of $1.9 million in 2007."
Apartment Landlords Rejoice
Tighter mortgage lending standards limit the number of qualified purchasers, which keeps a lid on demand; while the growing class of renters are driving up apartment rental rates in NYC.
According to information report by Bloomberg in March, Manhattan median rents rose 8.9 percent to $3,375; with studios and one bedroom apartments at record highs, averaging $2,351 and $3,400, respectively.
"While employment is improving, incomes aren't rising as fast as Manhattan rents, leading tenants to seek affordability by finding smaller spaces," Gary Malin, president of brokerage Citi Habitats, explained to Bloomberg.
The Lap Of Luxury
The most active and fastest growing segment of the market is luxury co-ops and apartments. The skyrocketing price of land and in Manhattan, higher construction costs, interest from foreign buyers, and the recovery on Wall Street have all contributed to the upward skew in high-end Manhattan digs.
"Today, the average luxury pad is 4.3 times as expensive as the average Manhattan apartment, according to Miller. That gap has grown. For the past three decades, he said, the luxury market was three times the price of the rest of the market."
The Bottom Line
The luxury market is booming in Manhattan, both for apartment leasing and for home sales.
"In 2014, the average price of luxury co-ops and condos topped $7.3 million, up 64.4 percent from $4.5 million in 2005," according to Miller.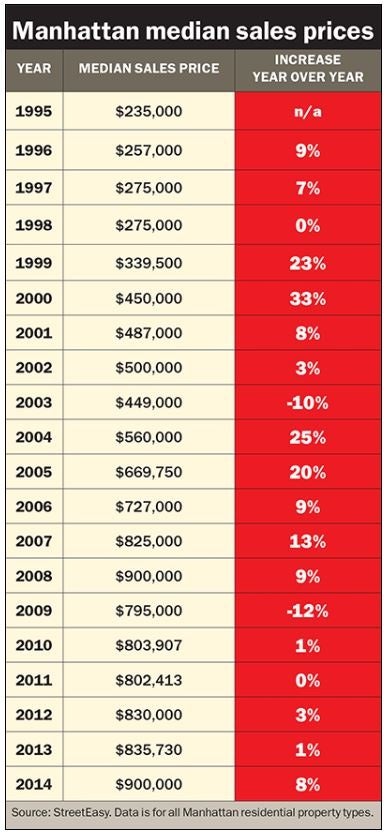 The good news may be that median prices have increased at a more sustainable level than past Manhattan housing booms. However, the sad truth is that this has been a result of a lack of qualified buyers and supply of "affordable" housing in NYC.
Posted-In: Housing ManhattanEducation Topics Economics Personal Finance General Real Estate Best of Benzinga
View Comments and Join the Discussion!