MidSession Review: Volatility Genesis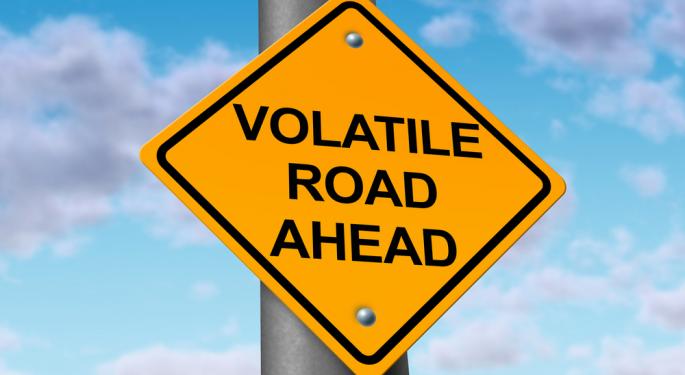 Volatility we expected and volatility we got.
We started the day in a bull mode, and we are now trading in negative territory, in our Morning Meeting we adjusted our trading strategies to account for a higher volatility regime, our short bias made the rest. Although we could be here congratulating each other, we know that the day is not over yet.
Let's go back where the day started: the Obama victory sent European stock higher all over the region, although the "fiscal cliff" is still there and nothing really changed from yesterday from a parliament mix stand point. But attention in Europe were for Greece, where parliament votes on an austerity package needed to secure fresh money to avert bankruptcy.
With the Greek vote pending on Europe head, the currency was still moving toward the 1.29$ mark when all of a sudden a drop in the Euro was followed by a drop in equities, the reason:
European Central Bank President Mario Draghi said "Germany has so far been largely insulated from some of the difficulties elsewhere in the euro area. But the latest data suggest that these developments are now starting to affect the German economy".
Apparently there is someone out there who didn't know it. The 6th of November our MidSession Review titled: Losing the Safe haven status.
While we writing the market picture drastically changed since the opening bell: Stoxx50 fell 0.99% to 2,510.85, the German Dax fell 0.70% to 7,326.20, in Southern Europe the Spanish Ibex fell 1.14% to 7,748 while the Italian Ftsemib led losers down 1.35% to 15,471.51 as selling pressure on the banking sector weighted on European equity benchmarks.
Currency wise the Euro gave up early gains to trade 0.43% lower versus the greenback to 1.2760$, the dollar fell versus the Japanese yen too to 79.93Y or 0.52%. The market is speculating about the currency move, part of the talk goes into the direction of a potential cut tomorrow by the ECB.
Bond yields in Southern Europe were on the rise again with the Italian 10 year government bond yields up 1.1 bps to 4.914 and Spanish peers 1.2 bps higher to 5.67.
The move originated in the Eur/$ pair affected the commodity market with Gold trading 0.64% higher to 1,725.90$ an ounce and Oil (WTI) nosediving 1.21% to 87.64$ a barrel.
The day is not over yet, the US opening bell is about to ring.
Remember: anything can happen in the market and when volatility step into the market you need to have a trading plan that fits the actual volatility regime.
Keep you cool.
Originally posted at www.77sigmatrading.com
The following article is from one of our external contributors. It does not represent the opinion of Benzinga and has not been edited.
Posted-In: Economics Markets Trading Ideas