NASDAQ Technical Outlook for May 8
With a current drop of over 1.5%, the Nasdaq is clearly on its way to test an important Fibonacci level of 2880. Depending on how well it holds the level, the Index may bounce back up and continue with the positive trend shown for most of the year.
Under the current circumstances, the whole technical picture may be suggesting that the market is accommodating to react to Facebook's (NASDAQ: FB) IPO debut scheduled for next week. Whatever happens that day it will most likely determine the future direction of the Index. This is not only related to Facebook's performance itself but its "halo effect" on all other tech and social companies.
If Facebook does well during first day of trading, investors would most likely feel optimists about the future across the whole industry, would buy more stock and would likely move the level of the whole Index high. In the opposite scenario, Facebook performs under expectations and creates a domino effect across the sector, dragging down related companies and the whole Index moving down.
From a pure technical perspective, all the important Moving Averages are crossing down at the moment, which gives indication that the Nasdaq is loosing steam. RSI is below its bullish 50 level and MACD is trending down in direction with the underline Instrument, a dim general picture for the Nasdaq.
Once the level reaches the 2880 level, it may be that it bounces back and down a little until the time of Facebook's IPO. At that moment it may go down to a support level of 2740 or a 4.8% drop from the current level. However, if the news is good and the Index rebounds, it may goes up to a first target level of 3130 (highest of the year) or a win of 8.68% from current levels.
Stock chart: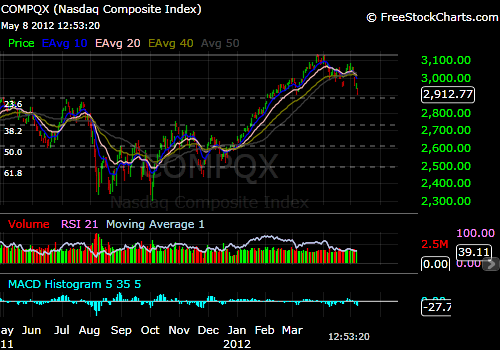 Posted-In: FacebookAnalyst Color News Rumors Technicals IPOs Intraday Update Analyst Ratings Trading Ideas
Around the Web, We're Loving...
Partner Network