Want to claim 6 FREE stocks? Head over to Webull to get started.
Whether you run a large corporation, a small operation or a solo venture, managing costs is paramount for business success and profitability. As a business owner, you might be looking at your landline as a place to cut corners and you may want to search for a better alternative, like a free business phone number.
The best business phone number services can help you stay organized and save money on phone costs — especially if they're free.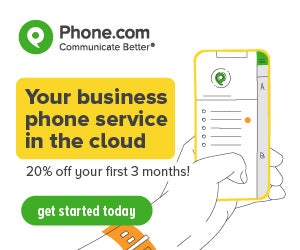 Best Free Business Phone Number Providers
phone.com
eVoice
Google Voice
CallCentric
Sprout
FreedomVoice
Why Use a Free Business Phone Number?
No matter the size of your business, wired phones can be a huge expense and you may need to consider other options to find the best way to save money. Not surprisingly, in this age of the internet, Voice over Internet Protocol (VoIP) and free virtual phone numbers are the ways to cut communication costs.

They both cost less than traditional services and don't require expensive on-site equipment. Note that cloud-based virtual phone numbers make it easier than VoIP to establish local, toll-free or vanity phone numbers or transfer existing numbers to a new service.
If your customers are mostly local, it's easier to get a business number that's totally free. If your customers are located across the country, you can often get a toll-free number or, if you want a vanity number that identifies your business quickly (something like 1-800-DOG-WALK) you may have to pay a one-time activation fee.
Another reason for using a free business phone number is to give your small or independent business an air of credibility. It may be more affordable to use your personal cellphone for business calls, especially if you're trying to cut costs or pay off credit card debt your business may be carrying.
You'll appear to be more professional when you have a separate business number and it'll be easier to keep your personal and business lives separate.
If you need more advanced capabilities, such as multiple extensions, a live receptionist or conference calls, you can also get a desk phone but you may have to pay extra for these features.
What You'll Need to Sign Up
Free virtual phone numbers and VoIP services don't need much in terms of set-up. There's no expensive hardware required and most of what you need you already have.
They require internet access, computers, an established phone service, desk or mobile phone, and possible equipment for VoIP networks.
Computer and Internet Access
It goes without saying that you need a computer with internet access to support free virtual phone numbers and VoIP networks. That shouldn't be a problem for most businesses, although VoIP is dependent on the local internet carrier. This means that power outages and bad connections could be an issue.
Virtual phone numbers are a little more reliable because they're managed through a controlled data center and usually have backup power sources to take over if needed.
Established Phone Service
You still need your cellphone or desk phone service to utilize free virtual phone numbers. Depending on your virtual company, you can either have incoming calls forwarded to your personal cellphone, your computer or desk phone.
Most of these internet phone number services also offer apps so you can do business anywhere on your connected devices.
Possible Equipment for VoIP
Some virtual phone numbers may require a small amount of extra equipment for setup. For example, CallCentric uses your internet connection and software on your computer, or a telephone adapter to place calls using VoIP.
This ensures that your calls travel from your computer or telephone adapter across the internet to their final destination.
Our Picks for the Best Free Business Phone Number Services
There are many good paid phone number services available that offer a host of useful features. Here are some of our favorites.
eVoice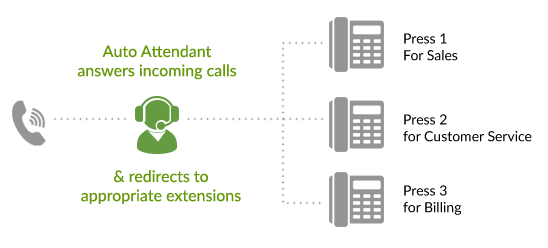 eVoice is a virtual business phone service with dozens of features that you can customize to fit your company's needs, regardless of the size of your business.
The service includes a free local or toll-free number to subscribers in the United States and Canada. This allows you to stay connected to customers wherever you are. There is no hardware, setup or contract to deal with.
You choose your phone number from available numbers in select area codes. Based on how you configure the service, you can answer calls placed to your eVoice number on your phone and other devices. Users must have an established phone service.
A mobile app gives you access to a second line on the go.
While your eVoice phone number is free, you can upgrade to a number of helpful features for a price after a 30-day free trial. You can have your own Auto Attendant answer your calls with a professionally recorded greeting. Advanced Call Routing also lets you set rules online for where to send your calls.
You can have access to the Voicemail-to-Email feature which converts your voicemails to audio files and emails them to you so you can listen to your messages on your computer or tablet during off hours.
Google Voice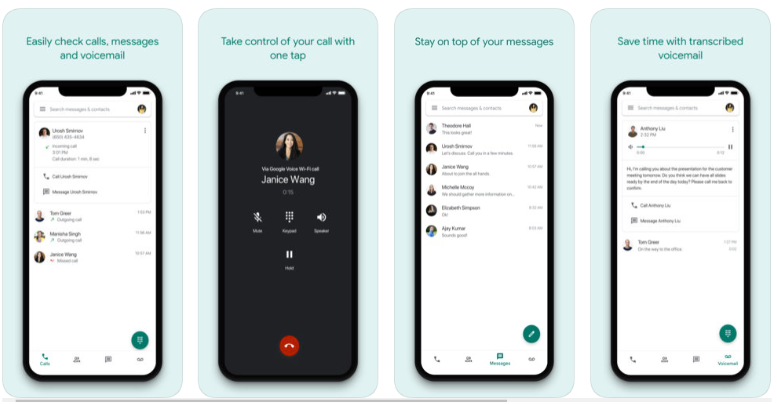 If you already have a Gmail account that you use for business, you already have access to a free local business phone number.
Google Voice is a free virtual phone number that you can use on any mobile device or landline for business calls and voicemail.
Best suited for self-employed workers, it includes a small set of basic call management features. This includes voicemail, call forwarding, call block and text messaging with no monthly fee.
Google Voice also has a screening feature that welcomes callers and prompts them to say their name before the call rings through to your phone.
This enables you to hear their name and answer the call directly, send the call to voicemail for later or send it to voicemail and listen in without the caller knowing.
If you have the Google Voice app, you can access your business phone number from anywhere.
Once your devices are linked, you can receive calls and SMS messages and reply to messages from either the phone or the internet. Voicemails are automatically transcribed moments after each call, and you'll receive notifications of missed calls and messages through email and SMS.
CallCentric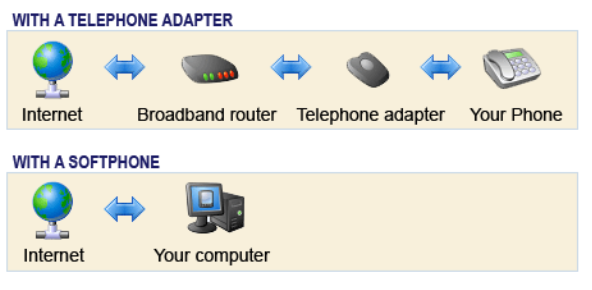 CallCentric uses either your internet connection with special software on your computer or a telephone adapter to place phone calls using VoIP. Your calls travel from your computer or telephone adapter until they reach your recipient.
The calls you make to and from other CallCentric customers are free.There is a small charge for calls you make to traditional phones worldwide.
Your Apple or Android device works with the CallCentric app. You can also use a regular business desk phone if it has IP capability to connect to your local internet network.
Sprout (from Freshworks)

Freshcaller's free Sprout plan supports an unlimited number of users and includes basic call queues and custom greetings.
It also features ringtone customization and call forwarding to mobile phones.
Sprout, however, doesn't include voicemail or call-recording. The Sprout plan, with its limited number of features, is best for independent contractors. It's also recommended for freelancers and consultants. This is a budget-friendly virtual number with pay-as-you-go calls.
FreedomVoice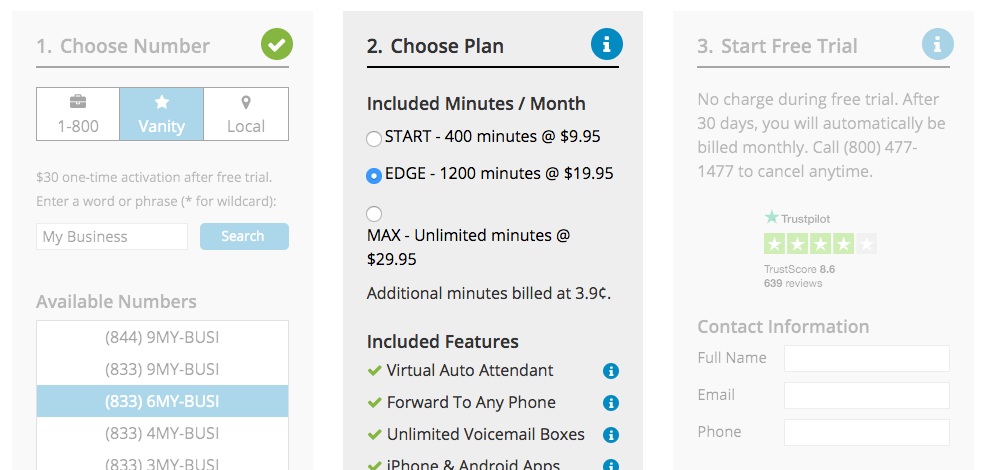 Although Freedom Voice isn't free, you do get a 30-day free trial with this virtual phone number.
Then, you can choose to keep the service for a fee and receive extra features. These include virtual auto attendant, auto-phone forwarding, unlimited voicemail boxes and iPhone and Android app-calling capability.
You can get a vanity business phone number for a one-time activation fee of $30 in case you want to make sure you have a phone number that clients won't easily forget.
Free to Grow Your Business
There's really no such thing as a free lunch, but how about a free phone number? Well, technically, no, a free virtual phone number is not completely free, though Google Voice and Sprout come close. You still pay for your internet service and your landline and/or cell service.

If you want to expand on the services your virtual phone number offers, you may have to pay for extra features. Even if you do have some out-of-pocket costs with a free virtual phone number, ditching your traditional wired phone will allow you to still come out ahead.
Want to learn more about the best products and services for your business? Check out Benzinga's guides to the best business cards, the best office manager training and the best expense tracker apps.