1 Minute Review
Leave Your Own 1 Minute Review!
NordPass is a leading password manager that is affordable, easy-to-use and secure.  Designed to cater the needs of both tech enthusiasts and rookies, NordPass is an intuitive and user-friendly password manager that has a number of features to ensure the safety of your credentials online. NordPass is one of the best services if you want to make sure your passwords, login and credit card details are protected from the frequently happening cybersecurity attacks and data leaks.  
NordPass also uses the XChaCha20 encryption and security that IT teams and super-users are looking for. Although NordPass is a relatively new password manager, it's already disrupting the account password manager space. Developed by the cybersecurity experts of NordVPN, NordPass boasts of a number of features that will make your online life easy and secure. Learn more about NordPass now.
Best For
Saving passwords with a click
Secure password sharing
Checking for leaked data
Password generator
Storage for an unlimited number of passwords
Pros
Easy to use, streamlined tool
Free, Premium, Family and Business plans available
Share passwords securely
Multi-factor authentication
Manage passwords on up to 6 devices
Secure and private password storage
Cons
Free version is for 1 device only
Cannot share folders
Protecting Passwords With NordPass
NordPass includes many outstanding features that will help you secure your online accounts. Here's a look at the platform's features and a rating for how it stacks up within the industry.
Remembers your passwords with a master password
This is the core feature of NordPass, and it's exceedingly good. With the app on your mobile devices, laptop or desktop, you'll get prompts to save passwords as you input them on various sites. And the service keeps those passwords secure so you can access them when and where you need them through authorized devices. Even on shared devices, you can log into NordPass to access saved usernames and passwords.
Autofills for you
NordPass does a great job of prompting you to autofill usernames, passwords, credit card information and contact data when it recognizes you're visiting a site or service you've saved information for.
Compatible with biometrics
On mobile devices, the biometric login is great and can help you save time. But the service doesn't work on desktop computers.
On compatible mobile devices, you can use Face ID or your fingerprint, but these features aren't available yet on compatible laptops that also use fingerprints and face recognition.
Store more than passwords
When you subscribe to NordPass, you get 3GB of free cloud storage. You can store notes, credit card information and personal details to automatically fill web forms with details like your name, address and phone number. You cannot store files or links within the notes though, which makes this functionality limited. However, there is unlimited cloud storage when it comes to passwords.
Import passwords
If you already have passwords stored in your internet browser, you can easily import those into NordPass. Just review the instructions and documentation for guidelines on how to do this.
Access from a browser
The browser extensions function well and ask you if you'd like NordPass to remember authentication information or to autofill stored usernames and passwords. The only catch is that you still have to have the desktop app downloaded to your computer and running to power the browser extensions.
Sync across devices
When you add or change information stored within NordPass, it's automatically ready from any device. The service syncs frequently to provide seamless use across every device.
Web Vault
Web Vault makes it easy to access your passwords by logging into the service from any browser. You don't need an application and you can access your passwords from any device, any time. You can view credit card data, secure notes, personal information and your usernames and passwords all in 1 place using the secure multi-factor authentication process.
Secure notes
NordPass does a great job of storing notes securely. However, searching your secure notes is still somewhat lacking, which means finding and organizing these files is somewhat cumbersome.
Store credit cards
Online shopping lovers will enjoy the ability to store and autofill credit card information. If you've been nervous to allow your favorite retailers to store this information out of fear of what might happen if that retailer gets hacked, you now have a far better option. Autofill your credit card information instantly using your stored NordPass information.
Store contact info
Want to buy concert tickets? Enter your contact information. Looking to book an oil change for your vehicle? Enter your contact information. Craving some delicious food delivered directly to your door? You guessed it, you'll be asked for your contact information.
It's a tiring process to type all that information, especially on your mobile devices. Speed up the process with NordPass personal contact information storage.
Organize into folders
Stay organized with folders. Label them by work, home, hobbies and more to find the information you're looking for quickly from any device. Adding information to these folders is simple as the system prompts you to ask where you want to save information. Add, delete and move folders using the menu options within NordPass.
Check for leaks and weak passwords
When you type in a password, you'll see if you've used that password anywhere recently or reused it on another site. And the service will regularly check for password leaks to alert you so you can change it before you face issues.
Emergency access
Just like the name sounds, Emergency Access provides a trusted family or friend access to your password vault in case of an emergency. If anything were to happen to you, your loved ones could still access your digital accounts. To share your password vault, you can provide access to any other user.
Complex password generator
Generate secure, hard-to-guess passwords on any device. And because you don't have to remember your passwords anymore, these passwords can be completely random so that they are as secure as possible.
With round-the-clock support, NordPass shows its dedication to its customers. Although NordPass is a relatively recently established brand, the company is committed to fulfilling the highest security and customer service standards. Notably, its customer support brings value to its service.
While the company does not provide phone support, you still have plenty of options to get in touch. You can chat with customer service or send an email request at any time. With an extensive FAQ section and knowledge base, you'll find answers to common questions without having to reach out to support.
NordPass is slightly more expensive than its competitors, but its easy-to-use services come with a trusted name in the industry. NordPass password manager developed by the cybersecurity experts of NordVPN now offers its season sale, which may be a good opportunity to explore the benefits of a password manager. If you sign up for 1- or 2-year plans, you'll also get greater savings than going month-to-month.
2-year Personal Plan: $35.76, which is $1.49 per month – 70% savings
1-year Personal Plan: $23.88, which is $1.99 per month – 60% savings
Family plans provide access to 6 unique accounts, so you can keep your whole family secure.
2-year NordPass Family Plan: $119.76, which is $4.99 per month – 37% savings
1-year NordPass Family Plan: $71.88, which is $5.99 per month – 25% savings
The mobile app makes it simple to use the service on any mobile device. The app will sync automatically with everything you do on other devices.
Protecting your accounts online is essential. Reusing a password here or there might seem like it doesn't matter, but it can open you up to huge risks online. The user benefits of the software are immense and well worth the subscription price. The NordPass broker password manager has been audited by an independent auditor to ensure its security.
Being part of a data breach could cost you a great deal not just financially, but in the headache of getting everything sorted out to mitigate the damage and get back to using your online accounts. With NordPass, if you do become a victim of a data breach, you'll know about it immediately with the Data Breach Scanner included in your Premium account.
One of the best parts of NordPass is that it's extremely easy to manage. After a few days, you might not even remember that it's an added service on your devices because it just becomes a seamless part of your online experience.
And if you're tech-savvy, you'll like knowing that NordPass uses xChaCha20, a state-of-the-art algorithm ensuring top-grade security.
The user experience is outstanding and designed for any user. The desktop experience could improve a bit. You have to have the application running on your computer at all times in addition to the browser extension, and you can't authenticate using biometrics. But you likely won't notice that the application is running, and it won't slow down your computer.
NordPass vs. Competitors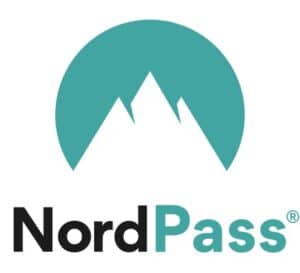 NordPass offers an outstanding free password manager option. Unlike some of its competitors, you'll get access to the service for free for an unlimited time. While it's only accessible on 1 device, it's still a great value.
All subscriptions come with 3GB of cloud storage through NordLocker. That way, you don't have to subscribe to additional services, such as DropBox or Google Drive. When you subscribe to NordPass, you can pay using cryptocurrency, which few services accept.
NordPass works incredibly well in making sure your passwords and personal credentials are protected and accessed within a click, whenever you need. As it provides incredible security for your passwords and sensitive information, such as credit cards, as well as informs you if your data may have been compromised during a data leak, you can put your mind at ease. You'll enjoy using your mobile devices even more when able to access accounts within a click. Completing an e-commerce purchase is also effortless, thanks to the NordPass' autofill abilities.
NordPass Video Tutorial
Ready to see NordPass and its many features? View the NordPass video tutorial to decide for yourself whether the platform is right for you.
Frequently Asked Questions
Is NordPass safe?
Yes. NordPass is safe. It uses an encryption process so your passwords stay hidden just to you. Multi-factor authentication ensures that even if your account details get leaked, hackers can't get to your passwords.

What is the difference between NordPass and NordVPN?
NordPass is a password manager, while NordVPN is a virtual private network that secures your online activity. You can use either service or use them in combination for absolute security.