Over 1,000 Store Closures Coming For RadioShack Following Poor Earnings Report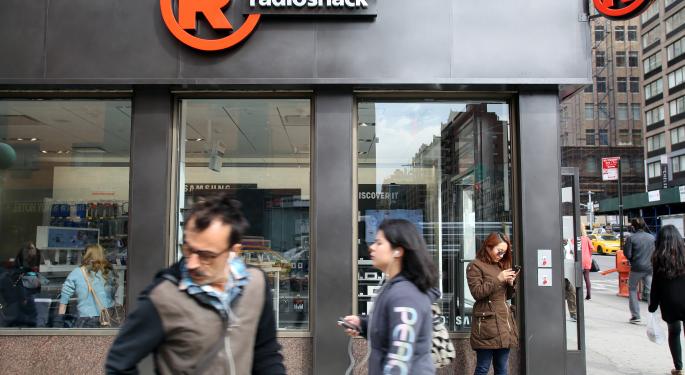 It was a rough 2013 for RadioShack (NYSE: RSH).
The electronics chain, like a lot of retailers, has been slammed by a still-weak economy and the ongoing migration of consumers from brick-and-mortar stores to shopping online. And despite a popular Super Bowl ad, poking fun at itself and its image while promising a revamp of its stores, the company continues to struggle.
While reporting disappointing fourth-quarter and yearly results on Tuesday, RadioShack also announced it was closing up to 1,100 "underperforming" stores.
The company reported total net sales and operating revenues were down 19 percent in the fourth quarter, compared to the same time period a year earlier. It also had a fourth quarter operating loss of $166.1 million, compared to an operating income of $16 million during the fourth quarter of 2012.
Related: Harley-Davidson Thinks Beyond 2 Wheels, Rolls Out 3-Wheeled Motorcycle In Japan
"Our fourth quarter financial results were driven by a holiday season characterized by lower store traffic, intense promotional activity particularly in consumer electronics, a very soft mobility marketplace and a few operational issues," company CEO Joseph Magnacca said in a press statement.
RadioShack also had a net loss of $400.2 million, or $3.97 per share, for the full year. But Magnacca pointed out the company still has a "strong, unmatched presence across the U.S.," with 4,000 stores and more than 900 dealer franchise locations.
"Even in this environment," he added, "we're continuing to make progress on the five pillars of our turnaround plan: repositioning the brand, revamping the product assortment, reinvigorating the stores, operational efficiency and financial flexibility."
Analysts, meanwhile, are not especially optimistic about the company's future.
Anthony Chukumba at BB&T Capital Markets tells Reuters the earnings report results "were much worse than we anticipated, and cast serious doubt on RadioShack's long-term viability in our opinion."
And David Tawil, co-founder of hedge fund Maglan Capital, said the store closures should at least buy RadioShack some time. However, he told the wire service, "I don't think they have a place in the market."
Posted-In: Analyst Color Earnings News Retail Sales Events Economics Tech Media Best of Benzinga