For any business selling physical products, working with a shipping company is crucial. Modern shipping companies handle everything from picking, packing, shipping and delivery. Many even offer warehousing, order fulfillment and inbound freight coordination.
If you are a new small business starting up or a company looking to grow and expand, working with a shipping company can help you. Shipping out products come with a lot of stress and responsibility, along with manpower as well. Your business might not have all of this right away or might not want to have to deal with the headache of it. The best solution is to pair up with a shipping company!
Keep reading to learn more about why you should use a shipping company and which is the best option to meet your business needs. 
Quick Look: The Best Shipping Companies for Small Businesses
Best for Reliable and Efficient Order Fulfillment: The Fulfillment Lab
Best for Cost-Effective Shipping: Print Bind Ship
Best for Emerging Businesses: ShipBob
Best for Brick-and-Mortar Locations: United States Postal Service
Best for Global Shipping Capacity: FedEx
Best for Online Integrations: EasyShip
The 6 Best Shipping Companies for Small Business 
As there are many great shipping companies for small businesses to work with, this article will show you some of the best ones out there, and why you may want to partner your business with them!
The Fulfillment Lab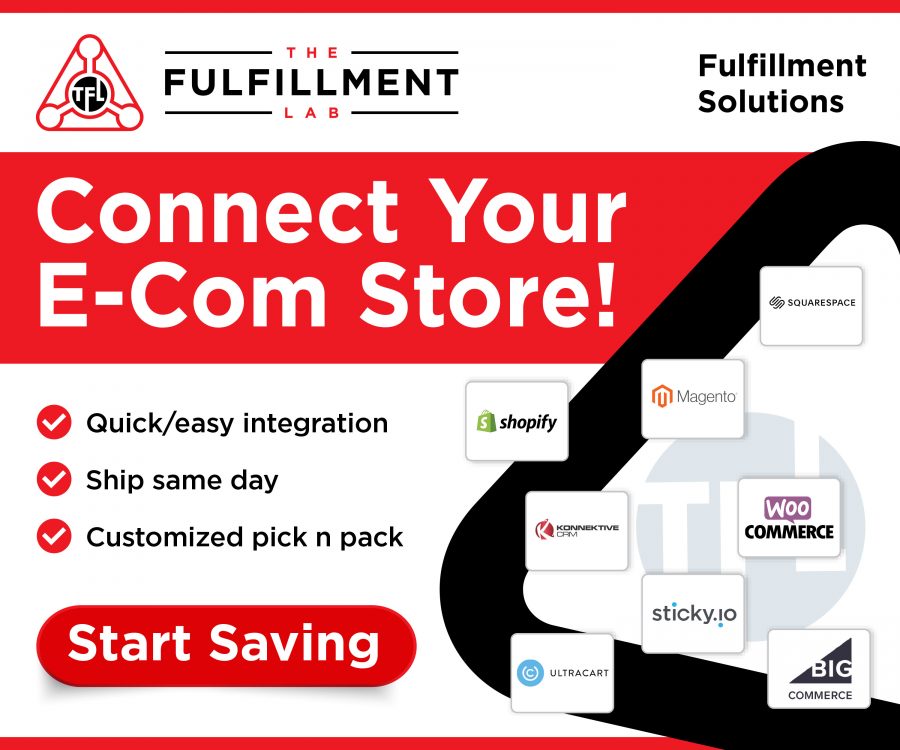 Get started
securely through The Fulfillment Lab's website
1 Minute Review
As technological advancements continue to transform the e-commerce landscape, businesses are engaged in fierce competition for customer attention and loyalty, driving a need for constant adaptation and innovation. Fast and efficient order fulfillment is crucial for driving customer loyalty and sales. A study by Dotcom Distribution found that 87% of online shoppers consider shipping speed when deciding whether to shop with an e-commerce brand again. However, many businesses lack efficient order fulfillment strategies. That's where The Fulfillment Lab (TFL) comes in.
Founded in 2012 and headquartered in Tampa, Florida, The Fulfillment Lab is a leading third-party logistics (3PL) and e-commerce fulfillment company that offers comprehensive services to help businesses manage their supply chain and streamline their order fulfillment processes. The company provides various services, including warehousing, order fulfillment, inventory management and shipping solutions leveraging its state-of-the-art facilities, cutting-edge technologies and team of experienced professionals. 
The company also offers customized solutions tailored to each client's unique needs. Its commitment to customer service and efficient operations has earned them a reputation as a trusted partner for businesses of all sizes. TFL's technology-driven approach and expertise ensure that clients can focus on growing their businesses while leaving the logistics to the experts. Benzinga spotlights TFL, explaining how its services can help you fast-track order fulfillment and turbocharge your e-commerce businesses. 
Best For
E-commerce business owners seeking reliable and efficient partners for their order fulfillment and shipping needs
Startups and small businesses looking to outsource their logistics and warehousing operations to a trusted third-party provider
Entrepreneurs who want to focus on growing their business and sales instead of worrying about the logistics of order fulfillment
Companies expanding into new markets or launching new product lines that need a flexible and scalable order fulfillment solution.
Online retailers who want to provide their customers with fast and reliable shipping and delivery options to boost customer satisfaction and loyalty
Pros
Robust and agile proprietary software — Global Fulfillment Software (GFS), to expedite and streamline order fulfillment
Dynamic integration with over 40 e-commerce platforms, including Etsy, Shopify, eBay, Amazon and BigCommerce
Real-time inventory tracking using its proprietary management software
In-house design and printing services for personalized marketing campaigns with client orders
Custom packaging and shipping materials
Excellent global or international presence
Efficient customer services across diverse channels
Cons
Available in only two locations in the U.S.
Lack of transparent pricing (no upfront estimates)
Unavailability of climate-controlled facilities
In the eCommerce space, there's quite a lot going on for every retailer. You're selling products to consumers who expect a fast turnaround, but how can you make the most of your business and get the fulfillment services you deserve?
When you use The Fulfillment Lab, you can take advantage of a 3PL service that leverages state-of-the-art facilities, processes, order fulfillment, warehousing solutions, inventory management options, shipping and more. As you take advantage of these services, you can foster greater loyalty amongst your customers, and you also get:
Reliable 3PL services
Support for startups and established small businesses
Logistics and warehousing options
The ability to grow your business
Scalable fulfillment services
Agile proprietary software
Global fulfillment services (GFS)
Integration of over 40 platforms, including Etsy, Shopify, Amazon and more
Real time inventory tracking
Quality customer services
While climate-controlled facilities are not available, you still have an incredible opportunity to streamline the options you have for shipping to your eCommerce customers. As you can promise better service for your clients, your business will grow that much faster.
Print Bind Ship
Print Bind Ship provides customers with a modern approach to their eCommerce business. They are a best-in-class fulfillment company. As a company that has been in business for over 60+ years, they are skilled in the shipping process. Not only does Print Bind Ship offer worldwide shipping, but their services also include order fulfillment, package redesign, storefront integration, and more. These services are features that not all shipping companies offer which is why Print Bind Ship is our best overall choice for small businesses to work with for their shipping needs.
Pros
Print Bind Ship has in-house fulfillment and manages its own inventory. The biggest advantage is they can maintain complete control over the order fulfillment process. Along with the order fulfillment process perk, Print Bind Ship will be an expert on your products. This is extremely helpful in case there is a problem that needs to be resolved quickly.
Additional pros for Print Bind Ship include:
Cost-effective
Dedicated staff
High client retention
Cons
It is safe to say that Print Bind Ship has more pros than cons when it comes to shipping. Of course, this is why they are ranked as the best overall shipping company for small businesses. A couple of things to note would be that Print Bind Ship tends to not work with perishable products and items involving batteries or aerosol cans. If your company provides products that fit those exclusions you may want to work with a different shipping company.
Great For: Best Overall
Another reason Print Bind Ship is one of our favorites is due to its versatility. Not only are they good for small businesses but they also have experience of working with medium to large companies as well. With room for warehousing products and completing the picking, processing and packing process, Print Bind Ship is a great fit for any company.
Rating: 5/5 Stars
As already mentioned, Print Bind Ship is ranked as best overall. They are a highly accredited shipping company, with the ability to provide additional services for your business!
ShipBob
With a mission to make your small business more successful by providing best-in-class fulfillment, it's no question why ShipBob is one of our top picks. ShipBob is a worldwide logistics platform. It works to fulfill eCommerce orders for businesses of all sizes.
Pros
One of ShipBob's greatest strengths is their fast delivery. The technology this company has provides a combination of unbeatable fulfillment and shipping services.
Along with their fast delivery for small businesses, they provide integration with popular eCommerce platforms. They ship orders to more than 220 countries and territories as they have international fulfillment centers in the USA, Canada and Europe.
Cons
There are not many negatives about ShipBob. The biggest complaints customers have pointed out are their slower customer service responses and how their website can lag at times.
Great For: Budding Businesses
ShipBob is best for not only small businesses but for budding businesses and enterprises that are looking to expand and grow.
This company is also great for those on a budget. They have strategic distribution for their products through their network across various states. This makes delivery simple and also cuts down on costs when it comes to delivery services from shipping companies.
Rating: 4.5/5 Stars
As there are many shipping companies out there, we thought it was important to list ShipBob due to their customized pricing and premium delivery and integrations.
United States Postal Service
The United States Postal Service (USPS) is part of the United States Federal Government, although it is an independent agency. They are in charge of providing postal service in the United States and offer services to individuals and businesses of all sizes.
This well-known shipping company is another favorite for small businesses as they offer fast delivery times and free application programming interfaces that allow small businesses to easily add shipping tools to their store.
Pros
Not only does USPS ship domestically but they ship internationally as well. They also offer discounts and loyalty credits to small businesses making it the perfect partner.
Another huge pro of USPS is their delivery time. On average goods are usually delivered within 2-9 days.
Cons
There is an added cost for deliveries on Sundays and on holidays. The United States Postal Service also has limited tracking capabilities compared to some other options.
Great For: Discounted Shipping
If you are a small business in the United States, chances are USPS is going to be a considerable shipping company to work with. With their loyalty credits and discounts offered to small businesses, there is no reason you shouldn't consider this company as an option for your shipping needs.
Rating: 4.5/5 Stars
Furthermore, as a shipping company, one of the most important things is fast shipping. The United States Postal Service has this and additional perks for smaller businesses.
FedEx
FedEx is an American multinational delivery services company. This company was picked as one of the leading shipping companies for small businesses as they offer reasonable prices, fast shipping times, and are overall a reliable and trusted corporation.
Pros
Working with FedEx provides business owners with multiple benefits. From fast shipping times, to their packaging arrangements and tracking systems, FedEx is hard to beat. Some additional benefits include:
On-time express parcel delivery or your money back
Easy to use shipment paperwork
Free packaging
Effective and fast customs clearance systems
Sophisticated real-time tracking information
Cons
Small package shipping costs are higher at FedEx compared to USPS. The reason behind this higher pricing is because FedEx ships on Saturday and Sunday, which ultimately means your packages could be delivered quicker than with other companies.
Great For: Rapid Shipping
FedEx is the best company for those who are looking to have extremely fast shipping.
Rating: 4/5 Stars
For small businesses trying to impress their customers with rapid shipping times, you will be happy with the decision of working with FedEx.
They provide additional services to small businesses such as tools to help them set up and grow their online business, customer support and help streamline the fulfillment and shipping process.
Easyship
Acting as a shipping platform connecting sellers and marketplaces to couriers, Easyship offers many significant features making it a prominent shipping company. From integration to special rates, Easyship gives competitors a run for their money.
Pros
This company has specially-discounted shipping rates and offers customers up to three cost-effective shipping options. Along with this, Easyship easily integrates with popular eCommerce platforms such as Shopify, Magento, WooCommerce, Amazon and more.
Other pros of Easyship include:
Connection and syncing to multiple stores
Product returns incorporated into its order fulfillment pipeline
Cons
There is a limit on the number of shipments you can process per month on three out of the four plans offered. Additionally, Easyship is only available in a select number of countries.
Great For: eCommerce in United States
Easyship is great for a small company based in the United States. They are great for eCommerce companies that are looking to grow in sales and continue building their brand.
Rating: 3.5/5 Stars
This company does everything from processing bulk orders, coordinating order pickups and packaging, to tracking orders and shipments. All in all, Easyship has made it onto the list of best shipping companies for small businesses as they are user-friendly, have easy integration options, and give various options for pricing plans.
Why Small Businesses Use Shipping Companies
Small businesses that sell physical goods that need to be shipped to their customers will find it beneficial to work with a shipping company. It's not an easy task to ensure smooth operations in the shipping process to have customers who are satisfied with their experience. But it is a vital task. So, to make sure everything goes as planned, it is better to have experienced individuals helping your business with this process.
Less Hassle
Oftentimes the main reason small businesses choose to work with a shipping company is that it is less for them to keep track of. There is a lot that goes into the shipping process and small businesses may not have the time or all of the resources to make this happen quickly. Along with time and resources, a small business may not have all the knowledge in the area of shipping either. If a small business is working with a shipping company they will be able to focus more on their products, the marketing and selling process and continuing to be able to grow their company.
Seamless Order Processing and Fulfillment
Processing orders is part of the shipping process. This is the workflow that involves the picking, packing and delivery of an item to the customer. Order fulfillment is essentially very similar to processing. It is the general aspect of the complete process from point of sales inquiry to when the product is delivered to the intended customer.
Working with a shipping company will ensure that you will have seamless order fulfillment. They are in charge of everything that happens from the start of a sale to when a product is delivered.
Seamless Delivery
A delivery process is the complete lifecycle of delivery from end-to-end. This includes address verification, confirming inventory, communicating with the seller and delivering the order to the customer.
When a shipping company is involved, they will handle this process for your small business. This will certify that your customers have the best delivery experience that they can. Seamless deliveries are often expected when making a purchase. You want your product to show up at your clients doorstep intact and ontime. A shipping company will make sure that happens!
Better Shipping Costs
You are likely to get a better rate when you partner with a shipping company. Many times these companies can offer APIs (Application Programming Interface) that integrate directly with your website or enterprise system.
Processing Returns
If your customer wants to return a previously purchased product, you as the seller have the option to provide a refund, exchange or store credit. This depends on your individual small business policies. Your selected shipping company can help simplify this process for you.
Where to Go From Here
It is crucial to work with a shipping company for your small business to help streamline your processes. Print Bind Ship is our top choice but ShipBob, United States Postal Service, FedEx and Easyship are all exceptional options as well.
There are countless advantages of working with a shipping company including extensive experience, a broad network of partners, a modern tracking system, safe shipping and on-time delivery.
Removing the stress of the shipping process from your list of things to worry about will leave you more time to grow your small business.