T-Mobile's iPhone Ad Angers BlackBerry Chief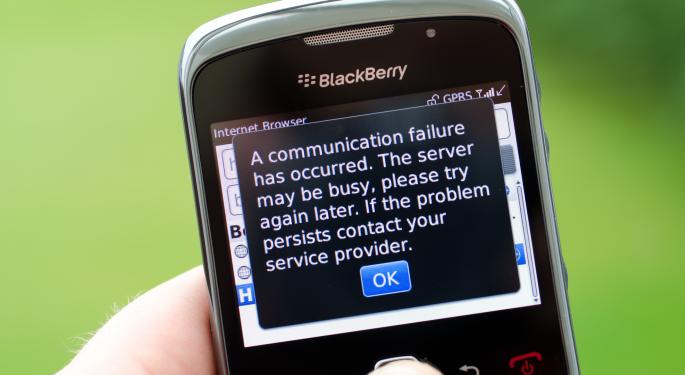 Millions of once-faithful BlackBerry (NASDAQ: BBRY) users have made a switch to an iPhone device over the past few years. T-Mobile's (NASDAQ: TMUS) recent advertisement is targeting the remaining faithful users, and its irking BlackBerry CEO John Chen.
T-Mobile is offering Apple's (NASDAQ: AAPL) iPhone 5S for $0 down. To promote the sale, the company ran an ad poster that said, "Get the tools to do more. $0 down on iPhone 5S. GREAT OFFER for BlackBerry customers."
"As we were never told of their plans in advance, I can only guess that T-Mobile thought its great offer for BlackBerry customers' would be well received," Chen wrote in a blog post on the company's website. "T-Mobile could not have been more wrong."
To customers, Chen said: "I can assure you that we are outraged too." Many BlackBerry faithfuls took to Twitter to express their frustration, which prompted T-Mobile's CEO John Legere to apologize.
Related: Did An Apple Senior Executive Meet With Elon Musk?
BlackBerry follow up- We give our customers choices, but you don't have to give up your #loyalty. We will continue to support

— John Legere (@JohnLegere) February 17, 2014
A T-Mobile spokesman told Bloomberg, "We are happy to be a BlackBerry partner and apologize for any confusion." T-Mobile also told Bloomberg that it will start providing free, expedited shipping of BlackBerry devices by the end of this week, "as an additional courtesy to our BlackBerry customers."
Posted-In: Blackberry iPhone john chen John Legere T-MobileNews Management Best of Benzinga