30 Stocks Delisted So Far In 2014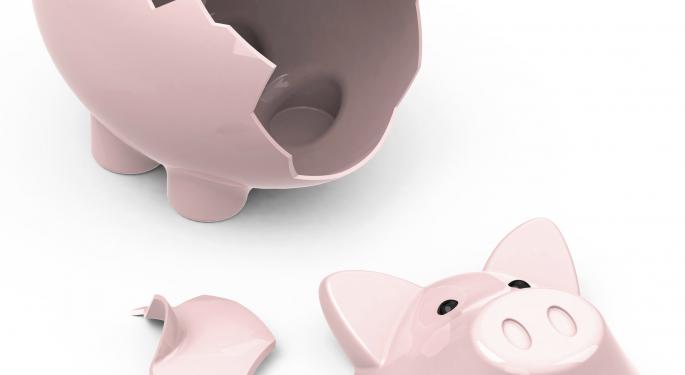 It is hard for a stock to recover from a NASDAQ or NYSE delisting; although the process is seamless, getting to the point of being delisted is typically bad news.
The company typically has lost so much value that it doesn't meet the exchange's minimum price requirements or has not filed required documents (e.g., quarterly reports). Here are some recent delist-ees in 2014.
Crumbs Bake Shop
Crumbs (OTC: CRMB) is perhaps the most notable delisted stock this year. The cupcake producer announced bankruptcy in early July after rampant expansion led to unpayable debt. Marcus Lemonis, of CNBC's television program The Profit, expressed his interest in purchasing Crumb's assets following bankruptcy proceedings.
NewLead Holdings
The Greek company NewLead (OTC: NEWL) was booted from the NASDAQ in June for "false and misleading statements," along with inability to keep its share price above $1. Investor confidence is so dire that two 50-for-1 splits could not keep the stock above $1. NewLead and fancier IronRidge Global are in litigation; according to NewLead, IronRidge owes $125 million.
Related: 4 Things Every Beginning Trader Should Know
L&L Energy
Although L&L Energy (OTC: LLEN) chose to voluntarily delist, shares had already lost almost all of their value, and many were expecting the Nasdaq delisting. The GeoInvesting web site uncovered that the company was fraudulent, lying to investors about ownership of assets and on financial statements. L&L Energy is yet another example of the need to be cautious about investing in Chinese reverse merger firms.
Related: 9 One-Time Penny Stocks That Didn't Stay That Way
Lihua International
Lihua (OTC: LIWA) is another fraudulent Chinese company. In this case, the CEO was diverting company assets to himself. As expected, the following sell-off was steep: Shares sold off more than 90 percent. Before being kicked off the NASDAQ, Lihua shares were halted as the exchange demanded more information.
Kids Brands
Kids Brands (OTC: KIDBQ) announced it would move to over-the-counter trading at the end of March, as the company could not maintain the $15 million market cap required by the New York Stock Exchange. In June Kids Brands announced it would pursue sale of assets in chapter 11 bankruptcy. The company has found a buyer for most of its brands.
Siemens
Siemens' (OTC: SIEGY) American depository shares were delisted from the New York Stock Exchange in May. According to the company, the main reason for the delisting is that very little of global equity trade was taking place in the United States (less than five percent). Shares are now traded OTC.
Other stocks that have been delisted in 2014 include:
Telik (OTC: TELK)
Tandy Brands (OTC: TBACQ) - bankrupt
Hauppauge Digital (OTC: HAUP)
Avid Technology (OTC: AVID)
ZCO Liquidating (OTC: OCZTQ) - bankrupt
Rainmaker Systems (OTC: RMKR)
Prospect Global Resources (OTC: PGRX)
James River Coal (OTC: JRCCQ) - bankrupt
Coldwater Creek (OTC: CWTRQ) - bankrupt
Tri-Tech Holdings (OTC: TRITF)
China Precision Steel (OTC: CPSL)
Mediabistro (OTC: MBIS)
Body Central (OTC: BODY)
Ambient Corporation (OTC: ABTG)
Cardium Therapeutics (OTC: CRXM)
Quaterra Resources (OTC: QTRRF)
Dolan (OTC: DOLNQ) - bankrupt
GSE Holdings (OTC: GSEHQ) - bankrupt
Chimera Energy (OTC: CHMR)
LDK Solar (OTC: LDKSY)
Loncor Resources (OTC: LONCF)
Genco Shipping (OTC: GNKOQ) - bankrupt
China Gengsheng (OTC: CHGS)
Ambow Education (OTC: AMBOY)
Posted-In: delisted stocks delisting GeoInvestingEducation Downgrades Movers & Shakers General Best of Benzinga