Consumer Reports Takes Tesla To Task Over Driving 'Quirks' With The Model S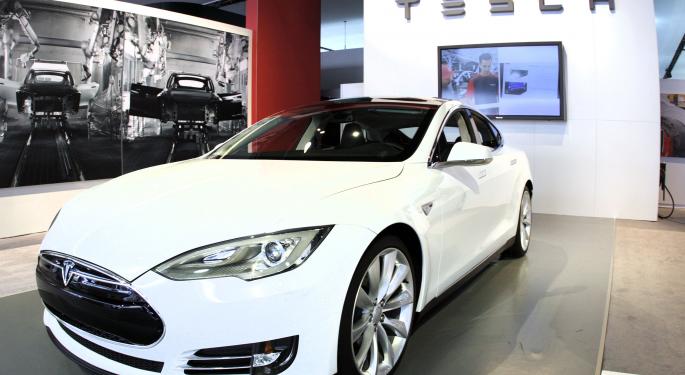 A new article by Consumer Reports, outlining glitches the magazine discovered in its long-term experience with the Tesla (NASDAQ: TSLA) Model S sedan, is raising some eyebrows among auto industry analysts –- especially since the vehicle won Consumer Reports' coveted automotive Top Pick for 2014 earlier this year.
Consumer Reports has lauded Tesla's accomplishments, describing the Model S as a revolutionary, "ground-breaking 21st-century car" with a very strong safety record.
But in driving around the magazine's test version of the Model S for nearly 16,000 miles, Consumer Reports staff noted their test car "has developed many minor problems that merit some reflection."
Related: 3 Companies That Should Benefit From Amazon's E-Commerce Disputes
Unusual Gitches
Among the unique "quirks" the CS staff reportedly noticed while behind the wheel of the Model S was a problem with the vehicle's automatically-retracting door handles, which they say would occasionally refuse to come out when a would-be driver wanted access to the car.
Another issue, noticed at just over the 12,000 mile mark, was the center display screen on the Model S suddenly going blank, "eliminating access to just about every function of the car, including popping open the charge port."
That problem was quickly resolved with a "hard reset" at one of the company's service centers. But those glitches prompted Consumer Reports to wonder whether, "given the number of bits and pieces Tesla has replaced on our car," if the vehicle's overall reliability score might be lower next month, when the magazine has another round of vehicle analysis.
For its part, Tesla says it takes any service issues very seriously.
"We err on the side of being proactive to ensure the best driving experience possible," the company said in a statement quoted by Reuters. "That means we are particularly attentive in addressing potential issues, even if those issues appear to be very minor or have a low likelihood of causing any future problems."
Growing Pains For New Tech
Karl Brauer, senior analyst at Kelley Blue Book, notes the features that make the Model S so attractive to first adopters and "tech geeks" also make it vulnerable to reliability issues.
"Tesla is riding along the cutting edge of personal transportation technology, which is both exciting and a bit risky, especially if you're a car owner looking for quirk-free transportation," he said in an email to Benzinga.
"Tesla is in the steep part of the learning curve when it comes to automotive mass production, which means every Model S that rolls off the assembly is the best one yet," he added. "I'm confident the current cars are of substantially higher quality than cars built a year ago, which Tesla has acknowledged while simultaneously doing what it can address current owner issues as quickly as possible."
However, Brauer believes the real test will take place following the launch of Tesla's Model X, the company's new production model, which is expected in early 2015. That new vehicle, he says, will hopefully "benefit from Tesla's Model S experience with regard to assembly practices and quality control."
Posted-In: Alternative Energy alternative vehicles automotive industry electric carsTravel Tech Media General Best of Benzinga