It's Official: Mark Fields Will Replace 'The Man Who Saved Ford'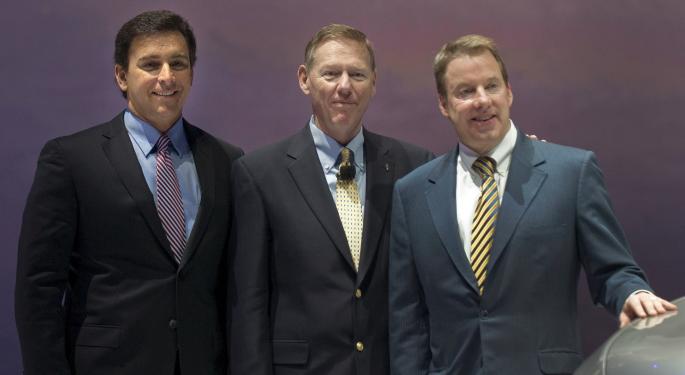 A changing of the guard at Ford (NYSE: F).
On Thursday, the auto-maker announced Alan Mulally will step down as CEO on July 1, about six months earlier than anticipated – and will be replaced in that position by Ford COO Mark Fields.
Mulally, a former top executive at Boeing (NYSE: BA), has been Ford's chief executive since 2006. The Detroit Free Press noted his tenure made him Ford's "longest-standing CEO not named Henry Ford." But Mulally was also praised for successfully guiding the company through the Great Recession.
"Alan deservedly will be long remembered for engineering one of the most successful business turnarounds in history," Executive Chairman Bill Ford said in a press statement. "Under Alan's leadership, Ford not only survived the global economic crisis, it emerged as one of the world's strongest auto companies."
Related: Average National Gas Prices At Their Highest Since March 2013
And Karl Brauer, senior analyst at Kelley Blue Book, says Mulally has deservedly earned his reputation as "the man who saved Ford."
"He came in after a series of failed leaders that had allowed Ford¹s product and position to deteriorate to a precarious position," Brauer told Benzinga."He also managed to secure financing for Ford¹s turnaround before the credit crunch, though that could be argued as a negative because it saddled Ford with private debt that Chrysler (OTC: FIATY) and GM (NYSE: GM) were able to cast off as part of their government restructuring."
At the same time, however, Ford never need government assistance to survive the depths of the recession – a point that Brauer says many consumers still view "as an important distinction among domestic automakers."
Mark Fields has been with Ford since 1989 – and has been credited with leading the company's business turnaround in Europe, the Americas and Asia. He was named Ford COO in late 2012.
Another KBB senior analyst, Eric Ibara, says Ford's transition from Mulally to Fields has been in the work for some time now. But he notes that, at the age of 53, Fields is quite young by automotive CEO standards – and "is poised to lead the company for some time."
"He showed his brilliance in his plan to turn Ford around, created before Alan Mulally arrived, and mostly accepted by Alan and the rest of Ford as the right plan to implement," Ibara added. "Mulally's genius was in anticipating the dramatic falloff in sales that followed the financial crisis of 2008, sparing Ford the indignity of having to declare bankruptcy."
"For this reason alone," Ibara concludes, "Mulally has secured his rightful place in Ford's pantheon of visionary leaders, with a space next to him reserved for Fields to earn."
Posted-In: Alan Mulally automakersNews Travel Events Media Press Releases General Best of Benzinga