Upcoming Disney movies for 2013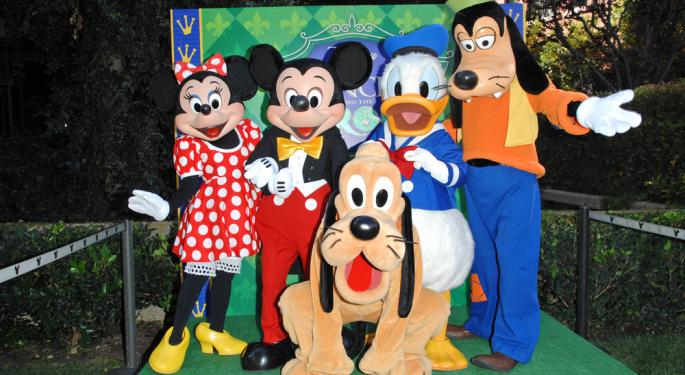 On Tuesday, Disney (NYSE: DIS) released its earnings for the fiscal first quarter of 2013. Earnings were better than expected, and shares rallied on Wednesday.
But what does Disney have up its sleeve in 2013? Here's a look into the movies the company will be releasing this year:
Frozen, November 27 in 3-D
Hans Christian Andersen's work has only been used in one other Disney movie: The Little Mermaid. This year, Frozen will also be loosely based on Andersen's fairy tale, The Snow Queen. The American film will be the 53rd animated feature in the Walt Disney Animated Classics series. The musical will also be featuring the twelfth Disney Princess, Anna the Ice Princess.
Anna and the Snow Queen, Elsa, will be played by Kristen Bell and Idina Menzel, respectively, in both the speaking and singing roles. Jonathan Groff will be playing one of Anna's sidekicks, Kristoff.
When Anna's kingdom is trapped in eternal winter from a prophecy, Anna must embark on a perilous journey across an unforgiving landscape to find her cold-hearted, estranged sister to reverse the curse. She teams up with an extreme mountain man, Kristoff and his one-antlered reindeer Sven. They must race against time, conquer the elements and battle an army of frozen sinister warriors to save the kingdom from destruction.
The original Andersen story is about an evil queen who kidnaps a young boy named Kai. After his disappearance a young girl named Gerda goes on an adventure to save him.
Director: Chris Buck (Tarzan, Surf's Up) and Jennifer Lee (screenwriter, Wreck-It Ralph) Producer: Peter Del Vecho (Winnie the Pooh, The Princess and the Frog) and John Lasseter (Tangled, Toy Story) Writer: Jennifer Lee and Shane Morris Music: Robert Lopez (The Book of Mormon, Avenue Q) and Kristen Anderson-Lopez (In Transit)
Iron Man 3, May 3
In the second sequel to Iron Man, this American superhero film featuring the Marvel Comics character Iron Man will be the seventh installment in the Marvel Cinematic Universe. It is the first major release in that franchise since the crossover film The Avengers.
Robert Downey, Jr. will reprise his role as the title character, with Gwyneth Paltrow, Don Cheadle, and Favreau reprising their roles as Pepper Potts, James Rhodes, and Happy Hogan, respectively. The rest of the principal cast includes Guy Pearce, Rebecca Hall, Stephanie Szostak, James Badge Dale, and Ben Kingsley.
When his private world is destroyed, Tony Stark embarks on a harrowing quest to find those responsible. The journey will test his mettle and force him to survive by relying on his ingenuity and instincts to protect those closest to him. Along the way, he learns the answer to the question that has secretly been haunting him: "Does the man make the suit or does the suit make the man?"
Director: Shane Black Producer: Kevin Feige (Marvel Studios President) Writers: Shane Black and Drew Pearce Music: Brian Tyler (The Expendables)
Monsters University, June 21 in 3-D
This American computer-animated comedy film will be the fourteenth film produced by Pixar and the prequel to 2001's Monsters, Inc.
John Goodman, Billy Crystal, Steve Buscemi, Jennifer Tilly, Frank Oz, and John Ratzenberger will be reprising their roles as James P. Sullivan, Mike Wazowski, Randall Boggs, Celia Mae, Jeff fungus and the Abominable Snowman, respectively. Kelsey Grammar will replace James Coburn as the voice of Henry J. Waternoose III.
Although Mike and Sulley are inseparable in Monsters, Inc. that wasn't always the case. In this movie, Mike and Sulley narrate the story of how they were once rivals in college and then became best friends. The film also shows how Waternoose taught Sulley to be a top scarer and that Randall was once a geek.
Director: Dan Scanlon (writer from Cars) Producer: Kori Rae (Up, The Incredibles) Writers: Pete Docter (Toy Story, Wall-E) and Andrew Stanton (Toy Story, A Bug's Life) Music: Randy Newman (Toy Story, Cars, A Bug's Life)
Also, On December 3, 2012, Georgian Progressive Metal band Mastodon announced via their Twitter page that they were writing a song for the film
Oz: the Great and Powerful, March 8
The film, is adapted from L. Frank Baum's 1900 novel The Wonderful Wizard of Oz, and is intended as a prequel to the 1939 film The Wizard of Oz.
James Franco stars as the protagonist in the film and Mila Kunis, Michelle Williams, and Rachel Weisz star as the three witches.
After being hurled away from his dust Kansas home, Oscar Diggs is thrown into the vibrant land of Oz. As a small-time circus magician with dubious ethics, Oscar Diggs thinks he's hit the jackpot and that fame and fortune are his for the taking. But those thoughts crumbles when he meets three witches: Theodora, Glinda and Evanora. The witches are not convinced he is the great wizard everyone has been expecting. Reluctantly pulled into the problems facing the Land of Oz and its inhabitants, Oscar must figure out who is good and who is evil before it's too late. He puts his magical arts to use through illusion, ingenuity, and a bit of wizardry. Through his journey, Oscar not only transforms himself into the great and powerful Wizard of Oz but into a better man as well.
Director: Sam Raimi (Spider-Man 1, 2 and 3) Producer: Joe Roth (Alice in Wonderland, Snow White and the Huntsman) Writers: Mitchell Kapner (Romeo Must Die) Music: Danny Elfman (The Nightmare Before Christmas, Corpse Bride)
Planes, August 9
A spin-off to the 2006 animated film Cars and the 2011 animated sequel Cars 2, Planes will be produced by DisneyToon Studios, instead of Pixar Animation Studios which had produced the Cars movies. It was first planned to be released on DVD and Blu-ray in fall 2013, but it will instead have a theatrical release by Walt Disney Pictures. It will be the first DisneyToon Studios film released theatrically since Pooh's Heffalump Movie in 2005.
Dusty, a big-hearted, fast-flying crop duster, dreams of competing in the most exhilarating around-the-world air race in history, despite his fear of heights. After he narrowly qualifies for the competition, he earns an enemy, another racer who will stop at nothing to see Dusty fail. Dusty's courage is tested but with the help of his friends, he gains the inspiration to soar.
Director: Klay Hall (The Simpsons, Tinker Bell and The Lost Treasure) Producer: John Lasseter (Toy Story, Brave) Writers: DisneyToon Studios Music: James Seymour Brett (Ella Enchanted, Anonymous)
Saving Mr. Banks, December 20
This biographical drama film is about the production of the popular 1964 Walt Disney Studios film Mary Poppins. The film will star Tom Hanks as filmmaker Walt Disney and Emma Thompson as author P.L. Travers.
Traverse travels from London to Hollywood in 1961 to finally discuss Disney's desire to bring her beloved character, Mary Poppins, to the motion picture screen. She is a prim, uncompromising sexagenarian who is suspecting of Disney's concept for the film and is also struggling with her own past. As she reflects on her childhood, the film shifts to 1907 in Queensland, Australia, a trying time for her family which had molded her aspirations to write and inspired the characters in her 1934 book, especially the story's patriarch, Mr. Banks who is a reflection of her father.
Disney had been working since the 1940s to acquire the rights to her book, as a promise to his two daughters, but Travers had great misgivings about how her stories would be filmed. When she finally relented and allowed Disney to film the story, she was so disappointed with the animated portions of the film that she refused to allow any other stories to be filmed.
Director: John Lee Hancock (The Blind Side) Producer: Alison Owen (Shaun of the Dead), Ian Collie (Rake) and Philip Steuer (The Chronicles of Narnia) Writer: Kelly Marcel (creator of Terra Nova) Music: Carter Burwell (Twilight)
The Lone Ranger, May 31
The Lone Ranger is an action Western film directed by Gore Verbinski and distributed by Walt Disney Pictures. The film stars Armie Hammer in the lead role and Johnny Depp as Tonto.
Not much is known about the story other than what Verbinski told MTV News about the film being focused around Tonto rather than the Lone Ranger. "You've heard the Lone Ranger's story; you just haven't heard it told from this guy, and he was there."
Depp also talked about Tonto "I like the character. I think I have interesting plans for the character, and I think the film itself could be entertaining and very funny, but also I like the idea of having the opportunity to make fun of the idea of the Indian as the sidekick - which has always been the case throughout the history of Hollywood. The Native American has always been a second-class, third-class, fourth-class, fifth-class citizen, and I don't see Tonto that way at all. So it's an opportunity for me to salute Native Americans."
Director: Gore Verbinski (Pirates of the Caribbean, Rango) Producer: Jerry Bruckheimer (Pirates of the Caribbean, National Treasure) Writer: Ted Elliot (Pirates of the Caribbean, Aladdin), Justin Haythe (Revolutionary Road, The Clearing) and Terry Rossio (Pirates of the Caribbean, Shrek) Music: Jack White (Cold Mountain)
Thor: The Dark World, November 14
Also known as Thor 2, this is an American superhero film featuring the Marvel Comics character Thor, produced by Marvel Studios and distributed by Walt Disney Studios Motion Pictures. It is intended to be the sequel to 2011's Thor and the eighth installment in the Marvel Cinematic Universe. The film stars Chris Hemsworth, Natalie Portman, Tom Hiddleston, Stellan Skarsgard, Idris Elba, Christopher Eccleston, Adewale Akinnuoye-Agbaje, Kat Dennings, Ray Stevenson, Zachary Levi, Tadanobu Asano, Jaimie Alexander, Rene Russo and Anthony Hopkins.
Thor battles to save all the Nine Realms from a mysterious enemy older than the universe itself. However, a shadowy race led by Malekith, who is out for revenge, intends to descend the universe into darkness. Confronted by an enemy that even Odin and Asgard cannot overcome, Thor must reunite with Jane Foster and set out on a perilous and personal journey that will force him to sacrifice everything to save the world.
Director: Alan Taylor (Game of Thrones, The Sopranos) Producer: Kevin Feige (The Avengers, X-Men) Writer: Christopher Yost (The Avengers: Earth's Mightiest Heroes TV series, The Batman TV series), Christopher Markus (The Chronicles of Narnia) and Stephen McFeely (The Chronicles of Narnia) Music: Patrick Doyle, not official yet (Brave, Harry Potter and the Goblet of Fire, Thor)