Choose From Over 12 Stock Calendars
Stock calendars are a great way to separate the noise and find an event's data in one location.
The Benzinga Pro Calendar tool gives you access to more than 12 calendars, including:
Analyst Ratings
Conference Calls
Dividends
Earnings
Economics
Guidance
IPOs
Mergers & Acquisitions
Retail Sales
SEC Filings
Secondary Offerings
Splits
Unusual Options Activity

( Available for an extra fee with Unusual Options Activity Add-On )
Stock Events in One Place
Why use the Calendars? So you can find all events in one location.
Pull up a Calendar to easily find everything in one spot. This makes it easy to see everything you want, without the noise. Plus, it's easy to filter the tool even more, like finding only analyst upgrades with buy ratings, only confirmed earnings dates or even find the historical data on a stock. Each calendar has its own filters that relate to that event so you can find exactly what you want.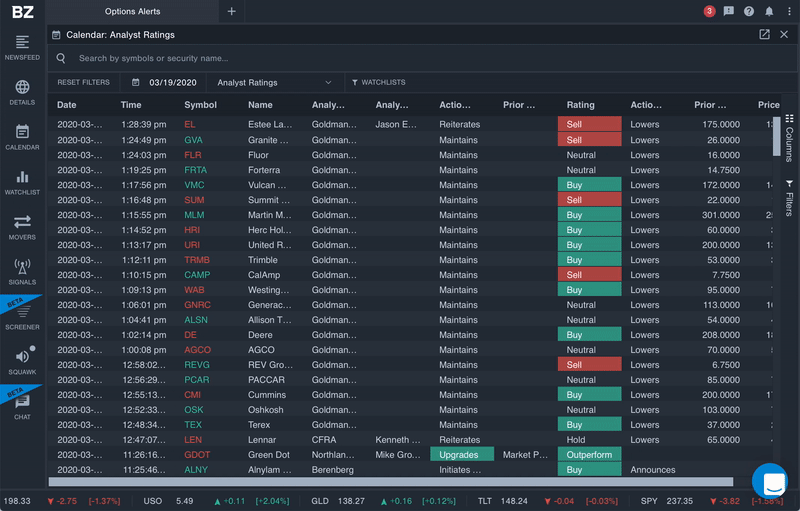 Frequently Asked Questions (FAQ)
You can easily find economic events including: analyst ratings, conference calls, dividends, earnings, economics, guidance, IPOs, mergers and acquisitions, retail sales, SEC filings, secondary offerings, and splits. If you add-on unusual options activity data, you will see that in Calendar as well.
Calendar is a powerful tool you can use when doing research, whether you are looking for ideas or a stock you might be interested in. You can also use it to keep track of analyst ratings, earnings, and more.
Yes! You can filter each type of Calendar to get results that fit what you are looking for.