Last Week In The S&P 500: Russell Weakness Bleeds Into The High Caps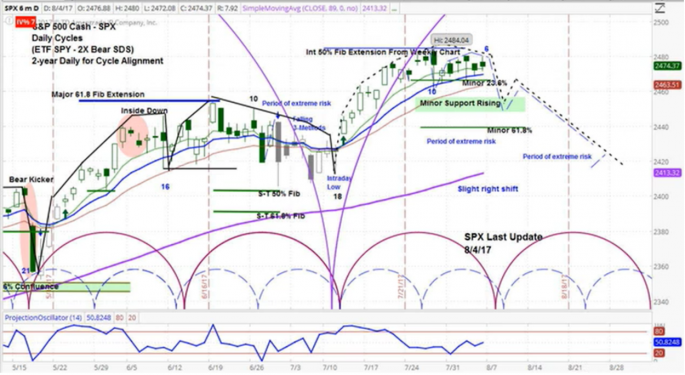 The S&P 500 (SPX) rose modestly last week, gaining only 4 points to 2476. In fact, the range for the entire week was only 14 points, or 0.6%. Yet this complacent activity occurred against a remarkable backdrop.
On Monday, North Korean leader Kim Jong Un tested an intercontinental ballistic missile (ICBM), which landed in the Sea of Japan, which brought a sharp reaction from S Korea, Japan and the U.S. Likewise, in response to recently-approved sanctions, Russian leader Vladimir Putin required the United States Embassy in Russia to reduce its staff by 755.
On Friday, the Department of Labor announced that job creation exceeded expectations, with 209,000 net jobs created in July and a 2.5% YOY increase in wages. This brought a drop in the bond market, as yields popped in fear of wage inflation picking up. In contrast to the SPX, the Dow Jones Industrial Average set new all-time highs for eight consecutive days, pushing above 22,000 on Wednesday, with the Russell 2000 dropping a sharp 2%. It was certainly a week of broad disparity in the markets. Yet, President Donald Trump noted that the rosy performance occurred under his watch.
With regard to earnings, both Apple Inc (NASDAQ: AAPL) and Tesla Motors Inc (NASDAQ: TSLA) beat Wall Street's estimates last week, with the former increasing by 4.6% and the latter rocketing by over 6%. Yet this week earnings season starts to wind down, with Walt Disney Co (NYSE: DIS) and Nvidia Corporation (NASDAQ: NVDA) scheduled to release results on Tuesday and Thursday.
Our work in analyzing market cycles indicates that we will likely see the weakness that occurred in the lower-cap stocks bleed into the broad market this week, as the SPX is in the declining phase of its current minor cycle, represented by the blue dotted half circles (cycle brackets) on the bottom of the attached chart of the SPX. The bigger cycles are more dominant and suggest even more risk coming.
Assuming the downside action comes this week, per cyclical forecast, the bulls will likely fight back in this environment, bringing a rebound before risks significantly increase into late August.
For more a more detailed look at our analysis, watch the askSlim Market Week every Friday afternoon.
Posted-In: contributor contributorsTechnicals Trading Ideas
View Comments and Join the Discussion!