Ford, GM Rally Stalling At Top Of Recent Trading Ranges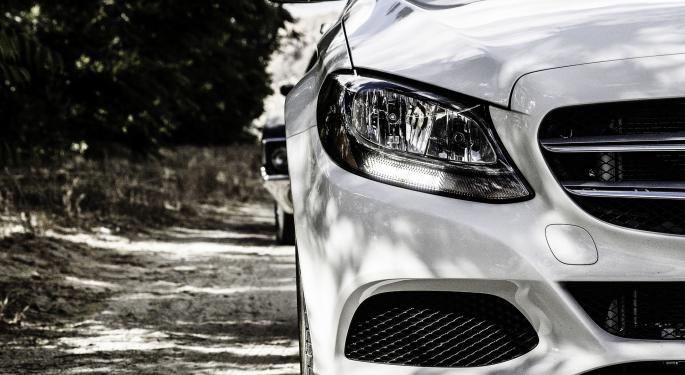 Shares of traditional automakers Ford Motor Company (NYSE: F) and General Motors Company (NYSE: GM) have had a lackluster run thus far into the year. For that matter, their performance in 2016 wasn't anything to boast about.
Lackadaisical 2016
Compared to a mere 2.44-percent gain by GM in 2016, Ford was in the red, losing 13.9 percent over the year. This is despite auto sales finishing at a record pace of 17.55 million units, up from 17.5 million in the previous year.
GM Source: Y Charts
However, analysts were flagging some red signals, such as sales achieved on the back of heavy promotions, which impacted the bottom line, the end of ultra-loose monetary policy environment perking up the cost of borrowing and the renewed surge in the share of subprime component in auto loans. Additionally, President Donald Trump's "Make America Great Again" campaign meant these automakers cannot bank on the low-cost labor overseas to shore up their bottom line.
New Year Doesn't Bring Good Tidings
With the coming of the New Year, the zing in auto sales was lost, as automakers consciously trimmed on fleet sales. Otherwise, the macro picture was not worrisome. Consumer spending remained buoyant, gas prices were inaine and interest rates, though rising, was doing so only in modicum amounts.
Despite effecting a leadership transition at the top, Ford's shares are still down 7.58 percent in the year-to-date period, while GM's were up 0.13 percent.
A Technical Perspective
After moving broadly sideways since the start of 2017, GM's shares moved out of the range in early March, pressured by weak monthly sales results. From a March 3 closing high of $38.23, the stock declined steeply, and then steadily to reach the year's closing low of $32.42 on May 17.
Since March 21, the stock has been trading in a range of $31.92 (May 25) and $36.25 (on March 28).
A stellar first-quarter earnings report released on March 28, though contributing to a 2.5-percent upside on the day, could not help the stock break out of the trading range. In a matter of four sessions, the stock was back at its pre-earnings level.
In the interim, GM had to wage a battle with activist investor David Einhorn's Greenlight Capital, which had beefed up its position in the automaker and was forcing the company to split its shares into two classes. Einhorn's logic for the move was that splitting the shares into dividend paying and growth-focused would optimize the company's capital structure and lower its cost of capital.
However, Einhorn had to face defeat, as GM shareholders voted out his proposal at the company's shareholder meeting on June 6. The stock remained non-reactive amid all these developments.
GM, ironically, managed to rally off weak June sales results and touched an intra-day high of $36 on Monday but has pulled back since then.
GM Source: Y Charts
Meanwhile, Ford has been locked in a trading range, on an intra-day basis, of $10.67 (May 17) and $11.80 (March 28). The company reported on March 27 first quarter earnings, though lower year over year on product recall costs, higher commodity costs and lower sales, managed to beat Street expectations. The stock fell about 2 percent in reaction to the results.
On the announcement of the appointment of Jim Hackett as the new CEO, the stock added about 2 percent but could not sustain the gains since then. Just as its crosstown rival GM, Ford reached a high of $11.69 intra-day on July 3 but has pulled back from the level.
The two of the Big Three have seen their shares locked in a trading range, unable to break through the upper band of their recent trading ranges. GM seems to have a long-term resistance around the $36 area and therefore investors could do well to watch out for a break above the level.
A clear breakout of the range could take it to another resistance around the $37.5 area. On the downside, the stock's 200 SMA, currently at $34.02, could offer support.
GM Source: Y Charts
Meanwhile, for Ford, the $11.50 has served as a resistance since 2016. Ford's stock is sandwiched between its 50-day SMA of $11.14 and 200-day SMA of $11.91.
Will the second-quarter earnings release serve as the next catalysts that could help these stocks to violate the trading ranges, either to the upside or downside?
GM is scheduled to release its second quarter results on July 25, with analysts, on average, estimating earnings per share of $1.69, down from $1.86, and revenues of $41.58 billion, 1.9 percent lower than last year's.
Ford, which is due to report its second quarter results on July 26, is expected to clock in earnings of $0.44 per share, down from $0.52 a year ago on a marginal decline in sales to $36.76 billion.
Joel Elconin contributed to the article
________
Related News:
No Respite In June As Auto Sales Continue To Skid
Automakers Eye The Finish Line in Sprint To Rollout Driverless Vehicles
View Comments and Join the Discussion!
Posted-In: David Einhorn Greenlight Capital Jim HackettTechnicals Travel Trading Ideas General Best of Benzinga