As JPMorgan Goes, So Goes The Market?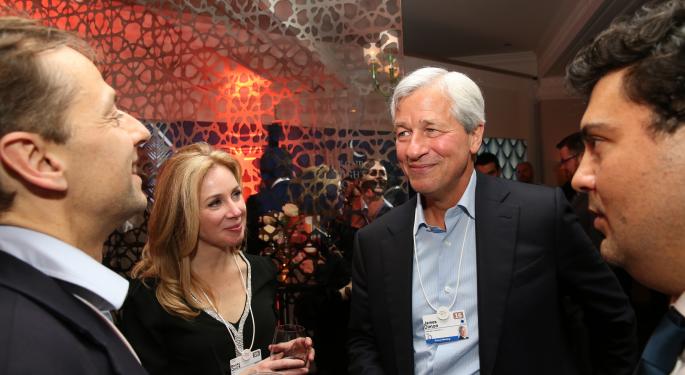 Benzinga detailed on March 2 how the recent rally in the market coincided with the large purchase by JPMorgan Chase & Co. (NYSE: JPM) CEO Jamie Dimon of his own company shares. As it turns out, the day his purchase of 500,000 shares was disclosed (February 11) came after the close on the day the index bottomed-based the June contract of the S&P 500 index futures (1794.75).
Since that day, the index has rallied over 200 handles, finding some temporary resistance at Friday's high (2012.75). Friday's close of 2010.50 was also the highest close of 2016.
Over that same time period, JPMorgan shares rallied from their February 11 close ($53.07) to $60.65 on March 4 before retreating to close at $60.05. Its actual low for its recent swoon was made on February 11 at $52.50, the trading day preceding the announcement. That was well shy of its high close for the year of $63.73.
See Also: Digging For Dimon, Part 1
Interestingly, JPMorgan peaked one week of ahead of the broad market and is now changing hands around the $59 level, after trading as low as $57.81 last Thursday. At this time, the index has backed off its high from Friday levels, but is attempting to battle back.
What Else Could Be The Driver?
Of course, other factors such as the $10 rally in Crude Oil, which also bottomed on February 11 based on the April contract at $28.21, aided in the rally. At this time, the contract has distanced itself from Friday's high ($39.04) and is attempting to remain in the $37 handle.
However, when examining the energy and financial sector side by side, energy already came off its lows before Crude Oil bottomed and began to move higher. For example, Exxon Mobil Corporation (NYSE: XOM) put in its low for the move on January 20 ($71.55) and well above that level with its February 11 close ($79.60).
Many of the top financial issues -- Goldman Sachs (NYSE: GS), Wells Fargo (NYSE: WFC) and Bank Of America (NYSE: BAC) -- were in search of a catalyst. Mr. Dimon provided that by putting his money where his mouth is. The rest is history.
Now What?
Now that the index and JPMorgan have mounted a furious rally, investors will be pining for another catalyst to take the market higher. It most likely won't be another $25 million purchase of JPMorgan by Dimon.
With Q2 earnings not kicking off until early next month, what should investors focus on? For now, it may be prudent to keep one eye on the Crude Oil market and the other eye on the share price of JPMorgan.
Image credit: Financial Times, Flickr
Posted-In: Jamie Dimon OilTechnicals Top Stories Intraday Update Movers Trading Ideas Best of Benzinga
View Comments and Join the Discussion!