Probabilities Support A Rebound In Biotech
"Price gouging like this in the specialty drug market is outrageous. Tomorrow I'll lay out a plan to take it on."
-Tweet from Hillary Clinton on September 21st
Thanks Hilary! Although, to be fair, she may have just exacerbated the issue. Biotech's had been on an all-time run since January 2012. The Nasdaq Biotech Sector ETF (IBB) was up over 250% through July 20th of this year, thoroughly outperforming the market which was up a mere 57% through the same period. The sector seemed ripe for a pull-back on valuations.
The 2 month pull back from that July 20th high was pretty much in lockstep with the broader market until Hillary's Tweet. Where the S&P 500 has rebounded by about 2.5% since that time, Biotech's are down another -10% (-22% since peaking on July 20th). Is it too early to look for opportunities within the sector?
EidoSearch monitors patterns across thousands of markets and securities, as well as timelines both long and short to unearth trends that contain predictive information and that can tilt probabilities in the investors favor. We literally look through hundreds of millions of patterns daily, and one of the alerts we're getting across all securities right now is in Biotech.
Looking at 3 month price patterns, which based on research is an optimized look back window for projecting 1 month forward return probabilities, there are a number of Biotech stocks that flash as having the most positive 1 month return and volatility skews across all sectors.
There is 85% probability that Biogen (BIIB) will not drop more than -7.6% in the next one month
This statement might not impress at first glance, but the stock is down -35% over the last 3 months so the statistics show low probability the stock will sell off at its current rate. Also worth noting, per the projection below, is that the market is pricing 1 month options for Biogen with greater expected downside volatility (orange in chart) than our probabilities indicate. There is also much greater upside than the market is expecting. In fact, there's 4.2x the upside to downside in the next 1 month.
The following 4 charts represent the 4 most similar matches of the current price trend in Biotech stocks (we found 94 matches in total using all Healthcare stocks as peers). Not only are the 4 stocks up in the next one month, but you can see that they represent different periods in history where the Biotech rebounded after a similar trading trajectory the previous three months.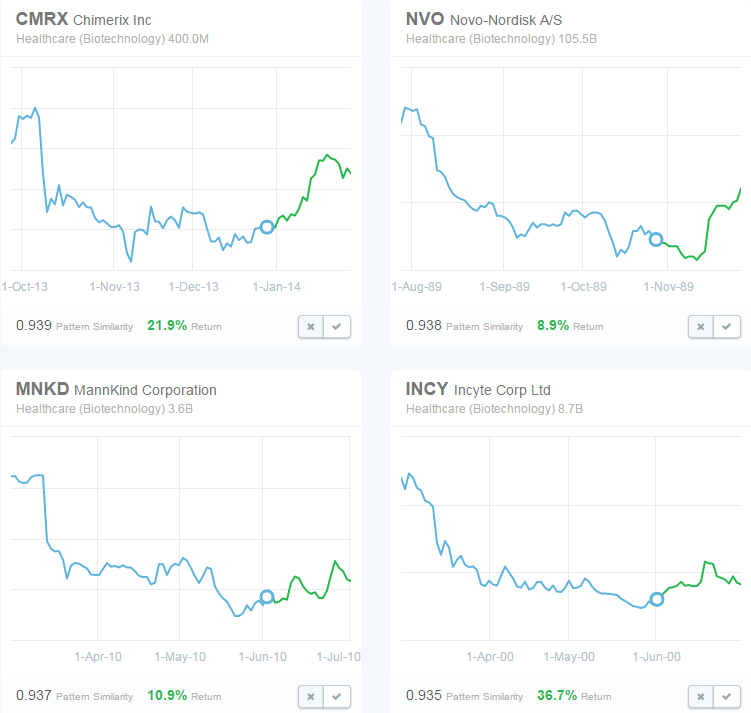 Average return of all historical matches is 10.4%
Incorporating all 94 matches, the stocks are not only up an average of 10.4% in the next one month but 67% of the historical matches are positive.
Maybe more impressive than that is if you run the relative return statistics. We looked at how these historical matches performed vs. the S&P 500 during each of these environments historically in the next one month after the pattern. The return scenario is just as impressive per the chart below: The average return is 9.7% and the hit rate is 66%.

© 2021 Benzinga.com. Benzinga does not provide investment advice. All rights reserved.
---