A 'Sanity Check' On Steelcase
Prudena performs a sanity check on Steelcase Inc. (NYSE: SCS), a company with strong growth forecasts, a high trailing P/E ratio and largely positive analyst recommendations. Prudena's models show that Steelcase is likely undervalued by 5 percent, but could be trading at an 18 percent discount if the bullish 5 year estimates for analysts are reliable.
Analysts forecast very strong growth for this mature global provider of office furniture, and any recession or slowdown in the next 5-7 years would materially impact valuation.
The upside potential requires a best case scenario for macro conditions, and the opportunity for 20 percent appreciation is unlikely worth the risk that analyst forecasts prove too bullish.
Value Breakdown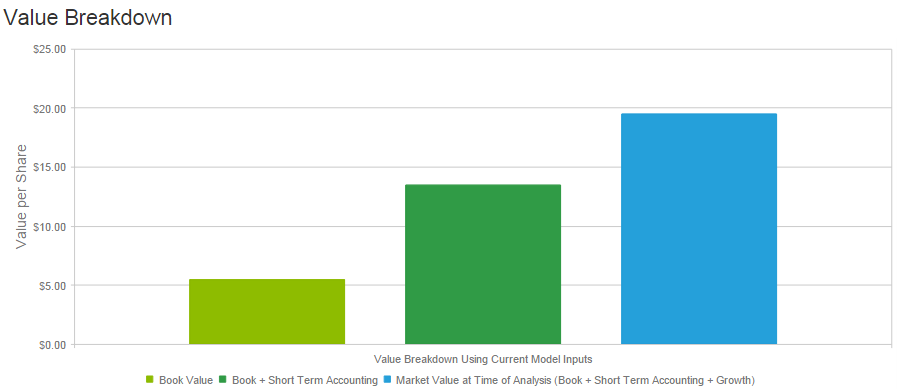 Assuming 8 percent required rate of return, the current market price of $19.51 implies 2.0 percent long term residual earnings growth. Based on consensus EPS estimates for the next two years and analyst-projected 5 year growth forecasts, Prudena's residual earnings model estimates value per share of $20.41, 4.6 percent above the current price.
A Monte Carlo simulation based on this residual earnings model estimates a most likely value per share of $20.81. Prudena also created a more complicated multi stage residual income model reflecting analysts' 5 year projected growth followed by earnings growth approaching that of GDP. This model calculates value per share of $23.02.
All of these models are built assuming higher than 15 percent compounding EPS growth over the next five years, which is higher than recent historic performance and strong for a relatively mature business with global operations.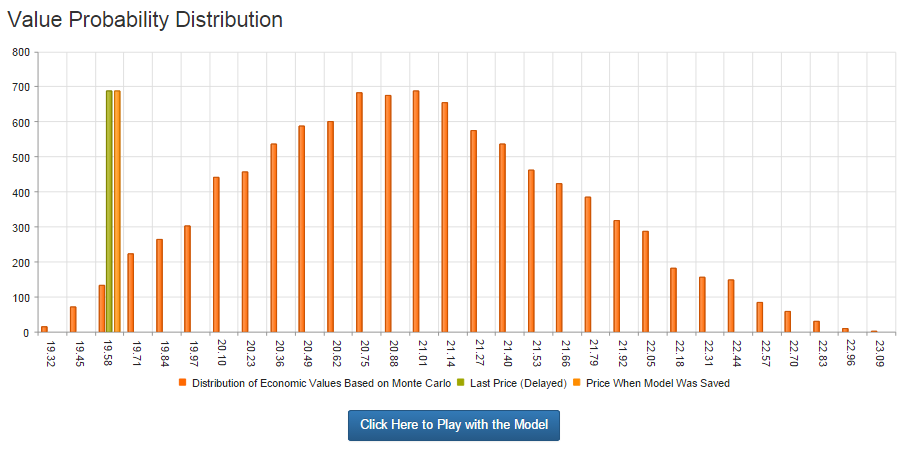 The Bull Case
Steelcase is the leader in global office furniture market in terms of revenue. It is also among the leaders in major European markets such as Germany, France and United Kingdom. Revenue from Americas grew at a CAGR of 9.2 percent during 2011-2015. Growth in US office furniture consumption is expected to be 8.6% and 10% during 2015 and 2016 respectively.
Further, inventory reductions are expected to improve pricing. The company's margins will continue to benefit from manufacturing footprint reduction and expense rationalization. Steelcase has significantly reduced manufacturing capacity since 2000, which has positively impacted margins.
Macro trends give cause for optimism as well. Economic strength and corporate earnings growth should catalyze office related spending during the coming years. Office vacancy rates are expected to shrink to 14.2 percent in 2019 as compared to 16.7 percent in 2015, which stimulates demand for Steelcase's offering.
The company has adequate liquidity and interest rate coverage. Steelcases's dividend yield of 2.5 ercent is higher than peers Herman Miller (NASDAQ: MLHR) and HNI Corp (NYSE: HNI). Forward P/E of 14.5 and PEG of 1.6 are both reasonable valuation metrics.
The Bear Case
SCS witnessed negative revenue growth in the most recent quarter while revenue of counterparts including Herman Miller and HNI Corp. grew 13 percent and 16 percent respectively. Steelcase therefore appears to be ceding market share. Steelcase also has inferior gross margin to both Herman Miller and HNI Corp. The market for business equipment is very competitive and fragmented, and global players like Steelcase must ward off local vendors in addition to larger peers.
This is particularly true in EMEA and Asia Pacific. As an exporter, Steelcase will be negatively impacted by a strengthening dollar. Relative to Herman Miller, SCS is comparable on a forward P/E basis and has a higher PEG ratio.
Conclusions
Steelcase has a strong leadership position in a market which is in the midst of a growth period. Reasonable valuation metrics and favorable analyst opinion warrant examination of the stock. While Prudena's models do confirm that there is significant opportunity for appreciation alongside a decent dividend yield, investors should skeptically consider the merits of the bull thesis. To achieve the upside, earnings would have to expand nearly 20 percent annually for the next five years before gradually approaching GDP growth.
A more modest set of growth assumptions in a residual earnings model suggests that SCS is appropriately valued at $19.51. An adverse global economic event in the next 5-7 years could significantly impact the valuation of this cyclical provider of basic products to businesses.
Contributors: Ryan Downie and Soid Ahmad
NOTE: The Morning Monte is high-level, and any investment requires a deeper analysis than is presented here. The comments in the Morning Monte are intended to help guide your research and ground you in the fundamentals of the company. In no way should the comments in The Morning Monte be taken as advice to buy or sell a particular equity. Some of the statements are forward looking. As such, these statements are speculation--so beware! The comments represent the views of the author and are not necessarily the views of PRUDENA™.
Have a comment? Please Contact Us.
The preceding article is from one of our external contributors. It does not represent the opinion of Benzinga and has not been edited.
Posted-In: Technicals Trading Ideas
View Comments and Join the Discussion!