Exxon Mobil Shares Stuck In Bear Mode, Need Help In The Form Of Higher Oil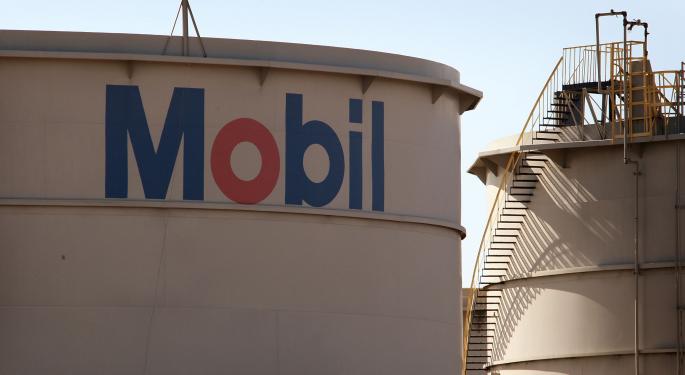 Exxon Mobil Corporation (NYSE: XOM) shares have bounced recently as crude oil has lifted off the lows.
However, with crude oil futures seemingly unable to make it through key "correction resistance" at $63, some of the bears are starting to grumble about a potential drop back down to below $50.

Would such a drop take XOM shares sharply lower in sympathy? Or, does XOM have the fundamental strength to at least partially withstand such a drop in oil prices?
Let's take a look at Exxon's fundamental and technical picture to get a better idea of the future direction of XOM shares:
What the bulls see in Exxon Mobil
Reasonable, if not completely cheap, valuation metrics:
A PE of 16 versus estimated revenue and EPS growth for the next year of 14% and 25% respectively
An enterprise value of $378.8 billion that trumps the market capitalization of XOM stock at $348.79 billion
A price-to-book ratio of 2.05
A price-to-sales ratio of 1.05
Net profit margins of 8.48% that spin off over $38 billion in operating free cash flow annually
A relatively low 18.47% debt-to-equity ratio
What the bears see in Exxon Mobil
A worrisome balance sheet picture that is seeping into cash flow
$1.89 in negative levered free cash flow annually
Some potentially troubling balance sheet metrics:
Total debt of $32.77 billion that easily trumps the cash on hand of $5.18 billion
A current ratio of only 0.91 – not good for Exxon to be below 1 in this category
The technical take on XOM
Technicians note that XOM shares appear to have lower prices in their future – but that a bounce in the very short-term could occur prior to the downside occurring.
So much of XOM's short-term fortunes appear to be tied to the price of crude oil. With crude having a tough time progressing to new highs above $63, the stock is having a tough time simultaneously.
The downside projection for XOM, according to the technical crowd, is all the way down at $74.84 (from just above $84 at last week's close). Resistance for the stock comes in at $90 and is backed up by horizontal line resistance at $93.37.
Overall
XOM shares are likely already attractive to fundamental / valuation buyers, but the technicians would say to wait for the anticipated decline to $75 or so before buying.
The fundamentals of the company are clearly being affected by the low levels of crude oil prices. Only time will tell whether crude prices stay this low and whether Exxon is positioned to ride out the storm if they do.
Posted-In: Technicals Commodities Markets Trading Ideas Best of Benzinga
View Comments and Join the Discussion!