What's The Market Value Best Buy At?
Best Buy Co Inc (NYSE: BBY) reported Q1 fiscal 2016 earnings on May 21, 2015. Non-GAAP EPS of $0.37 significantly surpassed the consensus forecast of $0.29 due to better than expected revenue and margins. GAAP EPS was $0.10, with most of the difference owing to restructuring charges.
Despite these positive developments, Prudena's models demonstrate that mild optimism is already priced in at $34.33. For this price to be an attractive buying opportunity, Best Buy would have to post results well above historical performance. The bullishness required to make shares appear undervalued is difficult to justify given the demanding competitive environment faced by the company.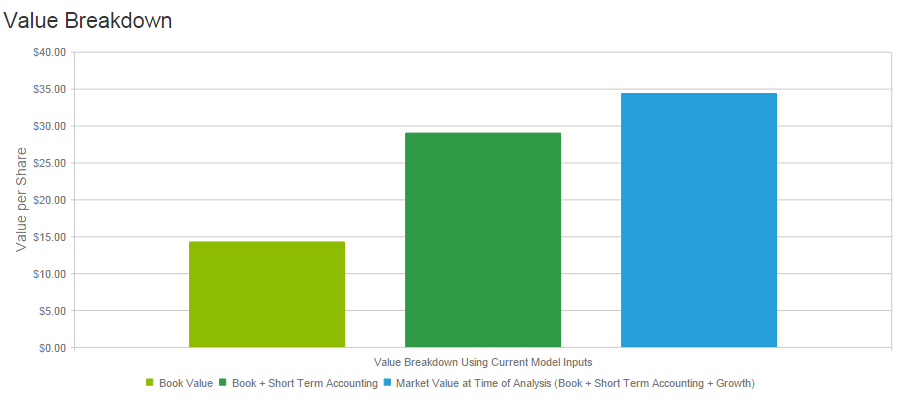 Prudena's models estimate that BBY shares are worth $30.31, which is 8.8 percent below the current price of $34.33. This assumes a required rate of return of 9.4 percent. The current price falls within the distribution of likely values generated by Prudena's Monte Carlo distribution. $34.33 implies a 0.21 percent long term residual earnings growth rate, which is reasonably low, but that figure does necessitate long term EPS growth rates and return on equity which are above those the company has generated in the past several years.
Assuming earnings estimates for the next two years are accurate, very little of Best Buy's market value owes to speculation. However, the short term estimates imply continued success in the restructuring, and even modest long term growth assumptions require successful navigation of an increasingly difficult retail environment.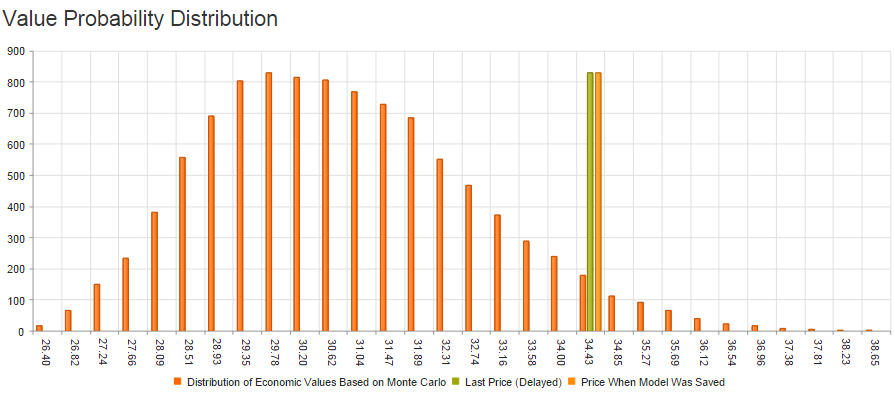 The Bull Case
Best Buy is executing upon a turnaround plan that was initiated over two years ago, a strategic shift which has focused on increased online sales channel presence, cost cutting, and matching the low prices of such competitors as Walmart (NYSE: WMT) and Amazon (NASDAQ: AMZN). Operating margin has improved by more than 150 bp from lows in 2012 and sales growth has improved from previous lows as well.
Strong mobile phone sales are a bullish signal for Best Buy, and iPhone 6 sales forecasts are strong.
The housing market recovery is catalyzing appliance sales, another major product category for the retailer. Competitors such as RadioShack and hhgregg (NYSE: HGG) have experienced difficulty with the changing retail landscape. Best Buy should benefit from the market share being ceded by these competitors, and the faltering of other firms validates Best Buy's turnaround.
Best Buy's Q1 fiscal 2016 revenue and adjusted earnings both exceeded analyst forecasts, as the company reported non-GAAP EPS of $0.37 versus consensus estimates of $0.29 and prior year $0.35.
The Bear Case
Despite a turnaround effort which has reduced expenses over the past two years, Best Buy is still struggling to improve revenue overall and on a same-store basis. Unimpressive same-store sales figures are even more worrisome considering the generally positive economic indicators in the US during that period.
Amazon and Walmart will continue to be major obstacles for the specialty retailer due to their skill and business model. Even though operating margins have improved, they are still low to mid single digit, leaving little room for error. Going forward, the strong dollar will hurt international results. Also, high stock price volatility shows that investors are quick to exit when bad news comes out.
Conclusions
Best Buy's Q1 earnings report contained good news for investors and illustrated the positive impact of the restructuring effort. The current price of $34.33 does not imply spectacular growth, but it does imply stability and modest growth despite a difficult competitive environment and cyclicality.
The required growth to meet the current market price is superior to the results Best Buy has posted in the past several years. The firm would need a spectacular turnaround for shares to be fundamentally undervalued at this point.
Contributors: Ryan Downie
NOTE: The Morning Monte is high-level, and any investment requires a deeper analysis than is presented here. The comments in the Morning Monte are intended to help guide your research and ground you in the fundamentals of the company. In no way should the comments in The Morning Monte be taken as advice to buy or sell a particular equity. Some of the statements are forward looking. As such, these statements are speculation--so beware! The comments represent the views of the author and are not necessarily the views of PRUDENA™.
Have a comment? Please Contact Us.
The preceding article is from one of our external contributors. It does not represent the opinion of Benzinga and has not been edited.
Posted-In: PrudenaTechnicals Trading Ideas
View Comments and Join the Discussion!