Analog Devices Earnings: What Are Shares Worth Before The Release?
Analog Devices, Inc. (NASDAQ: ADI) will report Q2 fiscal 2015 results on Tuesday, May 19 after the market closes. Analysts expect ADI to report current quarter earnings per share of $0.72 versus $0.59 a year ago and $0.63 in the preceding quarter. Analysts forecast $820.7 million in revenue for the quarter, an 18.1 percent increase over the prior year.
Prudena's models suggest that the current market price of $63.17 for ADI shares is roughly an 8 percent premium to the fair price, despite the company's positive outlook. There are cheaper options in the integrated circuit space with similarly strong potential.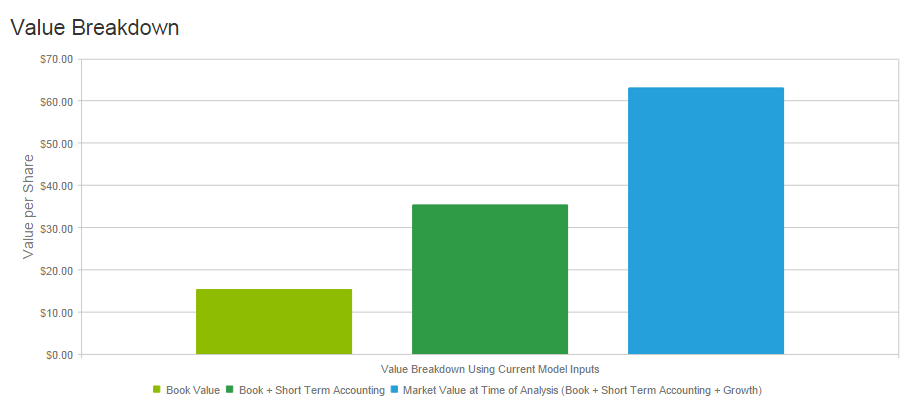 Assuming a required rate of return on ADI of 8.76 percent, the current market price of $63.17 implies long term residual earnings growth of 5.46 percent. This is relatively high, but achievable without supernormal earnings growth. Without any residual earnings growth, Prudena's model calculates shares value of $34.22. With residual earnings growth included, Prudena's Monte Carlo analysis estimates a share price of $58.05. At $63.39, ADI shares currently trade at an 8.11 percent premium to the model estimated value.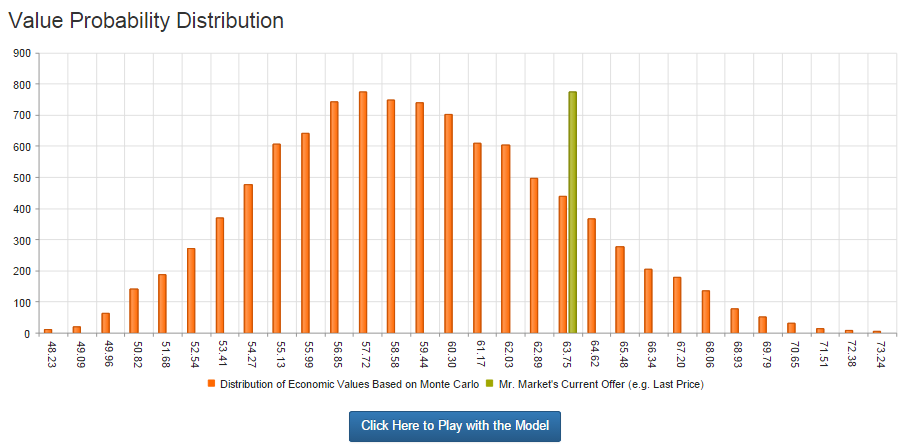 The Bull Case
Analog Devices generates most of its revenue from growth segments like industrial, automotive and communication infrastructure. ADI's industrial segment is exposed to the renewable energy, energy management, and home automation industries, which should provide growth catalysts.
Growth in the automotive category will be supported by strong automobile sales and increasing semiconductor content per vehicle. Semiconductor content per vehicle has risen rapidly over the past decade, and is poised to continue on this path. Advanced Driver Assistant Systems, auto and driver data collection, government safety and efficiency regulations, and electrified powertrain have been major contributors to growing semiconductor content per vehicle. According to PWC, more than 90 percent of current automobile innovations are attributable to electronic features. According to an IHS report, the global automotive semiconductor market reached $29 billion in 2014, with forecast growth to $31 billion in 2015, representing 6.7 percent CAGR from 2012.
In communication infrastructure, LTE build-outs are benefiting the company. China is a key contributor for ADI's growth in this regard. The company generated 16 percent of its revenue from China during fiscal 2014. The consumer product category can also benefit from ADI's relationship with Apple Inc. (NASDAQ: AAPL). The company has secured multiple sockets across Apple's product line up to enable force touch.
Analog is known to have best converters, according to Barclay's analyst, Blayne Curtis. ADI acquired Hittite Microwave, a producer of ICs for microwave and millimeter wave application, during 2014, which complements Analog Devices' business. Synergies from the merger will boost the earnings of the company going forward. Analog Devices also has the highest gross margin among its peers.
The Bear Case
Analog devices has a mostly positive outlook, though some risks are apparent. In the short-term, a strong dollar will have a negative impact on earnings and competitive ability in certain foreign markets. Operating margin has compressed three years in a row, partially due to increases in SG&A relative to revenue. While winning business with Apple is generally a positive development yielding higher earnings, the deal will have a negative impact on margins.
ADI has very rich valuation. 19.6x forward earnings is ahead of industry peers like Broadcom (NASDAQ: BRCM), Skyworks (NASDAQ: SWKS) and Texas Instruments (NASDAQ: TXN), whose P/E range from 12x to 16.5x. ADI also falls on the high end of the price to free cash flow range. The current market price of $63.17 implies high sustained earnings growth, so buyers assume significant operational risks. ADI typically does not have long term contracts with customers, so demand can change rapidly due to macro factors or changes to inventory downstream in the supply chain. This is threat to performance in a cyclical industry. $63.17 is a very bullish call, given these risks.
Conclusions
Analog Devices is an industry leader operating in markets with strong growth drivers for the foreseeable future. Nonetheless, the current stock price assumes sustained healthy growth, and ADI operates in a highly competitive cyclical industry. Analog has good medium term prospects, but Prudena's models suggest that much of the reasonably expected upside is already priced into the stock. Fundamental value investors should monitor this story, but likely will not consider $63.17 an appropriate entry point at this time.
Investors should look out for comments on the impact of the strong dollar, analysis of the macro environment and demand trends, any changes to guidance, developments in the consumer product category, contributions from the Hittite acquisition, and margin drivers such as capacity utilization.
NOTE: The Morning Monte is high-level, and any investment requires a deeper analysis than is presented here. The comments in the Morning Monte are intended to help guide your research and ground you in the fundamentals of the company. In no way should the comments in The Morning Monte be taken as advice to buy or sell a particular equity. Some of the statements are forward looking. As such, these statements are speculation--so beware! The comments represent the views of the author and are not necessarily the views of PRUDENA™.
Have a comment? Please Contact Us.
The preceding article is from one of our external contributors. It does not represent the opinion of Benzinga and has not been edited.
Posted-In: analog devices earnings previewTechnicals Previews Trading Ideas
View Comments and Join the Discussion!