Notes From The Street: 'Toy Story, FED Style'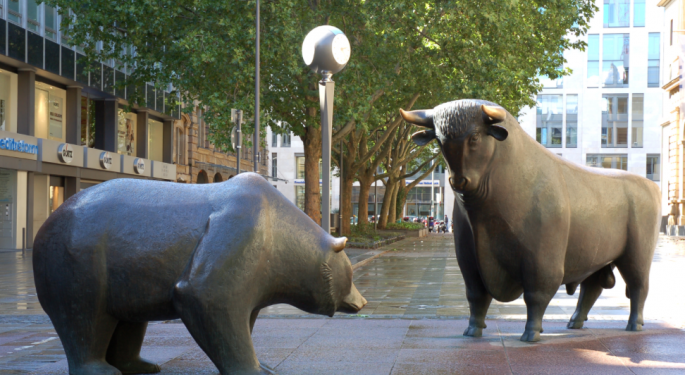 The following is Kenny Polcari's morning note. He can be found on Twitter @KennyPolcari:
Fri, Jan 9, 2015 at 7:18 AM
This is like the Pixar Animation studio production of "Toy Story - Fed Style" and - Buddy the Cowboy is played by Charlie Evans of Chicago.....the line that gets all of the attention?
"To infinity and beyond"
Here's the rub - right...... We had the mkt essentially setting new highs at year end 2014 on a revised 3Q (2014) GDP of 5%. Then the new year comes - and we came under a bit of pressure as investors began to re-evaluate - Mkt suffers a bit of pullback on tensions in Europe/Greece - then Germany concedes and commits to possibly renegotiating bailout terms to avoid another Greek Tragedy...... Oil continued to come under pressure and then the Fed comes out with their minutes......We learn (nothing new really) that we supposedly are producing jobs at a 230k a month clip, wages accelerating (somewhere - just not sure where), improving macro data (sometimes), better quarterly earnings each quarter (because most companies continuing to cut vs. hire or are buying back stock at a record pace to shrink shares outstanding which boosts EPS)
And yet despite all of this good news - Charlie Evans (aka 'Buddy') , president of the Chicago Federal Reserve Bank and a VOTING member of the committee, tells reporters that "raising rates would be a catastrophe", hinting once again that the first rate hike in 7 yrs would likely be - drum roll please..........- PUSHED BACK from the expectations of a mid-2015 to 2016 and beyond.......This caused the HFT set to go schizophrenic.......and the DOW rallies 300+ pts......all in a day's work......
Now remember that this is just one Fed president's opinion.....and as usual - when the mkts come under pressure - the FED then sends out the smoke signals to test the waters......so his comments on Wednesday evening seemed to be timed perfectly......stocks begun the year in the hole and who wants that? So - just like Glinda (the good witch) told Dorothy -
"close your eyes and tap your heels together three times and think to yourself, There's no place like home, there's no place like home"
and just like that - we're back in KANSAS.
Now - interestingly enough - his comments just happened to coincide with a Eurozone report showing a larger than expected drop in German manufacturing orders, fueling expectations of imminent ECB action. (The bank's governing council meets on January 22 and clearly the data is building a case for help......)
Throw in the Greek elections on the 25th and you have a plateful. Now polls show that Greece's leftist party Syriza is poised to win the Jan. 25 election. This is the party that has promised to toss out the austerity terms of the bailout and demand a renegotiation of debt.
What do they say? History repeats itself? And the ECB has been here before with Greece and Greece won that round of renegotiation - so the question on the minds of investors is - Will the ECB be dragged to down this road again or will the ECB let Greece exit the union? 16 Days and counting......and the world will find out what's next......Will the lines be redrawn across the southern part of the European continent or will they remain intact?
So now the elephant in the room.....OIL.....funny how this works....when the mkts are under pressure and oil falls by $2 a barrel (like on Mon/Tues) - you have analysts warning of impending disaster, an apocalypse really....'The end is near - down to the bunker'........and the DOW falls triple digits both days.....THEN - we get the Charlie comments and European relief and OIL trades up 50 cts/barrel and all of a sudden - IT'S ALL GOOD and the DOW rallies 300+ pts.....
Look - oil is off nearly 50% from the highs and the mkt is not in panic mode at all and is in fact trading near all time highs.....with earnings set to begin in 3 days....we will all get a firsthand look at what weaker energy prices mean to the industrials, the transports, the airlines, the shippers, the plastic makers, utilities, consumer and then by default the retailers and autos....and the list goes on.....don't look for weaker energy prices to help the financials, the social media, pharmaceuticals, drug companies, insurance companies or penny stocks.
By now weaker energy prices should be baked into the earnings of energy companies........there should not be any surprises - estimates have come down and as long as you have not been living under a rock for the past 8 months then you have seen this story unfold right before your eyes.........but hey - you never know......What will the CFO's or CEO's say about the future? Will energy stocks be the 2015 star performers? The night is young.....stay tuned.
Expect some continued volatility in the days ahead as earnings season starts and the world awaits the news out of Europe. Once it becomes clear that lower energy prices are not signaling the end of the world and that the European Union will remain intact - investors will re-focus on the broader fundamentals and the mkts will adjust and stabilize.
US futures are down 7 pts......trading at 2047....will the mkts retest the 50 dma at 2039? Surely- but will it hold is the question? If not - then expect the next leg down once again to test at least the lows of earlier this week.
With today's eco data - traders will be watching what the gov't has to say about job creation and the unemployment rate. NFP is expected to be +240k jobs - a marked change from last month's +341k jobs....(mostly temp holiday jobs that will soon be gone) - rumor also has it that last month's jobs report will be revised lower. Unemployment is expected to drop to 5.7% from 5.8%....(if you believe the math).....and the other thing happening today....another FED speaker - Jeffrey Lacker - Pres of the Richmond Federal Reserve - will be speaking at 1:20 pm....do not expect him to say anything that could be considered mkt moving at all.
Overnight in Asia - mkts choppy - another way of saying - Volatile. China once again the dog - CPI and PPI data signaled a weaker economy as investors question whether or not hopes of further stimulus are a reality. The rest of Asia enjoyed firmer prices. Japan +0.2%, Hong Kong +0.35%, China - 0.24% and ASX +1.56%
In Europe - not so pretty - it is a 'sea of red' .....mkts there are once again under pressure....as details of what the ECB might do come to the surface.....details suggest that the ECB would initiate a $500 bil Euro program - this is at the lower end of expectations and is not causing a lot of celebration.....so again - the volatility is alive and well. FTSE - 0.51%, CAC 40 - 0.60%, DAX - 0.56%, EUROSTOXX -1.3%, SPAIN -2.6% and ITALY -1%
Take Good Care
KP
Image credit: Eva K, Wikimedia
"The market commentary is the opinion of the author and is based on decades of industry and market experience; however no guarantee is made or implied with respect to these opinions. This commentary is not nor is it intended to be relied upon as authoritative or taken in substitution for the exercise of judgment. The comments noted herein should not be construed as an offer to sell or the solicitation of an offer to buy or sell any financial product, or an official statement or endorsement of O'Neil Securities, Incorporated or its affiliates"
The preceding article is from one of our external contributors. It does not represent the opinion of Benzinga and has not been edited.
Posted-In: Kenny Polcari Notes From The StreetTechnicals Trading Ideas Best of Benzinga
View Comments and Join the Discussion!