1 Way To Think About The Russian Ruble's Decline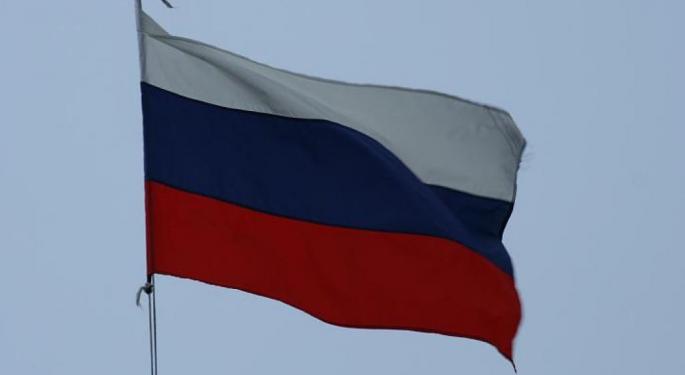 Russia is making headlines these days as the company's stock market continues to collapse and is hitting levels not seen since the summer of 2009. In particular, the positive correlation between its currency, the Ruble and Russian equities is through the roof.
As soon as the Ruble peaked at the end of June, the stock market has fallen off a cliff.
Looking at the Market Vector Russia ETF Trust (NYSEARCA: RSX), which is down more than 30 percent since its summer highs, the USD/RUB is up 60 percent. Put simply, this means the Russian currency has been destroyed simultaneously.
A Big Underperformer
Throughout this entire year, emerging markets -- as a group -- have been the big underperformer.
In fact, the S&P 500 (INDEXSP:.INX) relative to iShares MSCI Emerging Markets Indx (ETF) (NYSEARCA: EEM) is hitting nine-year highs this week.
Meanwhile, Russia, one of the bigger components of that particular emerging markets exchange-traded fund, has been one of the worst. With the S&P 500 up 13 percent for 2014, emerging markets are down 2 percent and Russia is down more than 33 percent.
Related Link: Do The U.S. Markets Correlate With What's Happening In Japan?
From a relative strength perspective, not only does this author like to compare countries' stock markets to the U.S., but also to different types of countries together. In the case of Russia, not only can one group it with emerging markets as a whole, but also against the BRICS and Asia.
From a price action standpoint, the Market Vector Russia ETF Trust (NYSEARCA: RSX) has been trading below the downward-sloping 200-week and 200-day simple moving averages.
What's Next?
With momentum in a strong bearish range on both daily and weekly time frames, downward-sloping 200-period moving averages, relative strength falling off a cliff and downside targets substantially below current levels, there is little reason to view this market from the long side.
Image credit: Contando Estrelas, Flickr
Posted in: Technicals Trading Ideas Best of Benzinga