GoPro Inc Stock Finally Hits A Wall - Will It Break Through?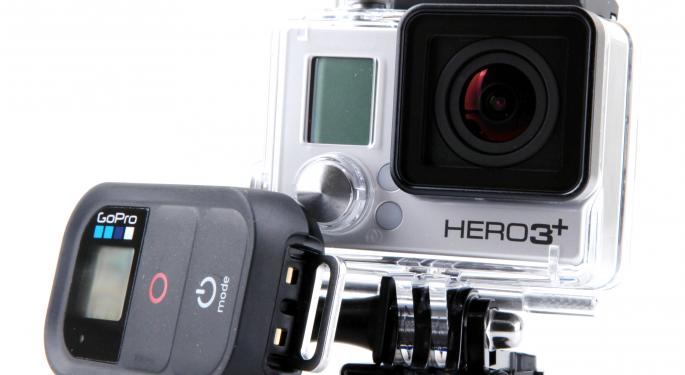 GoPro Inc (NASDAQ: GPRO) shares have soared from the $30 June 26 IPO to more than $96 before backing off just a bit. The stock closed at $93.22, up 2.5 percent.
Color this IPO a success from a standpoint of rewarding those who bought in after the shares started trading. Some would debate, however, whether it was successful from the IPO-pricing standpoint, as the deal makers apparently left some money on the table in terms of estimated demand for the stock (judging purely on the stock's movement since the IPO).
So, where does GoPro go from here?
What The Bulls See
A company that is making money, even as it is known as a "go-go" recent IPO.
A healthy cash reserve of $104.88 million.
An acceptable balance sheet with a current ratio of 1.41 and a debt-to-equity ratio of 86 percent.
Positive operating cash flow of $112 million annually.
Related Link: Celgene Corporation Shares Could Head Higher
What The Bears See
A very expensive stock: a market capitalization that eclipses the enterprise value of the company, a price-to-book of 165.95, price-to-sales of 11.08, a PE ratio of more than 90 versus projected 2015 revenue and EPS growth of around 25 percent.
A stock trading right at the 261.8 percent Fibonacci resistance at $92-$93, a very stretched-out move, no matter how great things may appear fundamentally.
Technical Take
The technical analyst crowd typically stays away from new offerings until they have traded for a while. GoPro may have just enough trading history for them to be able to offer some thoughts.
Technicians note that GoPro should, in theory, pull back and consolidate some of the recent gains after reaching the 261.8 percent Fibonacci price projection for the current unabated wave higher. The first three Fibonacci retracement support levels come in at around $78, $70 and $64. They do note, however, that GoPro is in new all-time high territory every time it closes higher for the day right now. Outside of Fibonacci projections, there really is no "resistance" for the stock at this point.
GoPro has rewarded the bulls who were fortunate or fortuitous enough to be involved in the story from the beginning. However, those entering now must consider the natural tendency for a stock to consolidate/correct after such a powerful move off of the IPO price.
Stock chart:

Posted-In: GoProTechnicals Movers Tech Trading Ideas Best of Benzinga
View Comments and Join the Discussion!