EBay Inc. Shares Trying To Hold On Above Support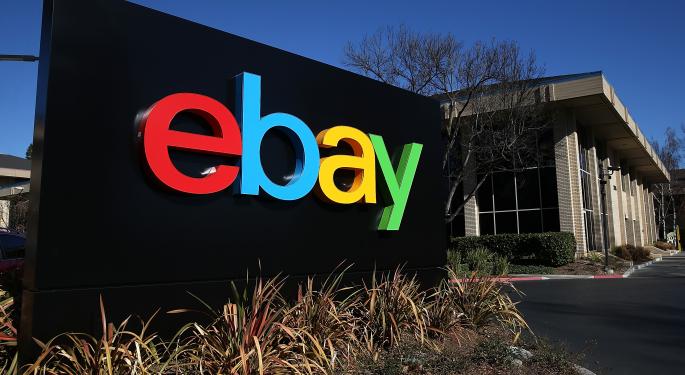 Shares of eBay Inc. (NASDAQ: EBAY) have come back down after testing "correction resistance" above $56 in late August. Shares are trading around $51.70, just above key support at $50.48.
Can they hold that level?
Unlike many other technology issues recently, eBay has had a tough go of it over the last couple of years despite peaking above previous all-time highs in February and March of this year. The stock's performance since December 31, 2012, is basically flat in terms of share price movement -- and this is not exactly an old-economy, dividend paying stock. During that same time, the Nasdaq has risen more than 50 percent from 3,019 to more than 4,500.
How long will this stock continue to lag? What are the bears seeing in this company? What are the former bulls not seeing in this company?
Related Link: Netflix, Inc. Technicals Suddenly Weakening
Here's a list of potentially bullish points in the eBay story:
EBay sports a reasonable price-to-sales ratio of 3.71.
The company boasts gross operating margins of more than 20 percent.
Those margins translate into positive levered free cash flow of $6.26 billion annually.
The balance sheet for eBay looks like $7.37 billion in cash versus only $5.32 billion in total debt, a current ratio of 1.28 and a debt-to-equity ratio of 28.05 percent.
The stock technically is short-term oversold and trading right above identifiable support, which is what one would describe as a good entry point under most circumstances.
On the other hand, the bears are keying in on the following issues with eBay:
The stock is not cheap when looking at the market capitalization/enterprise value ratio of more than one, the price-to-book ratio of 3.33 or the price-to-earnings ratio of more than 15 (compared to estimated revenue and EPS growth of 13.9 percent and 13.8 percent, respectively).
The stock's technicals are dreadful as compared to the buoyancy of the broader market in general and the technology sector in particular.
What Do The Technicians Have To Say?
Technicians call eBay's current chart the ideal picture of "no man's land." They note that the stock has key "correction support" at $50.48, created by the 100-percent Fibonacci price projection line for what could be an "abc" downside correction. On the other hand, the stock has a couple of horizontal resistance levels not far above current prices at $55.00 and $57.05.
This is a large technology company that is having to struggle harder to create dynamic, organic revenue growth than it did in its early days. This lack of growth has technology and growth investors looking elsewhere for returns. Meanwhile, the stock doesn't appear to be cheap enough to seriously attract the value players.
What's left is the trading crowd and that group would be simply buying near support and selling near resistance a large percentage of the time.
Stock chart:

Posted-In: Technicals Top Stories Trading Ideas Best of Benzinga
View Comments and Join the Discussion!