Metlife Inc Showing Nice Upside Potential In The Short Term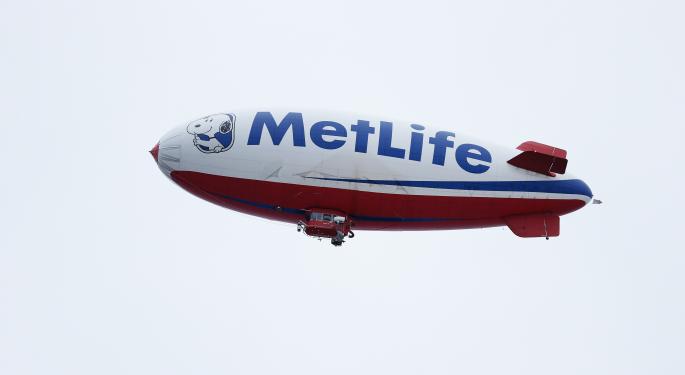 Metlife Inc (NYSE: MET) shareholders should continue to be happy campers in the short term as technicians say that the stock should move up to the $62 - $63 range before a major test occurs.
Snoopy And Woodstock Doing A Little Dance…
Times have been good overall for Metlife and its life insurance brethren, despite the various companies having to struggle to make decent investment returns with their general accounts in this very low interest rate environment.
MetLife's stock has been a little choppier than some of the other insurers, but the overall chart for the stock looks good and like there's still a little meat left on the bone for the bulls.
What The Bulls See In Metlife…
The bulls in Met stock see a very cheap company with great cash flow, but one that is operating with less than perfect efficiencies. The good news there is that when operational improvements do occur, the stock's valuation may expand further.
Related Link: Paychex Lagging Peers & The Market
Valuation-wise, the company sports a price-to-book at 0.90 and price-to-sales at 0.88, an enterprise value that eclipses its market capitalization by nearly 50 percent and a PE to growth ratio of right around 1.0 currently.
All of that spells "cheap." However, with revenue growth estimates in the low-single-digits and little in the way of new product initiatives on the immediate horizon, operational efficiency seems to be management's main concern right now.
What The Bears See In Metlife…
The bearish camp is quick to point out that while stocks like AIG are trading at or near 52-week highs, MetLife has pulled back off of its own highs recently. This makes the bears wonder whether some bad news may be on the horizon.

Additionally, Met carries a fair amount of debt, which is not necessarily a bad thing, that could become burdensome if the already-thin profit margins move into the red on a quarterly basis.
This is why the company is slashing and burning and trying to focus all of their efforts only on their highest margin businesses.
Will Lucy Pull The Football Out From Charlie Brown This Time Around?
Met's stock may well be headed for higher prices in the short-term, especially if the broader market continues to drive higher as it has recently. However, the bulls will need a close above $62.83 according to technicians for the flood gates to really fly open on the upside.
Aspiring longs in the Met space should, according to technicians, look to enter the stock if they can on a pullback in price to around $50. Short sellers, they say, would probably do well to stay away until the upside target area at around $63 is tested.
Posted-In: Snoopy WoodstockTechnicals Movers Trading Ideas Best of Benzinga
View Comments and Join the Discussion!