Mastercard Lagging The Market As It Consolidates - Is A Big Move Coming?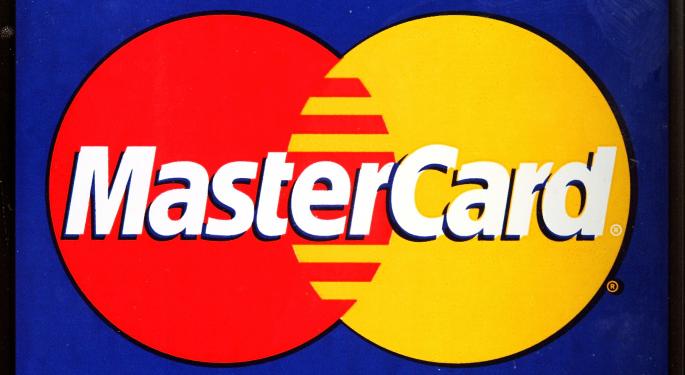 Mastercard has, along with Visa, lagged the broader market of late as it works its way through what appears to be a technical pennant formation. Which way will it break out?
Mastercard (NYSE: MA) shares are grinding their way through what technicians call a pennant formation: a consolidation pattern ahead of what typically is a continuation of the previous directional move.
Right now, technicians are leaning in favor of a bearish breakdown out of the pennant and a continued move down to the $66 area for the stock. However, they are quick to note that betting on a directional breakout of a pennant ahead of the break can be hazardous to one's portfolio.
What The Bulls Are Seeing…
The Mastercard bulls out there are in love with the macro trends into which the company is plugged, namely the ever-increasing move toward mobile computing and mobile transactions. Fewer and fewer people globally are using cash as a means of transacting business, and more and more are reliant on credit or debit cards for everyday purchases.
Related Link: Visa Faltering As The Market Hovers Near Highs
On top of this bullish macro trend, the bulls point to Mastercard's huge 30 percent-plus profit margins, strong balance sheet and strong free cash flow numbers as justification for owning this richly valued stock. Technically, they would point to the fact that Mastercard has not really participated in the most recent market rally and this it is an ideal "catch-up" trade, meaning the stock will outperform the broader market in the short term just to catch up to the market that is making new highs seemingly all the time recently.
What The Bears Are Seeing…
Bears in the Mastercard space are quick to point out the very rich valuation metrics, namely the price-to-sales ratio of 9.87 and the price-to-book ratio of 14.83 as well as the P/E ratio (based on next year's consensus estimates) of 24.
With the P/E ratio at 24 and an estimated earnings growth rate of 19.7 percent, Mastercard comes in just above "fairly valued," but that assumes no hiccups in their earnings at all.
Technically, the bears are finding the chart set-up to their liking as Mastercard shares seem to be leaning toward a bearish breakdown out of the current pennant formation, which would then very likely lead to a move down to $66 (from $76 currently).
Who Will Win Out?
Technicians say that a break and close below $74.50 will confirm for them that a technical breakdown is under way and that the target of $66 will likely come into play sooner than later.

However, the technicians note that the battle has not yet been won by the bears and that a close above $79.60 would give the bulls the edge and send the bears running for cover. The upside target on such a breakout would come in at $84.75 for starters and more likely up towards the $90 - $100 range.
Overall…
Right now, both Mastercard and Visa are in similar potentially bearish technical set-ups, with only a little more downside needed to confirm the breakdowns. Buyers may want to wait and see if those breakdowns occur so that better entry points can be gained on a continued sell-off.
On the other hand, sellers must be cognizant of the risk of the "catch up trade" coming into effect –- where both Mastercard and Visa shares explode to the upside in an effort to catch up to the broader market's upside.
Posted-In: Technicals Movers Trading Ideas Best of Benzinga
View Comments and Join the Discussion!