Altria: The Model Of Technical Bullishness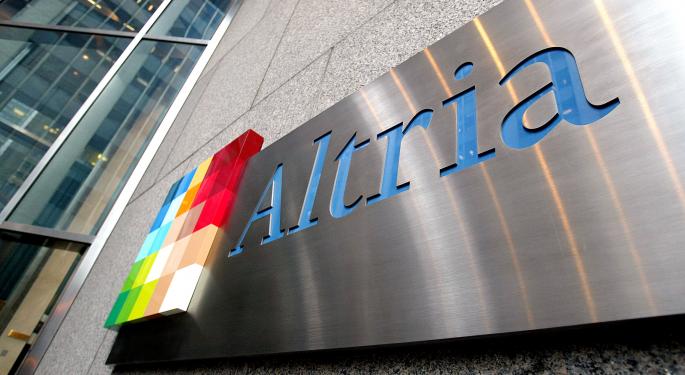 Altria shares backed off a bit Tuesday after testing the previous all-time high of $43.70 set on July 14.
Overall the technical pattern for "Big MO" remains bullish, and higher targets are still ahead.
Altria Group (NYSE: MO) shares have been on a five-year march to the upside ever since the 2009 crisis lows. The uptrend in the shares has not only remained in force, but the shares of the stock have also been accelerating to the upside more recently.
Investors seeking consistency of revenues and earnings as well as the cash flow created by dividends are naturally attracted to Altria and other dividend-paying blue chip stocks. There have been some questions recently about what will happen to the big dividend payers like Altria if and when interest rates start to rise on a sustained basis.
With rates remaining in check thus far, however, institutions have yet to seriously flee the stock and its dividend-paying peers.
What The Bulls' View Is Of Altria…
In Altria, the bulls see a stock that is in a clear technical uptrend with room still to run until the next upside projection area at around $47 is reached.
Related Link: Visa Faltering As The Market Hovers Near Highs
They see a company whose enterprise value is 10 percent greater than its current market capitalization –- always a nice value metric to find. They also see very nice profit margins, and strong operating and free cash flow figures.
What The Bears See In Altria…
The Altria bears are quick to point to very inflated price-to-sales (4.81) and price-to-book (19.81) ratios, and a price-to-earnings (15.58 based on next year's consensus estimates) ratio that seems modest -- that is, until it is compared to flat revenue expectations.
Technically, the bears do not seem to have much on which they can hang their hats outside of the fact that this blue chip stock with flat revenues is up well more than 10 percent year to date.
Where Do The Charts Say Altria Is Headed?
Technicians say that Altria is bumping up right against the resistance created by its all-time high set on July 14 at $43.70. Past that, however, there seems to be clear skies up to the extrapolated $46 - $48 target area. Only a staunch hold of the previous highs by the bears would turn "Big Mo" back to the downside at this point.
If a pullback does occur, technicians say that the bulls should look for the small upside gap created on August 8 to be filled by a test of the $41.63 level. It would be at that point where some of the overbought condition of the stock will have been worked off and slightly lower risk entries could be made on the long side.

The technical crowd would almost universally stay away from recommending short sales into such a strong uptrend. However, if such bearish bets were to be made, the technicians would say to do so at the $47 area, as that would represent the upper edge of the long-term uptrend channel.
Overall…
Altria looks like a stock to be bought and not sold at this point. The only question is whether the market will permit it to pull back in enough to get highly desirable entry points.
Posted-In: Technicals Movers Trading Ideas Best of Benzinga
View Comments and Join the Discussion!