Netflix, Inc. Breaking 'Good' With More Bingeing To The Upside Likely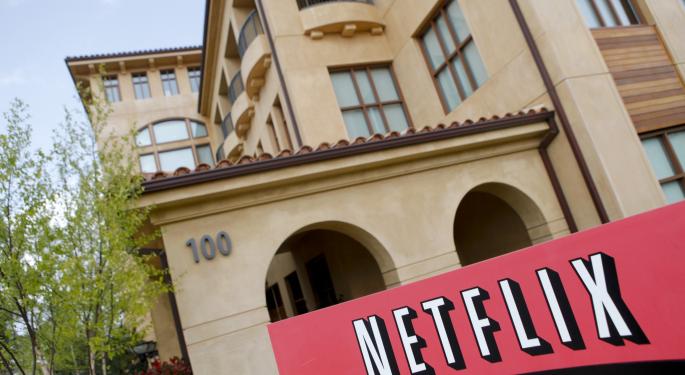 Netflix Inc. (NASDAQ: NFLX) has broken out to the upside technically and, despite being short-term overbought, appears to have plenty of room to the upside before the next projected price target comes into play.
Shares of Netflix have been a major participant in the most recent rally in U.S. stocks over the last month. Ever since the market bottomed beginning in late July, Netflix has been on fire. Shares have risen more than 15 percent, nearly doubling the upside performance of the broader market during that time.
The question for traders and investors now becomes, "how high can Netflix fly?"
What The Bulls Are Seeing
The massive bullish Netflix camp focuses on the stock's very bullish chart as well as on the company's recent propensity to make key bullish fundamental announcements at just the right time. Each time recently that the bears seem to be regaining control of Netflix shares, the company has either come out with encouraging earnings news or some new service initiative that bolsters future growth prospects in analysts' minds.
Related Link: Could Lennar Be Building The Foundation For A Rally?
In terms of scheduled fundamental announcements, the next earnings announcement for Netflix does not arrive until the October 20–24 window. The bulls will have to count on friendly market conditions until then, continued strong technicals in the stock itself, and hope for product or service initiatives from the company.
What The Bears Are Seeing
The oft-injured Netflix bears would be quick to point out that the stock is overbought and due for correction, and that the company's fundamentals are nowhere good enough to justify its lofty valuation metrics.
The company, bears note, currently sports a price-to-book ratio of 17.8 (anything more than three is typically considered expensive), a price-to-sales ratio of 5.84 (more than five is typically considered expensive) and a price-to-earnings ratio (based on 2015 consensus estimates) of more than 70. Those expensive ratios exist despite the fact that Netflix's revenue is estimated to grow at only 25 percent to 30 percent for 2015.
The Tell-All Chart Says…
Technicians note that Netflix (NASDAQ: NFLX) shares recently broke out to new all-time highs, and that shares are merely in the middle of a long-term uptrend channel and seem to be headed to the top of that channel (approximately $550 per share).
Technicians do acknowledge that the stock's price is overbought both on the %R and RSI indicators. However, they also note that an overbought RSI condition can remain so for an extended period of time and is not to be used by itself to try to time price tops or bottoms.
Most technicians would admonish aspiring longs to wait for a pullback to enter the stock at a less overbought price level, perhaps on a dip to the $446-$457 price range. Those same technicians would caution against betting heavily against a stock in such a strong uptrend like Netflix. If one were bearishly inclined, though, they would say to try to enter short trades only near the upper edge of the uptrend channel near $550 (and would urge the honoring of stop losses in all cases).
All In All…
In the aggregate, Netflix (NASDAQ: NFLX) looks like it will eventually move higher, with a healthy pullback thrown in every now and again to keep things from getting too overbought from a technical perspective. There will almost certainly come a time in the near future when a hefty price will be paid by those overstaying their welcome on the long side. Betting on that downward turn in price, however, has recently been an exercise in futility.
Stock chart:

Posted-In: NetflixTechnicals Top Stories Movers Tech Trading Ideas Best of Benzinga
View Comments and Join the Discussion!