Bears Continue To Be On A Heater With Las Vegas Sands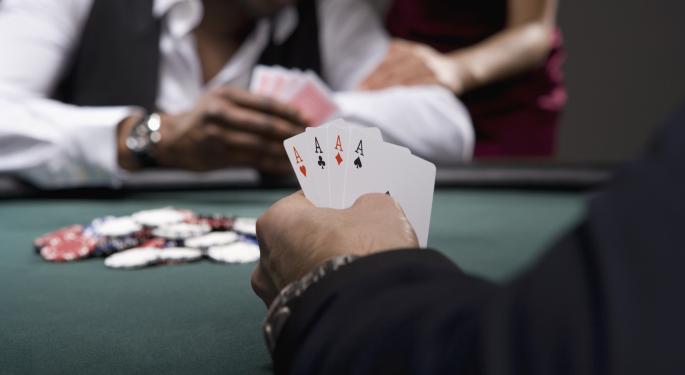 Las Vegas Sands (NYSE: LVS) has been a bears' paradise, a rare oasis for bears in a market that has lifted many afloat.
Will the downward pressure continue?
Las Vegas Sands shares have been trading sluggishly for months, even as the broader market has continued to make new highs. This is never a good sign for hopeful bulls. How much more pain will they have to endure before they get some relief? The charts hold some answers to that question.
What The Bulls Are Seeing
There really isn't much to be excited about if you are a bull right now. The stock is oversold, though it does have some technical support approaching. Other than that, unless you love being a contrarian and are willing to ride out the rest of the downside in the short term, it's tough to be excited on the long side.
Related Link: Will Facebook Continue Getting 'Likes'?
What The Bears Are Seeing
The bears are seeing that there is still work to be done before Las Vegas Sands is done tumbling lower. The problem with a stock being oversold is that it can remain in that condition for quite a while. In terms of the stock approaching support, that support does not come into play until at least $64. There are a pocket of bears out there that think $64 is also going to fail as support and that Las Vegas Sands is destined for a test of the long-term uptrend line in the mid-$50s.
So, Who Will Walk Away With All The Chips?
The problem with the bulls' argument is that bad stocks in good markets tend to remain bad until the company throws out the kitchen sink in terms of bad news. Who knows when that will happen? If the good market turns into a bad market, the hammer usually comes down hard on the weak stocks first; Las Vegas Sands certainly qualifies as a weak stock right now.
With the technical evidence in the bears' favor and the bulls only putting up "oversold" as their argument, the bears would seem to have a clear advantage here.
How To Trade Las Vegas Sands From Here?
Those looking to jump on Las Vegas Sands shares on the bearish side should wait for the occasional bounce to initiate any new short positions. The clearest resistance for Las Vegas Sands seems to come in between $72 and $73. That would be where technicians would say to try to enter, with stops in place on any close above $73.
For those looking to go long on Las Vegas Sands stock, the technicians say to wait for the rest of the move down to $63.49 occurs and then pounce. At least a stop out (on a close below $63) would not be too painful. The upside target on such a long entry would be a move back up to the mid- to upper-$80s.
Disclosure: The author had no positions at the time this article was written.
Stock chart:

Posted-In: Las Vegas SandsTechnicals Movers Trading Ideas Best of Benzinga
View Comments and Join the Discussion!