Microsoft Shrugs Off Browser Issues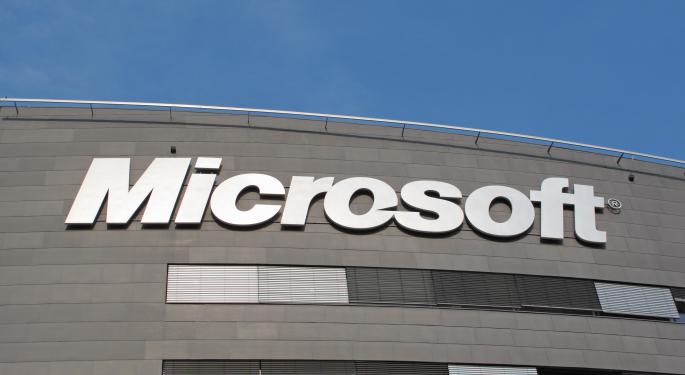 Microsoft (NASDAQ: MSFT) on Sunday issued a security warning regarding an issue affecting Internet Explorer. The security flaw allows remote code execution if users visit a malicious website with an affected browser. No one seems to really care.
One would think that kind of news would at the very least would have a negative impact on its stock price. Although this is a different set of circumstances, security breaches had a devastating effect on the shares of Target (NYSE: TGT) in late 2013 and early 2014.
Microsoft instead rallied nearly $1.00 in Monday's session, from $39.91 to $40.87 and that was $0.40 off its high for the session at $41.29.
Since the security breach has not exacted a monetary consequence on the company, investors have chosen to focus on its latest earning report. Microsoft on April 24 reported better-than-expected earnings of $0.68 versus $0.63 estimates. EPS were down six percent from the same quarter last year and revenues and sales came in flat.
Related: Time To Buy ETFs Officially In A Bear Market (SOCL, TAN, FB, TWTR, FSLR)
Newly-appointed CEO Satya Nadella said, "This quarter's results demonstrate the strength of our business, as well as the opportunities we see in a mobile-first, cloud first world."
For all the complaints investors had with former CEO Steve Ballmer, it appears that he has left the company in pretty good shape.
There was a muted reaction to the beat, as the shares closed only a nickel higher in its next trading session. Strangely, it was not until the security flaw was announced on Sunday that the shares reacted in a positive way to the somewhat negative news by gaining nearly $1.00 on Monday.
At time of this writing in Tuesday's afternoon session, Microsoft challenged Monday's high ($41.29), reaching $41.19, but retreated below its closing price ($40.87) to $40.60. Could it be investors are now placing more emphasis on the security breach as earnings beat?
Microsoft, which began the year at $37.41, has gained nearly nine percent this year, outpacing the returns for the broad market. The issue, which made a 14-year high at $41.66, retreated to $39.00, but regained its upward momentum and has almost recovered its recent high. The issues still changes hands quite a distance from its all-time high from December 1999 ($53.97).
Therefore, it has been a market leader as of late, but has certainly been a bit of a laggard since the market bottomed in March 2009. In fact, a majority of its gain took place in 2013 ($26.71 to $37.41), as the issue begrudgingly rallied from its March 2009 low ($14.97) to $26.71 over the course of nearly four years.
Now with Microsoft consolidating under its recent high and an earnings beat not being the catalyst to propel it to new highs, how should investors approach the issue?
For the bull move to continue, Microsoft needs to return to the $41.00 handle and close above its recent high ($41.66) then take aim at institutional sellers at the $42.00 level. From there, it can take aim at its April 2000 high ($43.53).
Investors that prefer not to try and pick the top may want to focus on a close below the major support at $39.00 level. If that level gives way after a solid earnings beat, it may pave the way for a test of the major support at $37.50 or lower if the long-awaited correction in the market finally comes to fruition.
UPDATE: Shares of Microsoft closed at $40.51, down 0.88 percent.
Posted-In: Internet ExplorerTechnicals Intraday Update Tech Trading Ideas Best of Benzinga
View Comments and Join the Discussion!